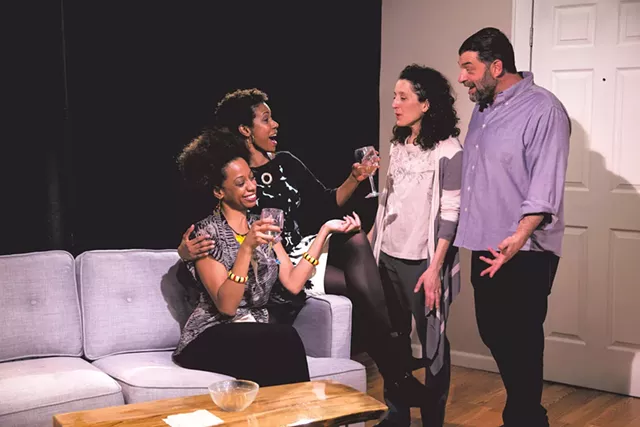 Courtesy Of Lindsay Raymondjack Photography
Left to right: Jammie Patton, Nellesa Walthour, Marianne DiMascio and Jordan Gullikson
Though a play's circumstances are only a springboard for conflict between characters, sometimes the setting captures the audience's interest as much as the people do. Tanya Barfield's 2013 play The Call explores becoming a parent through adoption, rooting a personal choice in a cultural context.
Adoption today presents questions of economic privilege and cross-cultural identification, along with the parents' baseline anxiety of raising a child. The Call doesn't impose a political or sociological conclusion; it simply places a woman and her husband at an uncomfortable crossroads and shows all the forces that buffet them.
Vermont Stage's production gives five strong actors a chance to bring the naturalism in Barfield's sharp script to life. The dialogue is realistic, while the scenic structure is pointedly abbreviated. Abstract ideas about adoption don't crowd out the characters' emotional experiences, but big issues of what it means to be a parent remain in the forefront.
Annie and Peter have been trying to have a child for several years, and Annie has borne the physical brunt of multiple miscarriages and bad reactions to fertility drugs. After these draining efforts, the two feel so defeated that their marriage is crumbling. They decide to adopt and engage an agency in Africa after an agreement with a U.S. mother falls through.
Annie and Peter are white. Their clothing and apartment indicate economic ease. Their lesbian friends Drea and Rebecca are African American, recently married and very much in love. Barfield intends for audiences to note these cultural markers, and her script contains some funny and incisive observations on race and first-world/third-world dynamics.
Drea and Rebecca support Annie and Peter's adoption plan and playfully volunteer to do the black child's hair, a skill all four of them laughingly agree Annie could never master. But that joke isn't so funny as the story progresses, and Annie and Peter face the cultural gulf that would separate them from their child.
The couple's neighbor, Alemu, inserts himself into their lives when he learns they'll be adopting an African child. He's from an unspecified country in Africa himself and starts dropping by with donations he's collected that he'd like them to deliver to, presumably, needy people they encounter before bringing home the child. Alemu has a sunny smile, but his intrusion feels like interference.
Annie's maternal instincts aren't strong enough to flourish without approval from others. Peter is eager to take any decisive step but defers to Annie on what it should be. And both of them find the moral dimension of adoption troubling. Are they adopting to help the child or to help themselves?
Director Cristina Alicea focuses on the emotional weight of the story and draws out heartfelt performances from the five actors. The action occurs on a long, narrow stage flanked by the audience on two sides. It's hard to hit peaks of intensity when actors are far apart or shoulder-to-shoulder instead of face-to-face, but Alicea carves out some strong moments.
Marianne DiMascio and Jordan Gullikson have the tricky task of portraying a couple with a shaky marriage. As Annie and Peter, they exhibit no physical or emotional chemistry. Establishing such distance nearly suits this story, but these two aren't even experts at pushing each other's buttons. Individually, both actors turn in solid performances, but their lack of connection to each other dilutes the play's potential.
DiMascio portrays Annie with a keen combination of stubbornness and pain. When she first sees a photo of the child assigned to her, Annie's eyes light up. At last she's looking at the pretty face of a specific child. But as she stares longer, DiMascio lets a slow tide of heartbreak drift across her face. This child is probably as old as 4, and everything Annie had imagined teaching her she would arrive already knowing. DiMascio stands rooted in sorrow as she has to consider the wisdom of her decision all over again.
Gullikson's Peter is the host who must switch on bonhomie when guests drop in and the partner trying to support a wife whose physical trials dwarf his own. Gullikson keeps the character's frustration at a low boil, since the play is more Annie's story than Peter's. But when it's time to register sorrow, Gullikson does so with power and immediacy.
As Rebecca, Nellesa Walthour is superb at energizing a supporting role. She establishes lively camaraderie with Annie and Peter and conveys real love in connecting with Drea. Walthour is equally adept at the light comedy of the opening scene and the deeper drama of the second act.
Drea has the play's most open heart and frankest lines, and Jammie Patton gives her warmth and humor. Patton makes the most of Drea's cool wit, using her height and bold expressions to punctuate her observations. By demonstrating a deep, loving connection with Rebecca, Patton shows just what Annie and Peter lack as potential parents.
Tinotenda Charles Rutanhira, who plays Alemu, immigrated to Vermont from Zimbabwe and brings a gentle African cadence to his speech. He supplies Alemu with calm wisdom and leaves the character's motivations mysterious.
Scenic designer Blair Mielnik makes Peter and Annie's apartment feel remarkably complete with a minimum of furniture, and creates a clever side wall that transforms into three different locations.
Alan Hefferon's lighting is simple yet expressive, and Martha Goode's sound design adds a cool, modern flourish during scene changes. Costumes by Suzanne Kneller reveal the characters' affluence and artistic temperament.
The play's title ostensibly refers to the phone call that a couple awaiting adoption receive when a child is found for them. But this story hints at a deeper kind of call: parenting itself. Adoption adds an extra test of a mother's maternal impulse and a father's commitment to his wife and family. Annie finally hears her call, but it's not the simple message she expects.