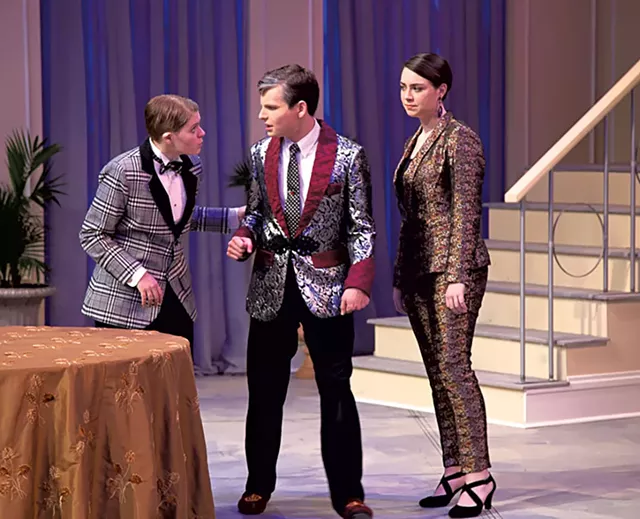 Courtesy Of Dok Wright
Keaton Harper as Cléante, Ray Gillies as Tartuffe and Emma Cashman as Dorine
It's not just love affairs that begin with the perfect pair. In Molière's Tartuffe, a fool finds his knave and they demonstrate how mightily a bamboozled man will resist the truth, and how easily a con man can pick the right mark's pocket. In the University of Vermont Department of Theatre production, the 1664 play is performed in distinctive costumes hinting at 1950s French haute couture, and the comedy proves enduring.
Orgon is a wealthy member of the bourgeoisie. His daughter, Mariane, is betrothed to the charming Valère; his son, Damis, has romantic plans for Valère's sister. Orgon's second wife, Elmire, is smart and beautiful. His brother-in-law, Cléante, is wise. His mother, Madame Pernelle, is an ill-tempered martinet, but she has less sway in the household than does the savvy, outspoken maid Dorine.
The family was once at peace and drenched in prosperity. But Orgon has installed the self-styled religious adherent Tartuffe as the household's guest and moral compass. Tartuffe's spiritual pretensions are a mask for his real objective: divesting Orgon of his fortune and, if possible, his wife. Orgon and his mother can't get enough of Tartuffe's saintly act and resist any proof of the charlatan's duplicity.
But everyone else is indignant that Orgon is more concerned with Tartuffe's comfort than their own. Unfortunately, they can't complain about Tartuffe on moral grounds; the interloper's grand show of piety gives him the upper hand. Instead, the family sulks as Orgon withdraws his love from them and lavishes it on an imposter.
Orgon speaks of high spirituality as his motive for venerating Tartuffe, but there's an element of cruelty in it, too, as he prepares to throw away his son's inheritance and his daughter's future happiness with her worthy suitor. The events are a comic parallel to King Lear, but here the household's king is a victim of fraud.
By professing humility, the swindler plucks suspicion from Orgon's mind while emptying his pockets. To Tartuffe, Orgon is an idiot; to Orgon, Tartuffe is an idol. Gullibility and insincerity are among the funniest things to put onstage. The audience sees right through Tartuffe and gets a second wind of laughter from the sheer frustration felt by characters who cannot convince each other with reason, rebuke or entreaty.
The pleasure of the play is anticipation. Viewers can try guessing how Orgon will extricate himself from the terribly deep hole Tartuffe encourages him to dig, but there's an additional, encompassing reason to stay engaged. All the text is in couplets, so the audience is subconsciously listening for the rhyming word that finishes a thought. It's a subtle puzzle, and the best of the couplets put the crucial words at the end for emphasis.
Performing verse isn't easy, but the UVM students passed the first test by avoiding singsong delivery, where relentless rhythm overpowers meaning. What's harder is speaking a neatly crafted line of strict meter as if it were a thought arising in the moment.
The play's back-and-forth exchanges came alive in last Thursday's performance, but the long speeches tended to be rushed and rhythmically undifferentiated. Not only did Molière's neat catalog of human foibles get trampled in haste, but the audience likely had trouble becoming oriented to the particular humor and lightness of comedic verse.
Director Sarah Carleton selected a 2002 translation by Ranjit Bolt that injects a bit of racy language to perk up the play. Molière is in no need of overt contemporizing, and Bolt doesn't overdo it. Carleton's direction used the sweep of scenic designer Jeff Modereger's tall, vast set to give the characters a lazy, wealthy grace. They idle and complain, and when it comes time for a set-to, Carleton gives them big comic moves.
As Orgon, Ray Gillies distills the character's foolishness into a beatific grin, making willful ignorance look like bliss. Katherine Reid, as Elmire, lets Tartuffe's flattery flutter around her, a match for him in wit and cunning.
Shanley Kirk, as Mariane, and Jason Chrysanthis, as Valère, are at their best as pouting lovers. As the scene-stealing Dorine, Emma Cashman provides a forceful voice of reason and makes a maid's defiance charming.
Jacob Houde plays Tartuffe with all due sanctimony. If anything, he's too oily, but this only makes Orgon's credulity more spectacular. Evan Lewis gives Damis wonderful spark. Though Damis is a dreadful tactician, his attacks on Tartuffe are comically rousing.
Martin A. Thaler's costumes are showstoppers. He starts with sumptuous garments, then adds wit. Tartuffe wears white for saintliness, but it's a three-piece suit, open for business, finished off with flashy snakeskin shoes. Orgon's glistening silver smoking jacket broadcasts his net worth, while Madame Pernelle's flared top positively bristles with self-righteousness. Dorine's knockout gold pantsuit is brilliant, though it elevates her from maid to sidekick. Elmire's slit-front dress is not only glamorous but has a role in the action.
The production focuses on Tartuffe as a villain, giving the audience a rooting interest in his downfall. It turns a little less attention on the follies of the young lovers Mariane and Valère, the pedantry of Cléante, the vanity of Elmire, and the useless hotheadedness of Damis.
Molière aims barbs at them all, but Carleton saves her best stage business for the flirtatious tussle between Elmire and Tartuffe. No matter how bright the verse, action has to tell the story, and these two are given the memorable moment.
Still, the play spares no one from mockery. Widely considered Molière's best work, Tartuffe remains a triumph of comedic caricature more than 350 years after its first performance. Though initially denounced as sacrilegious, the play doesn't attack the church but rather human foolishness, a subject that never grows old.