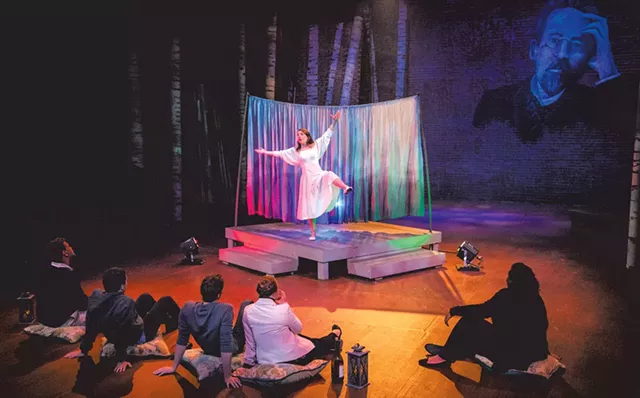 Courtesy Of Uvm Department Of Theatre
Dani Knight as Nina
The audience walks through a labyrinth of black curtains to a rough-planked stage that makes the University of Vermont's Royall Tyler Theatre resemble a barely solvent experimental performance space. Painted on the brick back wall is a huge likeness of Anton Chekhov, old-fashioned pince-nez in place, his head tilted gently into his hand. The playwright's wistful gaze is lit to glow faintly over the proceedings of Stupid Fucking Bird, a comedy that proves, hilariously, that the neuroses of Chekhov's time are still flourishing today.
The adolescent title — which the UVM Theatre Department has fudged as Stupid F*#king Bird — suggests crass humor and scorn for the great Russian dramatist. But this refreshing comedy is built on laughs of revelation that only keen observation and wit can produce. Stupid runs on clean-burning irony, with an impressive rate of laughs per gallon.
Aaron Posner's 2013 play calls for audience and actors to stay deliriously self-conscious of theater's artifice. Actors break into conversation with the audience, and monologues aren't inward musings but outward performances. Ostensibly an adaptation of Chekhov's 1896 The Seagull, the play uses the familiar plot and characters to examine how theater can produce emotion in an audience, or present it through an actor.
A strict adaptation involves realizing the original work's intentions while changing a few conventions to reach a particular audience or suit a particular time. Posner is right, if perhaps a little coy, to subtitle his play "sort of adapted from The Seagull by Anton Chekhov," because Stupid has some objectives all its own. But for the most part, these goals clarify Chekhov's view of human nature while gently mocking contemporary self-involvement.
Posner is neither hamstrung by reverence for Chekhov nor mean-spirited. Slipping Chekhov's lovelorn souls into modern dress and colloquial speech proves instructive. Konstantin, the anguished son in The Seagull who writes a play intended artistically to outdo his mother the successful actress, becomes Con, the anguished son who creates a site-specific performance piece. Both characters teeter between contemptible pretentiousness and earnest artistic zeal. And both suffer when Mother isn't impressed. Chekhov's Irina signals that reaction subtly; Posner's Emma spreads the snark as thick as jam on toast. It's not necessary to know the original to get the jokes, but it will add resonance.
Posner preserves nearly all of Chekhov's story, which boils down to how people handle disappointment, especially unrequited love. Con loves aspiring actress Nina, who's drawn to successful novelist Trig, a man with a moral compass always pointing to "hookup." That doesn't end well at all. Mash loves Con, who could care less, while Dev loves Mash, who bats him away like a pesky puppy. That ends better than Chekhov allowed it to.
Emma expects to win the battle that pits her against Nina for Trig's affections. Ever conscious of her renown, Emma loves herself and has a lot of trouble loving her son, not least because he's visible proof she's approaching the career cliff of 40. Her older brother, Sorn, loves his lost youth and wishes all the people around him — who are busy squandering theirs — would realize that the pursuit of happiness involves more than complaining.
Chekhov softly ridiculed self-absorption. A century later, people have only gotten better at building me-me-me into a working philosophy of life, and Posner capitalizes on it. He makes a wonderfully funny statement about acting itself when the characters march one by one into a spotlight to describe their inner desires. It's a combination of Stella Adler actors' training and a Facebook post.
Director Craig Wells never lets the humor detract from the humanness of the characters. Performance skills vary in this cast of seven, but all the actors share an infectious enthusiasm for staging that connects them to the audience.
A tortured artist without much to torture him, Con is played as a sparking live wire by Ellis Burgin. Moving with a bounce in his step, his checked shirt billowing as he dashes about the stage, Burgin gives Con eager curiosity about the world. His face is quick to cloud when criticism or jealousy arises. Burgin's solid comic tools include precise timing and a fine instinct for how far to exaggerate his reactions.
Noah Lanckton makes Dev a fusspot entirely oblivious to the pettiness of his complaints. As Mash, Oak Horton uses her strong vocal skills to deliver the show's several life-is-a-bummer ditties, dusting them with just the right amount of humor.
Dani Knight captures Nina's swift mastery of flirtation, starting as Con's innocent love interest and becoming a morsel too tempting for Trig to ignore. Knight brings a modern detachment to coquetry, and she knows how to land a joke, including ones at her character's expense.
As Emma, Katherine Reid creates a woman who really does deserve to be the center of attention, commanding it with both raw need and crowd-pleasing charisma.
Production values are uniformly high. The scenic design by Jesse Cannon adroitly delivers the play's two styles: a barebones staging for acts one and three and a hyper-realistic kitchen for act two. Sound designer Liam Daugherty incorporates occasional music that brilliantly intensifies mood. Martin A. Thaler's costumes are perfectly unpretentious as they set the contemporary style of the play.
Stupid lets us see Chekhov's original ideas with new insight. Posner preserves each character's frustrations but turns inner torment into public statement, sometimes aimed directly at the audience. The fashionable term today is "meta-theatrical," but Chekhov sought a similar effect by eliminating the artifice of melodramatic acting and replacing it with a particular form of realism.
Both playwrights ask the audience to glide in and out of believing a play is real life, and both challenge the viewer to wonder if the actors are presenting real or counterfeit emotions. The fun lies in laughing at an artistic process that investigates the deadly serious through mere make-believe.