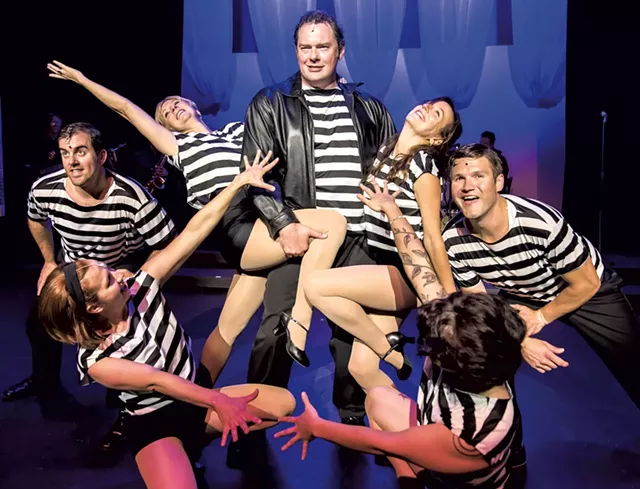 Courtesy of Tim Barden
The cast of Smokey Joe's Café
For its fall production, Burlington's Girls Nite Out Productions brings Smokey Joe's Café: The Songs of Leiber and Stoller to Main Street Landing Black Box Theater. Even before the show began on opening night, an enthusiastic crowd stirred up Broadway-esque fervor. Only a curmudgeon without a sense of nostalgia could attend this show without cracking a smile. To illustrate the scene, we offer an I-Spy...
You were sitting in the front row wearing denim on Thursday's opening night. When you stood up to dance, you were not deterred by the fact that the front row was level with the stage. You looked those actors square in their singing faces and danced like you were a star. You got moxie, kid.
Girls Nite Out's cast delivered an inclusive performance in which audience members could exercise their inner superstars along with the players. The opening-night audience evidently included friends of GNO cofounders Jennifer Warwick and Janet Stambolian, and these ladies were just as evidently on a night out. High-pitched whooping and hollering filled the air throughout the evening.
If you think you don't know the music of Jerry Leiber and Mike Stoller, think again. The pop classics they penned include "Stand by Me," "On Broadway" and "Fools Fall in Love," and the songsmiths collaborated with such artists as the Coasters and Elvis Presley. If the cultural appropriation inherent in rock and roll has been rightly criticized ("Hound Dog," a hit for Presley, was originally recorded by African American artist Big Mama Thornton), the contributions of Leiber and Stoller still loom large in the American music canon.
Smokey Joe's Café plays like a jukebox, paying homage to these songwriting legends by presenting some of their most popular songs. It's more cabaret than musical, and nearly every song is a showstopper. Lyn Feinson's sequined costumes, Rebecca Raskin and Alissa Auerbach's lively choreography, and Martin Hain's music direction aid and abet.
Designer Ann Vivian's set makes an impact, too. The words "Smokey Joe's Café" are splayed across the top of four "brick" panels. A bar at stage left and cocktail tables on the right create a nightclub ambiance. This is enhanced by Belinda Emerson's lighting design: Wandering spotlights create the illusion of a bustling city street at 2 a.m. A five-piece live band — pianist Carol Schein, saxophonist Dan Liptak, bassist Jack von Behren, drummer Jeff Salisbury and guitarist Kevin Boyea — stands ready to deliver a rocking good night.
The two-hour show presents nearly 40 numbers revue-style, with no dialogue. Director Andrea Cronan led her cast through smooth and quick transitions. The pace of the play, and its energy, never flags.
While the preshow excitement helped keep that energy going, some inconsistent elements made the treatment of the play's story seem secondary to the song and dance. Individual scenes didn't necessarily suffer, yet the production lacked cohesion as a whole.
To be fair, Smokey Joe's Café is a difficult show to pull off. There is no plot to speak of, the characters do not have recognizable names and the songs' lyrics do the only storytelling. The program features a breakdown of each musical number, with featured artists and the setting where the song takes place. Those settings include the fictional Smokey Joe's Café, onstage at the café and a frustratingly vague "limbo."
Practically speaking, all the numbers in the Girls Nite Out production take place in "limbo," as no elements of the set or costumes consistently indicate shifts between settings. The only way to determine the current location is to follow along in the program, which is hard to do after the house lights go down.
The "story" of Smokey Joe's Café begins with the characters in their neighborhood of origin. They leave to pursue careers in show business and eventually return to their old stomping grounds, where they wonder if the bonds they made when they were young endure after the marquee lights have faded.
One passage from the song "In the Neighborhood" is reprised three times: "Faded pictures in my scrapbook / Just thought I'd take one more look / And recall when we were all / In the neighborhood." The evocation of those well-worn, meaningful bonds is central to the nostalgia of the show. But staging needs to build those bonds among the actors; otherwise, a lack of chemistry can cause otherwise powerful songs to fall flat, which sometimes occurred in this production. When Jane Harissis sang "Fools Fall in Love" — about how, darn it all, love just snuck up on her and now she's a fool, too — it was clear she had no one to sing about. The message wasn't believable.
That said, this iteration of Smokey Joe's Café had undeniable high points. Justin Bouvier literally threw himself across the stage and wailed his songs of love lost in an evocative and heartfelt performance. Harissis carried the weight of the show's belt-it-out diva, admirably playing a gospel vocalist. It's always fun to hear a bass singer onstage, and Leigh Guptill did not disappoint. His Presley-inspired rendition of "Jailhouse Rock" was gyrating good fun.
As the cast's sexy vixen, Vanessa Ament turned in a brave and sultry performance. Kim Nowlan Hathaway supported her with some provocative dancing, including a sensual tango. Travis Hathaway and Nathan Tykocki played the show's heartthrobs, fitting right into the retro setting with their classic good looks and earnest performances. Suzanna Miller presented the most fully formed character, and her facial expressions showed a consistent thoughtfulness as she interacted with others.
If Smokey Joe's Café relies on great individual songs, it succeeds because of ensemble performances. The men's voices blended together harmoniously throughout the show, and the ladies brought down the house with a dynamic rendition of the girl-power hit "I'm a Woman." As the cast struck poses in their final number, the audience stood and danced along with them.
Smokey Joe's Café salutes two of American music's most treasured songwriters, and it winks at the core reasons for their fame: good beats, catchy melodies and a bit of heart. Those ingredients inevitably add up to an entertaining night out.