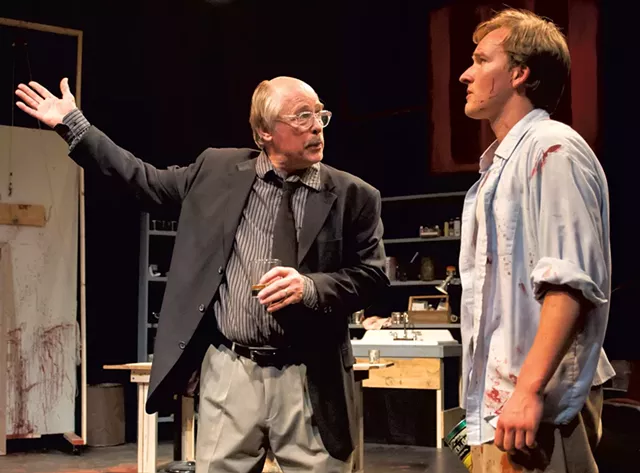 courtesy of robert eddy/first light studios
Kim Allen Bent, left, and Levi Penley
The viewer of a Mark Rothko painting has a chance to feel the sublime spirituality the painter intended to produce with his shimmering washes of paint and pulsating fields of color. The viewer of Lost Nation Theater's production of Red, based on Rothko's life, can see how hard the artist fought to protect his paintings and to carve out a role for an artist in the modern world. Much more than a biography, the play brings us face to face with the quest for meaning in all our lives.
John Logan's play starts with a question that is both invitation and confrontation. "What do you see?" Rothko asks his new assistant, Ken, as they stand before the painting under way in the studio. Logan invented Ken to dramatize Rothko's life, and he uses the two characters to explore a relationship that tests the boundaries of employer-employee and mentor-apprentice, with an undertone of father-son.
Winner of the 2010 Tony Award for Best Play, Red covers two years of Rothko's life in the late '50s. He's received one of the biggest commissions in the art world for a series of paintings to hang in the Four Seasons Restaurant in the newly built Seagram Building in New York City. Rothko is caught in the crosshairs of money and fame, yet he's not making any compromises for commerce.
The artist is unflinching in his devotion to making paintings that bridge passion and intellect. Art isn't about pretty pictures, making money or pleasing an audience. "I am here to stop your heart," Rothko proclaims. The play simmers with his fury.
What's onstage is an artist in his studio, but the play sweeps far beyond this to encompass the deep human need for purpose, creation and beauty. If the ideas are heady, Logan skillfully makes them not just accessible but visceral. Rothko's only weapons are words, but he's locked in combat with commercialism, mortality and the public's constant need to discard the old and embrace the new.
Logan's characters are hungry for ideas, and Rothko prods Ken to read Nietzsche and study literature. With the contempt of a teacher whose pupil isn't quite worthy of his wisdom, Rothko tells his young assistant, "Most of painting is thinking." And so he prowls back to his chair or pours himself a drink to look at his work-in-progress and pontificate.
In an inexperienced actor's hands, Rothko's pronouncements could sound pompous. But Kim Allen Bent is able to find the hot core of the character and his restless need to make art that has significance. Bent chomps on his words as Rothko lets his thoughts rumble up and shuffles defiantly through the studio. Logan's script is a torrent of words, but Bent takes the time to have each thought before speaking it, giving us the pauses we need to understand the basis of his passion.
As Rothko's assistant, Levi Penley is a quiet, eager cipher until he comes to life when Ken pushes back against Rothko's domineering presence. The scene is played confrontationally, and both actors are at their best using anger as the central note in their performances.
For any actor, anger is the clearest emotion to portray. There's never any doubt about what's intended, and the intensity range is broad, so the feeling can build. This production dwells on the indignation that both characters feel — Rothko toward the world and Ken toward Rothko. More complex emotions are sometimes missing, but antagonism fuels the characters and keeps the audience engaged.
Though the play is a thicket of words, director Douglas Sprigg doesn't allow us to get lost in it. Instead, he brings attention to the relationship between the two characters, staging each scene to focus on their reactions to each other. Arguably, this comes at a cost to the depth and interior life of each character. But making theatricality uppermost gives the production a brisk, constant energy.
From the play's outset, Sprigg shows his emphasis on the duet over the solo. When Ken arrives and Rothko asks him what he sees in the painting, the focus is on their connection. Sprigg has Rothko circle Ken and study him, rather than the painting, goading the young man when his answers don't measure up. Making Ken the center of Rothko's attention instead of the artwork shifts Rothko from a commanding presence to a questioning colleague.
Logan counterbalances dense dialogue with powerful actions. When Rothko and Ken paint the ground on a new canvas, they work with vigorous intensity to transform a surface with paint. Rothko was a master of painting technique, and the play alludes to that as he mixes pigments and Ken builds stretchers.
The artist's studio created by scenic designer Mark Evancho is both workshop and sanctuary. The outstanding set design, with its high shelves, big work table and pulleys for preparing a canvas, evokes both the precision of a painter's craft and the matter-of-fact mess that lies behind the work.
Canvasses have been hoisted high on the walls, painted in Rothko's style but not accurate facsimiles of the Seagram commission. Elegantly lit, they glow faintly overhead. Evancho succeeds in conveying the kind of low light in which Rothko sought to display — and to understand — his paintings.
Cora Fauser's costumes are spattered with paint, a quiet reminder that the characters make physical sacrifices to produce art. Several items seem too modern for the '50s, but Ken's jeans have sharp rolled cuffs, and some of Rothko's shirts are period treasures.
For Rothko, painting is not simple, and his approach suggests what it feels like to do the hardest and most necessary work. "How do you know when it's done?" Ken asks. Rothko answers from experience, speaking of the sense of risk he feels: "There's tragedy in every brushstroke."
Red shows Rothko's passion to remain honest in fulfilling the harshest demands of art. Logan's character can be imperious about his beliefs and bitter about the public's changing artistic taste, but he is always inspiring.