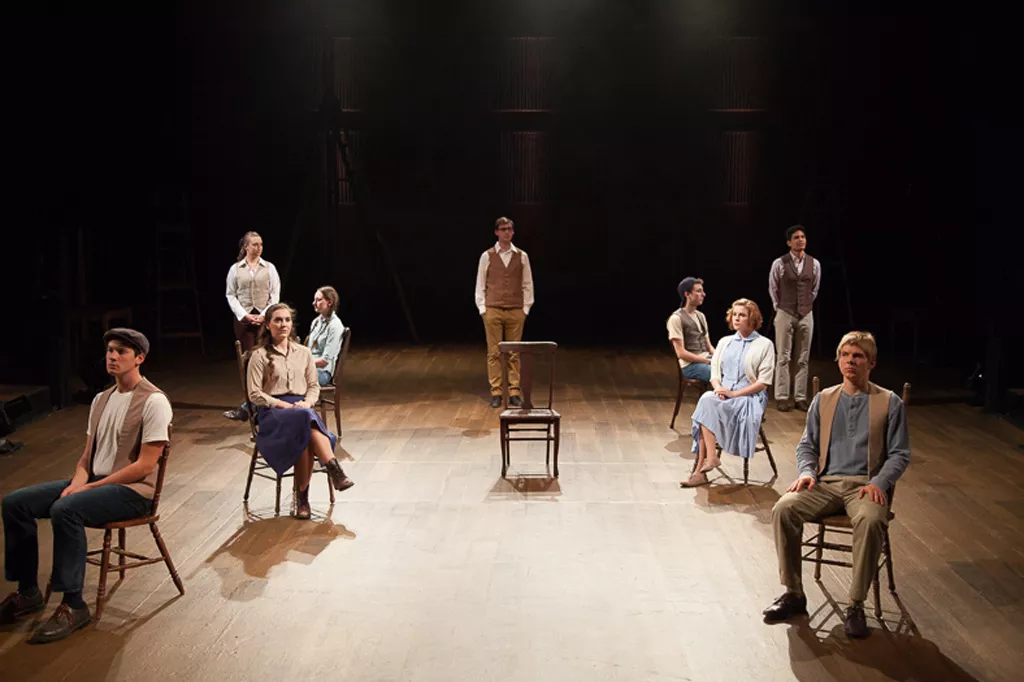 Courtesy of Dok Wright Photography
The cast of Our Town
Though it's been staged countless times since its 1938 Broadway debut, Thornton Wilder's Our Town still retains its power to produce tears and a shiver of recognition.
The University of Vermont Department of Theatre's current production approaches it with bracing clarity.
The play's harrowing simplicity has the elemental power of dawn breaking. It's set in the tiny, fictional New Hampshire town of Grover's Corners, and the proceedings are introduced by the Stage Manager, whose quiet omniscience beckons us to watch as if from a great distance.
Wilder uses a story scrubbed almost clean of plot to reveal some of the deepest truths about being human. We are all much the same, repeating starkly similar patterns from birth to death, yet each of our lives is unique. The Gibbs and Webb families of Grover's Corners are nothing special, but their very ordinariness is what's wonderful about them.
Wilder intended no sentimentality about the past. He wrote Our Town as a look backward in order to give the audience the perspective of time, not to idealize a lost era. UVM's production honors this intent while adding just enough contemporary sensibility to make the play fresh again, even as lost customs such as home milk delivery still form part of the story.
The play's three acts are set in 1901, 1904 and 1913, so its first audiences were looking back a generation, aware that World War I lay ahead. Knowing the future while watching characters who are inherently ignorant of it elevates the viewer to a godlike perch above mundane activities. From that springs compassion for the characters and a poignant awareness that mortality frames life just as it does customs since become obsolete.
Our Town can produce the same effect for the viewer today, more than seven decades later, provided the production is spare and clean. That's exactly what director Sarah Carleton has created. She succeeds in employing Wilder's dispassionate tone while earning the audience's investment in the characters. Carleton treats the play with respect but not gooey reverence, and focuses her 18 student performers on achieving a direct, unaffected acting style.
The staging is simple. Carleton uses every inch of the theater, with actors entering through the house and occasionally performing from seats around the three-quarter stage. Far upstage are rows of mismatched chairs that wouldn't be out of place in 1901. The actors sit in them, in full view, until they step forward when they're needed in a scene. If they need one of the chairs for that scene, they casually bring it downstage.
From unpretentious action like this, Carleton builds mood. At one point, a choir softly sings while Dr. Gibbs is engrossed in a book and George and Emily, the central characters, are upstairs doing homework. A peace descends when all these people are separately accounted for, quietly competing for our awareness and implying the thousands of other, similar acts performed on a single night. These simultaneous events within the theater weave together like the jumble of occurrences in real life. The experience is common, but the solemnity of the moment elevates our awareness.
One of Carleton's choices is debatable. She splits the Stage Manager's role among three actors, as if his utilitarian commentary could be handled by a mouthpiece instead of a character. The decision makes the Stage Manager omnipresent as well as omniscient, which dilutes rather than amplifies the role.
Brendan Vargas Konicki, Garrett Garcia and Grace McLaughlin share the role of Stage Manager, and, intentionally or not, they show such a broad range of acting skill and interpretation that the character doesn't entirely cohere. All three are occasionally tempted to use irony, as if the Stage Manager needed to impress the audience. But each has effective moments, as well.
Aidan Holding captures George Gibbs' gentle joy and succeeds at showing the character's innocence without any cloying cuteness. It's an accomplishment to cast aside the armor of a pose to reveal George as a little bit foolish and altogether earnest.
As Emily, Ally Sass flicks her bright eyes to take in the world, eager to enjoy everything, especially the startling first feeling of love. Sass is wonderfully alive when staring at the moon, and has just the right urgency in her final scenes, when she painfully reconciles the perspective of mortality with the raw beauty of life's fleeting pleasures.
Ian Dunn, Julia Zephir, John Hughes and Elizabeth Callahan are all impressive at conveying the Gibbs and Webb parents with the gravity and offhand confidence of mature adults. Callahan is especially moving as Emily's mother, sweetly oblivious to what's precious about daily life.
The acting craftsmanship varies. On Friday, some students rushed their lines without letting the moment and meaning unfold first, and a few characters were left more skeletal than they had to be. But the overall power of the play emerged.
As costume designer, student Alyssa Korol hits a nice range of notes within a constrained color palette, using simple variations of flared skirts for women and vests for men.
UVM faculty members ably handle the rest of the tech. Jeff Modereger's set reveals the theater's deep backstage and offers elegantly geometric placement of simple chairs and tables. The spare, neutral lighting by John B. Forbes nicely matches the mood Carleton invokes.
Imagine a time when skinny jeans and texting are hopelessly out of date. To see those lost things again — to see your lost self in connection with them — might fill you with a new wisdom about the transience of what now seems essential. Our Town demonstrates that recognition, and adds one thing more: a sense of what's eternal about human beings despite their brief and simple lives.
UVM's excellent production allows us to enjoy two fine actors portraying George and Emily, and to rediscover the abiding strength of Wilder's play.
The original print version of this article was headlined "Life Stories"