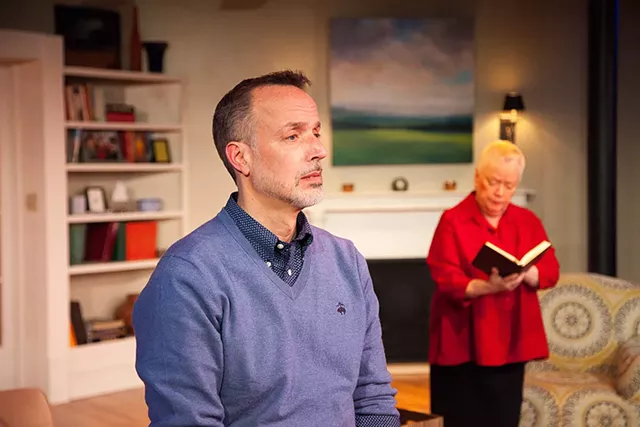 courtesy of Lindsay Raymondjack Photography
John Jensen and Peggy Lewis
Vermont Stage's first production of 2016 is Mothers and Sons, in which playwright Terrence McNally presents two survivors of the first onslaught of AIDS. Seen 20 years after one lost a son and the other a lover, they show us how the world has changed for middle-class gay men. They also show how it hasn't, and how two people united in their loss can remain at an uncomfortable distance.
McNally's focus is personal, not political, but the cultural context gives his 2013 play urgency. Now 77, McNally was one of the first playwrights to address AIDS. His balance of humor with life-and-death musings in plays such as Lips Together, Teeth Apart (1991) and Love! Valour! Compassion! (1997) helped present the epidemic to mainstream America. (Vermont Pride Theater in Randolph performed the latter work in a staged reading last week.) In 1988, McNally wrote a short play about a mother confronting her son's death. He developed the woman he once called only "André's mother" into a complete character for Mothers and Sons.
Katharine, recently widowed, pays a surprise visit to Cal, the former lover of her son, André, who died of AIDS 20 years earlier. She's alone now and incensed that she lost her son too soon. After mourning André for many years, Cal met and married the much younger Will. Cal and André had to use the terms "partner," "lover" and "boyfriend." Now Cal can proudly call Will his husband, and they have a 7-year-old son. A lot has changed.
But nothing seems to have changed for Katharine, who wants to find something to blame for André's death. She tries to aim her anger at Cal, or at homosexuality in general, and soon loses herself in a vituperative fury. Cal struggles to preserve his positive memories, and his own grief, against her resentment.
Katharine's bitterness also triggers tension between Cal and Will, who've had to put Cal's love for André behind them to build a life together. As parents to Bud, they can see a promising future, as their son innocently takes for granted a relationship that Katharine finds wrong.
McNally has identified four characters who form just the right points on the compass to explore the changes in our culture's attitudes toward homosexuality. The play is a single 90-minute scene. Despite its brevity, the script is somewhat overwritten: It rakes over the same ground repeatedly, seeking a crescendo that never quite comes. There are no revelations, and none of the characters is persuaded to change his or her beliefs. But that realism suits the circumstances.
Then McNally tacks on an ending so saccharine that not one of the characters could actually live in the world he sentimentally sketches. Every bit of realism he established in earlier scenes is tossed aside for a moment too sweet to feel good. Still, it's easy to ignore this cloying misstep in favor of the play's strong core.
Director Gregory Ramos establishes a perfect pace — slow enough to let each confrontation reach full flower, but fast enough to feel consistently energetic. The blocking has a static quality when Ramos keeps Cal and Katharine staring in different directions to emphasize their unbridgeable gap. As much as this choice suits their psychological states, it drains a bit of life from the play. In this production, moments build through diatribe more than interaction.
As Cal, John Jensen beautifully delivers the role's nuance and humor. Cal spends plenty of time reflecting while Katharine lets out her feelings, and Jensen reveals Cal's depth by guarding his own emotions. When his eyes well up during one of Katharine's stories, Jensen steals nothing from the other actor onstage, even as he silently focuses the audience's attention on the power of the moment.
Justin D. Quackenbush gives Will simple ease in his own skin and a rich, prickly humor. He roughhouses with his son, tells Cal what's on his mind and bores right through Katharine's steely reserve to show her real hospitality. Quackenbush moves briskly, always focused on a goal, whether it's getting his son into the bath or ferociously urging Cal to usher Katharine out of the house.
Peggy Lewis plays Katharine with tightly clenched gestures and an uplifted jaw that radiates disapproval. She locates the most theatrical moments in the role and tries to produce big, and arguably showy, effects. The performance is lacking in subtlety, but it may engage an audience. Lewis has the courage to show her character's unpleasant qualities, but she lets simple anger take the place of the more complex emotions that build over 20 years of suffering.
As Bud, young Asa Baker-Rouse is an assured performer. The script requires him to ask a lot of questions of Katharine, and his acting skill shows as he listens to the answers. He delivers some wonderful, unself-conscious squeals while playing with his dads and loses himself in the role.
Jeff Modereger's set design conveys Cal's wealth and taste with details such as a fireplace, bookcases, working French doors and a hallway replete with artwork. Family photos on the bookshelves soften the manicured look of privilege on Central Park West. Lighting by John B. Forbes effectively indicates both the passage of time and the rise and fall of emotions.
In this production, Katharine's pain doesn't transform her, though McNally may have intended the audience to feel compassion for her. When she looks around the lavish apartment to see three happy people enjoying family life, Katharine asks why Cal's life got so much better since André's death and hers, so much worse. It's one of the play's purest moments, and if it has no good answer, it eloquently describes the shape of loss.