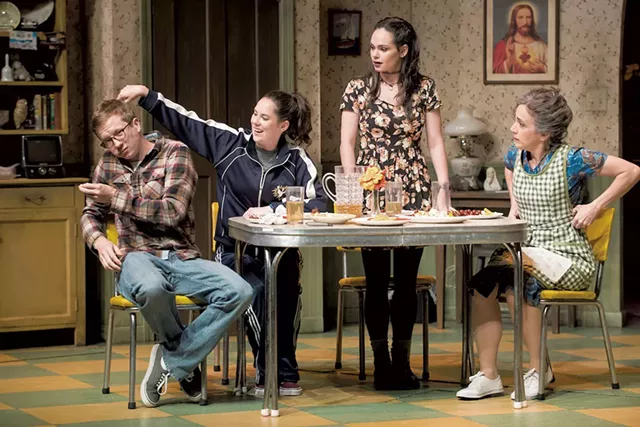 Courtesy Of Andy Duback
Left to right: Adam Petherbridge, Clare Mahoney, Kim Taff, Kathryn Markey
The breezy Miracle on South Division Street, written by Tom Dudzick, is the lightest of comedies, with humor coasting on simple stereotypes about religion and ethnicity. In the Saint Michael's Playhouse production, four engaging professional actors bring out the warmth of this situation comedy, but the play itself is but a mild diversion.
Clara Nowak's Buffalo neighborhood is deteriorating, and she fears her grown children are losing their values. Daughter Ruth has stopped attending Mass regularly, son Jimmy's girlfriend is Jewish, and daughter Bev seems to be looking for a good time harder than she's looking for a husband. But Clara is especially concerned with her children's blasé attitude toward the miracle that makes the family special.
In 1942, Clara's father claimed that the Virgin Mary appeared before him one night in his barbershop next to the family home. He commissioned a statue of Mary to commemorate the visitation. The shrine attracts tourists who leave small offerings and fills the whole Nowak family with pride.
The three grandchildren have grown up giving a little speech for visitors explaining the miracle, but, now that they're in their thirties, their delivery is lackluster. Clara wants to revive public interest and secure the Catholic Church's approval, but even her own family isn't keen on expanding attention to the shrine.
"Do we look like the kind of family God gives a miracle to? Does that make sense?" Ruth asks.
"It's not supposed to make sense. It's religion!" Bev answers.
Ruth has been studying theater and hopes for a career as an actress. She gathers the family to announce she's written a one-woman play telling the story behind the statue. Everyone is pleased until Ruth brings them up short; she plans to tell "the real story." She's learned some particulars from her now-deceased maternal grandmother. At first, the family simply can't believe the tale she's telling. But the proof that emerges is a kind of miracle affecting all four Nowaks.
Thursday's full house laughed heartily once that secret was revealed and the consequences were felt, but the play seemed slow to get under way and initially elicited a tepid response. The play is not distinguished by great wit, and its attempts to establish the characters fall flat since there isn't much to them besides their abundant likeability.
The wonderfully wide playing space at Saint Michael's allows for a big and realistic set, but the distance between actors often dilutes the story of a family that will need to bond together in the face of surprising news. The production lacks intimate moments, in part because director Kenneth Kimmins keeps the actors in motion, often scattered away from each other for the sake of balancing a tableau. Kimmins fails to capture the good-natured teasing of a family and rarely has two characters physically interact with each other, confining their connections to tossed barbs.
The performers themselves are the bright spots in this production.
Kathryn Markey roots Clara in the lower middle class but adds a self-possessed carriage that makes this sympathetic mother regal. Her religious faith and her love for her children are givens; Clara has no need for mawkish displays proving either. Markey bustles about the kitchen and breaks up quarrels among the grown kids with a practiced hand. She earns her laughs with spot-on comic beats and intense connection to the other actors.
As Jimmy, Adam Petherbridge captures the comfort of being at ease in the family home. The play opens on Jimmy calmly fixing his mother's toaster, slouched at the kitchen table with his toolbox open. Petherbridge gives Jimmy a ready smile and sweet concern for his mother and sisters. His open heart shows as he tells Ruth of his planned marriage proposal, and his domestic helpfulness paints a picture of a mother and son relying on each other.
Kim Taff plays Ruth as a nervous ball of energy. She gives the character some nice sparkles of hope as she talks about her theater plans, but principally frets about the bombshell she has to drop. Taff has being on edge down to a T, but the direction doesn't focus on her connection to the other characters or what's at stake for her, making it tough to empathize.
As Beverly, Clare Mahoney kicks the play into a higher gear when she enters and immediately begins sparring with everyone. Mahoney's energy is welcome, but the thin material leaves her dishing out the same shrill wisecracks for too long. Mahoney sinks deep into the character's working-class physicality, grabbing beer from the fridge and itching to be off to the lanes with her bowling ball.
Scenic designer Carl Tallent fills the Saint Michael's stage with a densely detailed kitchen with dining table. Signs of class and faith are everywhere. A reproduction of Leonardo's "The Last Supper" hangs next to kitschy decorations; the 1980s refrigerator is covered with magnets and notes. The counters are packed with signs of a busy cook, while the well-known Sunday School Jesus nearly glows from a wall.
A window over the kitchen sink overlooks the shrine, and lighting designer Annmarie Duggan adds a sense of daylight beyond the curtains to give the statue a presence in the characters' lives.
The actors try to build rhythm in their repartee, but this play is more like a wind-up toy that waddles along joke by joke. The gags are innocuous in themselves, but 90 minutes of clichéd yuks about Poles, Jews, working stiffs and Catholics gets perilously close to offensive by sheer repetition.
Still, Miracle aims for a heartwarming demonstration that prejudice is laughable because biases are interchangeable. All that's needed to enjoy the play is an interest in the mindless pleasure any sitcom provides.