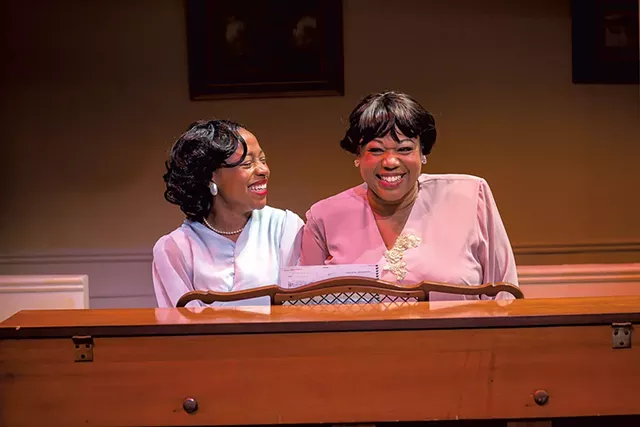 Courtesy Of Lindsay Raymondjack Photography
Erica Durham (left) and Constance Jewell Lopez
Rosetta Tharpe was a musical meteor who blazed through the 1930s and '40s as a singer and guitarist, performing a swinging, emotional fusion of gospel and blues that laid the foundation for rock and roll. She was immensely popular but faded into obscurity just as her musical contributions were embraced by Elvis Presley, Chuck Berry, Little Richard and other early rock artists. Many present-day music fans don't know her name, but if they recognize guitar distortion in electric blues and the roaring vocal freedom of rock, they know Rosetta's mark on music.
In recent years she's been rediscovered. In 2018, she was inducted into the Rock & Roll Hall of Fame, 44 years after her death and long after the men she inspired were enshrined. In 2016, George Brant's play Marie and Rosetta premiered. Now, Vermont Stage is offering the dramatization, which is packed with Rosetta's signature songs.
Brant tells a life story in 90 minutes by focusing on a single rehearsal, when Rosetta auditions Marie Knight, the singer who would be her partner onstage in the late '40s. The setting is a funeral home with a piano, the kind of spot Rosetta has to seek out while touring. She can sleep and practice there, and start working up numbers with Marie. On the road in the segregated South, she can't count on a hotel room and needs her white bus driver to buy her food, she tells Marie.
The action centers on an audition but has room for plenty of biography as the two characters convey their history while getting to know each other. Constance Jewell Lopez plays Rosetta with warmth and no-nonsense worldliness. As a gospel singer, her style includes equal measures of pain and ecstasy, and she manages the suffering in her own life with practical — and sometimes joyful — self-confidence.
Marie is a traditional gospel singer who doesn't personalize songs with riffs or unique phrasing. Her straight, unaffected style is sweet but too restrained for Rosetta's taste. In addition to an enchanting contralto voice, Erica Durham gives Marie wide-eyed youthfulness and charming awe of her musical hero.
Rosetta sees potential in Marie, but the churchgoing girl will need to get comfortable with the risqué songs Rosetta perfected while singing to white audiences at New York City's Cotton Club. The act is gospel and blues, and Marie is timid at first. Lopez makes Rosetta a funny, gentle mentor; Durham's Marie becomes a willing pupil when coaxed to move her hips while she sings. Soon enough, she learns how to pour the music out of her body.
Musically, the play shows Marie's journey from a quiet, pious singer to a woman ready to cut loose at the piano and exult in song. Durham is affecting when she gives way to laughter and giddiness, as if Rosetta has at long last pressed her "on" switch.
Using the musical performances in such an intimate way is an arresting theatrical premise, and it often works. But one critical element of Rosetta's music is undermined without an audience for her to acknowledge. Because the play aims her singing at Marie alone, the rowdy jubilation of her style is lost without that outward drive.
Though filled with songs, the play has more story than a jukebox musical in which a little dialogue is excuse to present a concert. Brant has tried to give the flavor of two lives, and director Jarvis Antonio Green sets a storytelling tone of low-key, offhand remarks. It's not a sentimental story about the attention Rosetta deserved but a look at her enjoying herself at her peak and handing Marie a new musical vision.
The play serves up carefully researched morsels about Rosetta's life, but that's not enough to give it much dramatic fire, and little happens onstage. It's widely believed that Marie and Rosetta were lovers, a relationship this production doesn't explore beyond a friendly caress. Because Brant fits the action into one night, there's hardly time for attraction to build, but this unexplored aspect shows the limitations of a single slice of time. To enlarge the scope, the playwright crafts a clever ending that a review shouldn't spoil.
The play gives the characters some warm moments, but it can't dramatize any obstacles for them. Marie can tell about a tragic house fire, and Rosetta can indicate a rivalry with Mahalia Jackson, but dramatically the play has no real conflict. The only arc is watching Marie absorb the ideas that early rock artists would pick up from Rosetta more indirectly.
The musical performances by Lopez and Durham might send viewers home eager for more of Rosetta's nasty guitar and fervent singing. The actors are fine singers, and though they don't actually play their instruments, they show the energy of live music making. Hidden backstage, Andy Pitt plays electric and acoustic guitars through the theater's speakers, and music director Randal Pierce plays a baby grand.
Lopez and Durham have studied the physical moves to play the instruments and do a credible job of mimicry.
A detailed set by Chuck Padula and lighting by Dan Gallagher add visual interest. Costume designer Emily Taradash gives Marie a pure white dress and Rosetta a stylish gown.
The music Rosetta inspired would eventually sweep her off the sales charts. She was, after all, still singing her hits of the 1930s to 1950s audiences. Music was changing, and musicians and audiences didn't pause to recognize her contribution at the time. But her performing fire still glows every time a guitar growls and a voice socks a listener in the last row. This play lets audiences see it light up Marie's face, and perhaps surrender to it themselves.