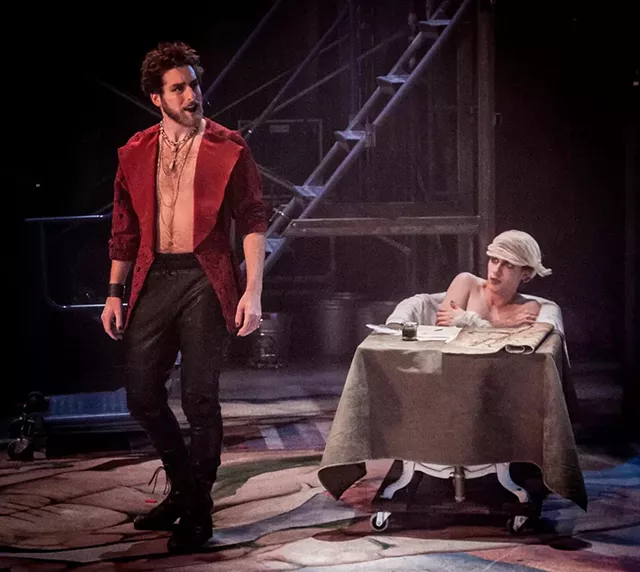 Courtesy of Dok Wright Photography
Peter Hiebert as de Sade, left, and Garrett Garcia as Marat
The name Marquis de Sade probably possesses, at least in the popular imagination, more associations with sex than with revolution. Even a solid film like 2000's Quills, set in the tumultuous post-French Revolution era, emphasizes de Sade's sexually explicit literary output and the unabashed opinions and proclivities that informed it.
Not so in German playwright Peter Weiss' 1963 play Marat/Sade, currently a University of Vermont Department of Theatre production at Royall Tyler Theatre. Marat/Sade finds the marquis in political rabble-rousing mode, circa 1808, as he directs the inmates of the Charenton asylum in a play-within-a-play. The latter dramatizes the 1793 assassination of revolutionary journalist Jean-Paul Marat in those awkward transitional years following the dissolution of the French monarchy — aka the Reign of Terror.
This is heavy stuff: a meditation on why revolutions are necessary yet ultimately fail to deliver the goods. Creating an engaging, entertaining spectacle from such deep contemplation is a formidable artistic challenge. The UVM production meets it through an impressive integration of technical elements and solid performances in key roles.
A sense of immersion in the shadowy Charenton asylum kicks in the moment one sets foot inside the theater. Directing patrons to their seats, masked ushers wear attire suggestive of miserable asylum life and of S&M encounters. (The S, in fact, derives from de Sade.) In this way the audience gets an early glimpse of how Marat/Sade will compel interest in its tragic tale.
Kate Fulop's costume designs are a fitting companion to scenic designer Jeff Modereger's austere set. Metal scaffolding rings a stage adorned only with wooden benches, one comfier couch — for the play-within-a-play's audience, Charenton director Coulmier and his wife and daughter — and the bathtub in which Marat will be slain. Spotlights shoot straight up from floor-mounted fixtures, sending eerie beams of light through a hazy darkness — the handiwork of lighting designer John B. Forbes.
Director Gregory Ramos also choreographed the play's song-and-dance numbers — think the "Thriller" video sans Michael Jackson, interrupted by brief onstage orgies. Zach Williamson's sound design accents the play with edgy musical motifs punctuated by Patricia Julien's evocative original compositions.
These production values commingle to produce not 18th-century institutional verisimilitude, but something even more oppressive: a dank quarter of the human condition that the light of revolutionary promise cannot reach. Here, Artaud's theater of cruelty meets Brecht's epic theater meets Mad Max Beyond Thunderdome.
Technical effects set a captivating tone for Marat/Sade and a high bar for performers who must stand out against the backdrop. Ramos has directed his cast to make a range of character choices that imbue the play with manic energy — in keeping with its context — but also convey more nuanced impressions. A few performances in particular give Marat/Sade important emotional texture.
Rather surprisingly, playwright Weiss cast the figure of de Sade in something of a supporting role. As the author and director of the play-within-a-play, de Sade often stands back from his production, lurking in the wings until his presence is required to steer the show through a snag. Most of these interruptions come from the play's audience, chiefly Coulmier, who objects to political digressions from the script that challenge his rosy view of the work being done at the asylum and beyond its walls.
Tommy Roach credibly enacts Coulmier's imperiousness. He fumes across the boards, threatening harsh punishment for further effrontery — aided by his cattle-probe-wielding security detail. At one point he allows his daughter, played by Caitlin Durkin, to kick the crap out of an inmate who has stepped out of line.
Peter Hiebert's portrayal of de Sade is as confident as it is subtle. When his character holds forth on matters relevant to his nihilistic worldview, Hiebert demonstrates sensitivity in de Sade's vision and an ear for dramatic oration. But he is most magnetic when saying the least. Although de Sade is an inmate under Coulmier's control, Hiebert's body language — his confident swagger and especially the cool gaze with which he fixes Coulmier — speaks volumes about his intellectual and moral authority over the asylum director, and about his spiritual freedom.
Hiebert's understated portrayal of an individual who was anything but free demonstrates keen dramatic instincts and boldness in exploring a character who is already well fixed — accurately or not — in the popular consciousness.
Eliza Dodge turns in a similarly understated performance as an inmate afflicted with some kind of sleeping sickness who steps into the role of Charlotte Corday, Marat's assassin. Dodge moves about the stage tentatively, suggesting a core anxiety about her part in the drama. She conjures a troubled, possibly traumatized soul going through the motions of re-creating a violent attack. Her stage presence makes a ghostly apparition out of the hollowed husk of a human being, while her halting, oddly inflected speech gives voice to the horrifically bizarre circumstances of this multidimensional tragedy.
Playing the inmate playing Marat, Garrett Garcia must enact multiple levels of pain. Marat is distraught at the unrealized dreams of the revolution. He also suffers from a nasty skin condition that only a bath can soothe. As a result, his is the most histrionic voice, ceaselessly inveighing against the corruption that engulfs France. While Garcia's voice as Marat is not as richly modulated as some of his fellow cast members', he makes the revolutionary's pain palpable. Attending Marat is his wife, Simonne Evrard (Ceara Ledwith), whose terrified screams and inconsolable wailing further darken the atmosphere surrounding her husband's imminent murder.
Taking on such complex material is ambitious. The UVM production of Marat/Sade brings ample resources to the task, with results that, by and large, commend the effort. The long play does occasionally flag a bit — mostly at those moments when it strains toward grandiosity. That tendency is perhaps best illustrated by the character of the Herald, played by Ian Walls, who speaks in verse, offering a narration of events that can feel unnecessary. His tone rings more philosophical than even de Sade's, draining some buoyancy from a play that has none to spare.
While it may sometimes overindulge in gravitas, Marat/Sade provokes a resonant and regrettably timeless question: Are we living in a revolutionary or a post-revolutionary era? The easy answer depends on our point in time and space. The more complicated answer takes into account the cyclical nature of conflict — of which revolution is but one phase — and the limitations of human consciousness that impose that cycle.
Marat/Sade depicts de Sade as impelling people to reflect on those cycles during a notably volatile period in world history. Thus the play works to add his name to a list of eminent thinkers on the social science of revolution — Plato, Aristotle, Hegel, de Tocqueville, Arendt, Huntington — and to downplay his kinship with groundbreaking pornographers.