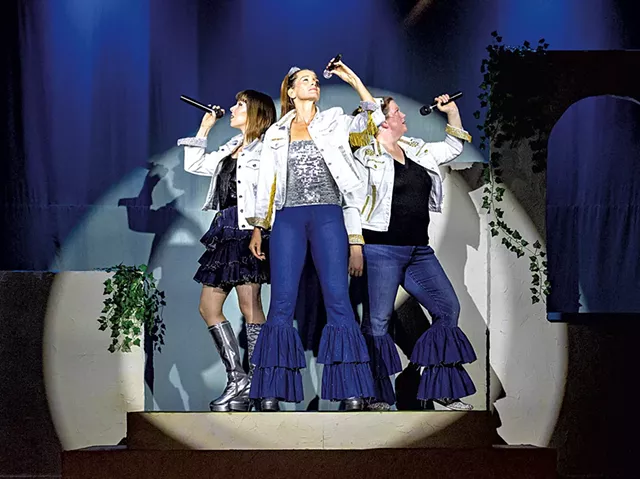 Courtesy Of Adam Silverman
From left: Andriana Chobot, Chloë Fidler and Becky Millard
Because its infectious music sends a swirl of characters vamping across a stage, Mamma Mia! has been winning over audiences since 1999 on the strength of pure pop froth. The show will work for anyone willing to surrender to the 1970s ABBA songs that fuel performers in a state of exuberance for two and half hours. The Stowe Theatre Guild production gives this guilty pleasure a solid comic foundation and all the enthusiasm a viewer could want.
The story line is a rickety backdrop for a vaguely believe-in-yourself theme, but as a flimsy excuse to raid the catalog of the Swedish hit makers, it's entirely forgivable. As long as you're in the mood to enjoy it, Mamma Mia! rushes straight to your toe-tapping happiness sensors.
The plot is preposterous, but brush logic aside! Young Sophie is about to get married. She lives on a Greek island where her mother, Donna, has been running a tourist taverna while raising her daughter on her own. Sophie has never been told who her father is, but she sneaks a peek at her mother's diary and realizes three men are candidates.
She invites them all to the island, hoping she'll know at a glance who should walk her down the aisle. She hopes, too, that her mother won't mind coming face-to-face with past flames. But seeing them all again is enough of a shock to make Donna turn "Mamma Mia!" into a gobsmacked musical outburst.
Sam, Harry and Bill don't realize they're possible papas, and the road to determining Sophie's parentage takes the big, long detour of a lot of singing and dancing the night before her wedding. This isn't a mystery story but a chance to indulge in unshackled nostalgia for youthful disco days.
Donna's youth included a stint performing with two backup-singer besties as Donna and the Dynamos. Tanya and Rosie are also wedding guests, and when they see Donna in the dumps, they raise her spirits by draping her in a feather boa to sing "Dancing Queen" again. It's a miracle cure.
The musical is a patchwork of songs, lightly yoked to a plot that would never have used those particular lyrics to tell the story but isn't entirely undermined by them, either. ABBA's Benny Andersson and Björn Ulvaeus were involved in the development of the original show from the beginning and stipulated that no words were to be changed. So be it, though using a breakup song addressed to a rejected lover may not be the best way to tell a girl who may be your daughter that you've gotten a divorce. But why quibble?
Owen Leavey's direction sculpts satisfying comedy out of the scripted exchanges. When Sophie's girlfriends arrive for her wedding, the three cluster together like preteens at a sleepover. Leavey calls for big, gawking takes as Sophie explains her mother's somewhat frantic romantic past.
The big cast has a few standouts. Noelle Nilo is radiant as Sophie. She has a solid singing voice, the showmanship to let an emotion burst out on her face, and the dance skills to abandon herself to enjoyment. Sophie's friends (Carli Harris and Kira Johnson) fairly glow with glee.
As Donna, Chloë Fidler shows the toughness a single mother needs to raise a kid and start a business, but she thaws right out on her daughter's wedding day. She owns her bell-bottoms and brings a strong soprano to the role.
With a fine voice and great stage presence, Becky Millard, playing Rosie, turns "Take a Chance on Me" into an uproarious flirtation with Bill (Roya Millard) that had Thursday's audience laughing and cheering. Millard, with a great knack for comedy, gives Bill a big heart and big reactions.
Andriana Chobot uses worldly wise head tosses to make Tanya both fun and formidable. Bartender Pepper (Anna Mazer) sets up drinks with a sly deadpan. The same-sex romance between the two isn't exactly convincing, but the point seems to be giving the audience something to think about.
Sophie's lovestruck fiancé (Anders Bright) and a taverna employee (Ryan Poulin) make the most of every dance opportunity, especially when flippers are involved.
Leavey's nontraditional casting opens up parts to performers who don't fit the white, cisgender model for the musical. A young Filipino actress plays Sophie. A woman plays pool boy Pepper. And Bill, one of the dads, is an openly transgender man. Casting people who can make the most of roles without regard for convention could be one reason this cast appears to enjoy each other and every minute onstage.
The multilevel set, designed by Leavey, suggests the Grecian setting with staggered lines of simple white walls, including two round-top windows for staging peekaboo moments. Costume designer Jenn Anthony sustains the show's happy mood with bright beachwear, disco boots to die for, silly striped swim trunks and a full white wedding finale.
Choreographer Grace Stauffer gears the dance numbers to the cast's range of skills. Full-stage circles and disco-era head bobs keep the energy up, and big cast lineups make for fist-pumping finales. Lighting designer Becky Millard goes a bit overboard with spinning lights and dramatic colors that verge on distracting, but all's fair in love and disco. Music director Kenny Grenier leads a seven-piece band.
The true artistic accomplishment of Mamma Mia! is banishing ironic detachment. Sit back, sway to the music and smile at the campy bits between the songs. But don't spend a minute analyzing the structure or characters. The musical has all the nutritional value of a marshmallow, and the same sugary gratification. The Stowe cast may be amateurs, but their zest for singing and springing across the stage more than qualifies them as entertainers.
Correction, August 28, 2019: An earlier version of this story misidentified the actor playing Rosie and the production's lighting designer. Becky Millard handles both roles.