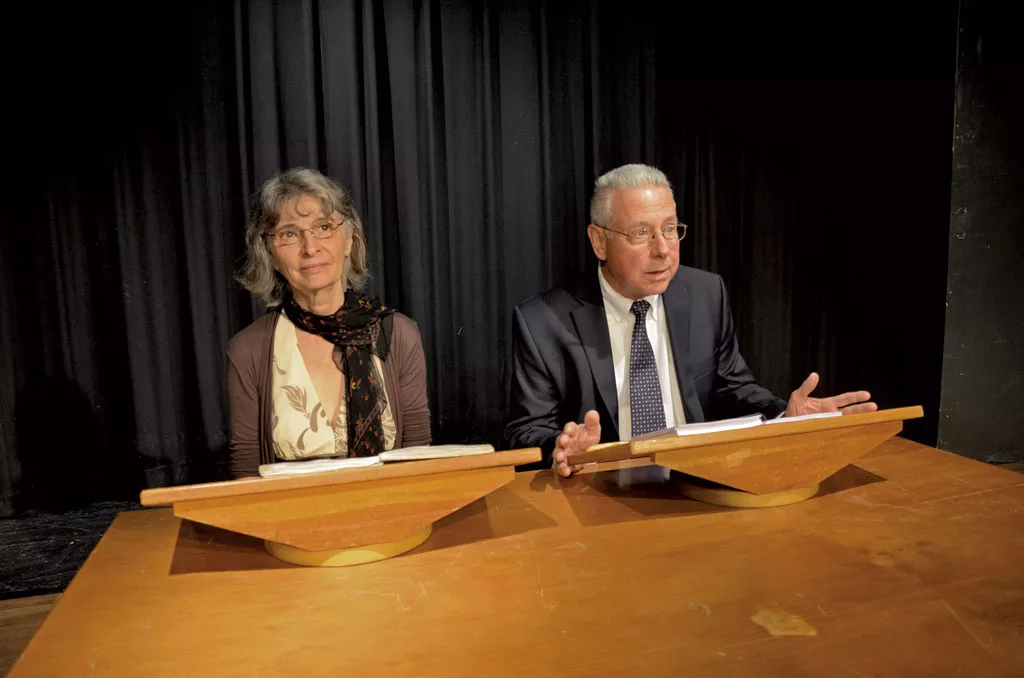 Courtesy of Alex Brown
Sarah Brock (left) and Brooke Pearson
Little did audiences at the 1988 debut of A.R. Gurney's play Love Letters know just how quaint its premise would soon seem. Performed entirely by two actors narrating correspondence their characters exchange from 1937 to 1987, the play celebrates a time-honored form of communication — the written, signed, sealed and delivered letter — that would soon yield to the onslaught of email.
While the centrality of written correspondence to the play may inspire nostalgic reverie in theatergoers raised in the twilight of the manual typewriter, the conceit also does serious dramatic work. The characters' letters offer text — sometimes quite superficial — that implies deep, rich subtext. Often these words, so constrained by the effort required to compose them, vividly conjure deeds in theatergoers' minds.
The epistolary approach was a winning strategy for Gurney, who saw Love Letters claim a spot on the short list for the 1989 Pulitzer Prize for Drama. The play is being revived on Broadway this fall with a rotating cast to include the luminous pairings of Brian Dennehy and Mia Farrow, Dennehy and Carol Burnett, Alan Alda and Candice Bergen, Stacy Keach and Diana Rigg, and Anjelica Huston and Martin Sheen.
Alex Brown, who directs the Love Letters production currently running at the rustic Unadilla Theatre, says in a program note that finding themselves in such illustrious company was a happy accident for her and her cast. News of the Broadway revival reached her after rehearsals had begun. The overall quality of the Unadilla production, however, is no accident. Brown and company execute Gurney's deceptively simple play with a sensitivity and skill that realize the emotional complexities that have made Love Letters a respected entry in the canon of contemporary American drama.
The play begins innocently enough — in second grade, in fact — when Andrew Makepeace Ladd III (Brooke Pearson) voices a formally worded acceptance of an invitation to attend a birthday party in honor of classmate Melissa Gardner (Sarah Brock). The next move is Melissa's: a recitation of the requisite thank-you note to Andy for his birthday gift, L. Frank Baum's book The Lost Princess of Oz. She inquires why he gave her that title, Andy responds, and a young friendship is born.
From the outset, though, this relationship proves complicated. While the content of the youngsters' letters suggests their common ground in affluent society not far from New York City, Melissa is critical of Andy's eagerness to please his elders — such as by writing perfunctory letters full of things they've told him to write. While Andy finds inspiration in his father's notion of letter writing as an act of putting forth one's best image, Melissa sees this as a tiresome performance; she would rather draw pictures than write at all.
This difference in attitude, combined with the fact that Melissa's family is significantly wealthier than Andy's, comes to define the two characters individually and to each other over the next five decades of their lives, loves and letters. They'll both be subjected to dancing lessons — a class signifier — and packed off to boarding school. But Melissa's persistent family dysfunction will only intensify her jaded outlook as she pursues a career as an artist. Andy, in stark contrast, will remain aspirational to the core, attaining the Ivy League and other lofty realms accessible to pedigreed men in post-World War II America.
Andy and Melissa's profound differences notwithstanding, they do cross paths fleetingly over the course of their lives. Some of the play's most poignant moments are those when events conspire to prevent their reunion.
Gurney's script superbly renders the periods through which the play progresses, affording Love Letters a long narrative scope and evocative imagery even in the absence of much movement or production design. Throughout the performance, Brown's players sit, side by side, behind two wooden lecterns from which they read their scripts. Melissa wears an understated party dress that suits many decades. Andy sports a blue blazer and brush cut — timeless WASP attire.
The apparent simplicity of a typical Love Letters production is often cited as one reason for its appeal to theater troupes; the actors need not even memorize their lines. Yet other challenges lurk in the margins. As Melissa and Andy, respectively, mature actors Brock and Pearson must play characters ranging in age from 7 or 8 to late fifties. Because the characters are corresponding at a physical remove, the actors can't interact onstage without undermining their present-tense viewpoints.
What they can try to do is evoke a range of emotional states through deftly dramatic readings and subtle physical responses to what they hear. Under Brown's capable direction, Brock and Pearson rise to this challenge.
Brock is equally convincing at conveying Melissa's bratty tween disdain and her middle-aged world-weariness. Occasionally, her delivery adds touches of vulnerability to the text of letters in which Melissa keeps up her guard. Some of Brock's strongest beats are voiceless, such as those moments when dispiriting news has confounded Melissa's efforts to see Andy. Her shoulders sag, her chin drops, her gaze finds a vacant spot on the floor. It's impossible to read the body language as anything other than heartbreak.
Pearson likewise shifts his vocal inflections to mark the passage of Andy's lifetime. His early missives drip with dutifulness, and he never questions letter writing's positive contribution to his personal development. In middle age, Andy's commentary evokes the confidence and conviction of a man on the cusp of leadership. But he, too, becomes vulnerable — though the stakes are different for him — and his voice betrays the emotional disorder his letters strain to control.
Throughout the play, impersonal fixed forms — wedding invitations, birth announcements, holiday cards and the like — create benchmarks against which to gauge Melissa's and Andy's progress through life and toward or away from each other.
If anything occasions a lull in this captivating onstage correspondence, it's Brock's and Pearson's somewhat limited repertoires of facial expressions. Brock conveys unimpressed, angst-ridden, gloomy and a few other moods very well. But, over the course of a full-length play, one might enjoy seeing an even broader range of responses. Pearson may spend a bit too much time staring off toward a particular corner of the theater, as if expecting to see Melissa come sauntering down the center aisle.
Given its title, Love Letters tempts an audience to experience the play as a meditation on love, which it is — the complex, multifaceted love of friends, lovers, spouses and whatever one calls that cherished someone on the receiving end of a message from the heart. The play can also be experienced as a meditation on letters themselves. In Unadilla's solid production, written words have the capacity to reveal true selves and express deep feelings. But, because those words are offered unilaterally — asynchronously, as we say in the email age — the recipient can dodge, mince and misconstrue them with relative ease. Also, letters can arrive too late.
Judging by the American theater zeitgeist — and Unadilla Theatre's accomplished rendition — these Letters are right on time.
Disclosure: Director Alex Brown writes theater reviews for this newspaper.
INFO
Love Letters, written by A.R. Gurney, directed by Alex Brown, produced by Unadilla Theatre. Thursday and Friday, August 21 and 22; and Thursday through Saturday, August 28 to 30, 7:30 p.m., at Unadilla Theatre in Marshfield. $10-20. unadilla.org
The original print version of this article was headlined "Pushing the Envelope"