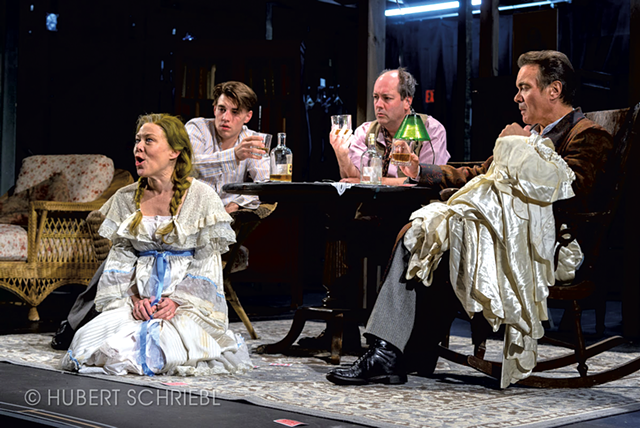 Courtesy of Hubert Schreibl
Left to right: Kathryn Meisle, Andrew Veenstra, Liam Craig and Derek Smith
A mother who nurtures and neglects. A father stingy with love and money. Two brothers who resent and care for each other in equal measure. The current Weston Playhouse production of Long Day's Journey Into Night demonstrates that, nearly 80 years after it was written, Eugene O'Neill's 1941 masterwork remains a powerful portrait of a family entombed in blame, guilt and sorrow.
The play is autobiographical, and O'Neill stipulated that it not be published until 25 years after his death. His widow countermanded his wishes, and it was first produced in 1956, only three years after he died. It won the Tony Award for best play and the Pulitzer Prize for drama.
O'Neill's dialogue is somewhat awkward on the page, but anyone who's only read the play can discover how it really works by seeing this production. In performance, the actor is free to convey emotion, though O'Neill wants to direct it, littering the script with stage directions about how nearly every line should be spoken.
Still, if O'Neill wants to assert control, it may be because the dramatic experience he's trying to create exists a bit beyond the language he uses. Writing after the cultural assimilation of Freud's psychoanalytic theory, the playwright wants his characters to express the subconscious. Words alone bleach the biggest emotions into lifeless abstraction. But filled with an actor's emotion, words can billow into poetry. In gorgeous lyrical bursts — especially in the fourth act when dialogue gives way to monologue — O'Neill's characters can instill in the viewer an understanding of guilt, addiction, loneliness and grief.
The play presents a single day in the life of a family with an insatiable appetite for alternately condemning and absolving each other. It's August 1912. Mary Tyrone has recently returned from treatment for morphine addiction; her husband, James, and two sons, Jamie and Edmund, watch her with forced cheer, wary of a relapse.
James is a successful actor who's settled for a profitable career playing a single, popular role. Jamie followed his father to the stage, where he's proved a mediocre talent. Edmund will shortly learn whether his fever and cough is the summer cold his mother pretends it is or the tuberculosis he fears. The men drink excessively, and each has fine excuses for it. All four characters nurture deep sorrows that they've learned to blame on each other.
These patterns of recrimination and reconciliation grip the family, freezing them in fatalism. Director Ethan McSweeny keeps the attack-retreat-attack energy going but admirably avoids histrionics. With permission from the copyright holder, McSweeny has performed delicate surgery on the text, winnowing the play to three hours including intermission, yet his cuts are virtually invisible. The editing lifts a veil to make clear the rhythm and drive of the play while preserving the essential repetitiveness of characters who won't let go of grievances.
A superficial attempt to modernize the show works less well. McSweeny uses a stylized set and an odd costume gimmick in an unnecessary bid to call attention to the artifice of theater. But he leaves the ultimate focus on the actors, and, with a cast this good, that's where it belongs.
Derek Smith gives James a grand and bruised sense of entitlement. Exuding just the right level of vanity about his matinée-idol looks, Smith's James moves with grace and clearly thrives on being watched. The actor brings depth to James' monologues about the wounds of his childhood poverty and the decision to sacrifice theatrical art for commercial success.
As Jamie, Liam Craig looks older than the 33-year-old son of the vibrant James. But in his stunning drunk scene in the fourth act, his appearance is irrelevant. Jamie is fascinating as he veers unpredictably from self-pity to fury to confession. Craig captures what can be lovable about an Irish drunk, but he also shows a wild, horrifying volatility.
Andrew Veenstra gives Edmund's romanticism a nice, tart bitterness. Veenstra doesn't coast on the pity that sickly Edmund could so easily earn and emphasizes his failures of courage just as keenly. With a dark shock of hair hanging over his pallid face, Veenstra shows Edmund seeking his parents' approval in vain, then fortifying himself with drink to live without it.
With a harrowing portrait of Mary, Kathryn Meisle shines. Mary flickers between denial and shame about her addiction, and Meisle brings out the tragedy of a life without relief. Physically, she shifts from jittery anxiety to disturbing languor to show the effect of morphine on Mary. And when she achieves a brief calm, Meisle's Mary is so rhapsodic that we might well wish her the relief — until desperation for more claims her again.
Scenic designer Lee Savage leaves the set open to the theater's backstage, and lighting designer Scott Bolman blends fluorescent work lights with theatrical lighting to realize McSweeny's deconstruction of the theater space. Costume designer Tracy Christensen's period pieces are stunning, but McSweeny's attempt to convey a transition from rehearsal to performance mixes in contemporary garments. It's a fresh idea, but it pulls viewers out of the play.
Mary says, "The past is the present, isn't it? It's the future, too." We observe these characters over one day and know they will repeat their cruelties and mercies without end. The play's structure at first seems laborious, yet repetition is exactly what releases cathartic moments in Act 4.
That final act is a series of monologues that roll like breakers on a shore as the characters realize and communicate the deepest truths of their lives. They may brush up against honesty only briefly, but they touch it. When they shatter and then strain to forgive each other and themselves, it is deeply moving.