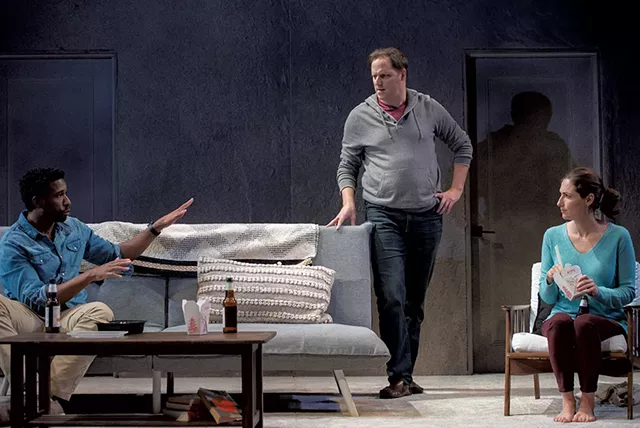 Courtesy Of Kata Sasvari
From left: William Oliver Watkins, Eric M. Messner and Danielle Slavick
A person's identity today usually includes a life created online, set out for others to see and judge. In Brenda Withers' sharp comedy Jordan, now in its world premiere at Northern Stage, a young woman claims she didn't write or send the sexy texts that friends start receiving from her accounts. A stranger has synthesized her life, and suddenly she's swimming in a sea of lost credibility.
In this impressive production, director Jess Chayes and four fine actors apply a cool, contemporary polish to an engaging script. The audience arrives to find a queen-size bed atop a carpeted platform with oddly sloping sides. A MacBook sits open on the bed, logo glowing in the low bedroom light. The back wall towers above the relatively small platform.
On the wall, a white rectangle blinks like the old cursors of DOS days. This bedroom is only one of many settings that quickly materialize and dissolve, with the actors making the swift set changes. The constant element is that huge back wall, which has the mesmerizing power of a computer screen.
Between scenes, projections from video designer Alek Deva fill the wall. These incisive, clever images stylize the elements of a screen, often by magnifying pixels into abstraction or setting them in motion on the set, such as a stripe of red, green and blue dots that seems to burn its way down the wall and then sizzle onward along the bed. Deva conjures visual static that expresses our awe of technology.
The staging sets the mood for a fascinating story. When Lara has a drink with an ex-boyfriend, Wade, his comments about recently hearing from her throw her off. She knows he didn't tell her he was getting married; she knows she hasn't been in touch. But, with a wink, he wonders aloud if she still wants to pretend that she hasn't been sending him lewd late-night texts and photos.
Lara adamantly insists she didn't send them. Wade believes that's another coy part of the game she's playing. Lara discovers that someone is masquerading as her, and she is no longer in control of how she's perceived.
Her finances haven't been hacked, but all her ex-boyfriends seem to be receiving late-night come-ons from her. It's both impossible to stop and impossible to deny convincingly. In the cool, modern world Jordan depicts, identity is constructed by how other people see you.
The audience doesn't know which character to believe, if any. Lara is the central figure in the story and appears both blameless and unsettled by the version of herself that's sending suggestive messages. Then again, she could be trying on an alternate identity, or covering her tracks.
The script keeps open multiple interpretations of Lara's role by surrounding her with characters who doubt her but won't quite own up to accusing her. And all of them might have motivations to swipe her password and indulge in some masked erotic chat themselves. Wade could be playing a trick on her. Fiancé Peter might be wrestling with jealousy about her past boyfriends. Peter's coworker Casey seems so fascinated with getting in on the game that he may already be playing it.
Mistrust simmers, and Lara is left without the last word on her own intentions.
Jordan blurs a lot of boundaries. It has the sparkling repartee of comedy, but the central dilemma pitches the characters, and the audience, into serious thought. It's a whodunit in which no "who" could ever be accountable. It's a psychological drama smothered in ironic detachment. What's at stake can be dismissed as meaningless or mourned as the essence of identity. The play's strength is how nimbly it covers such wide ground.
The performances are distinguished by being firmly rooted in realism even as the play's key action floats in the digital cloud. Chayes creates a tart contrast between the few token objects that the characters handle and the set's vast space around them, reminding viewers that what's most real for these people is a life lived digitally. The anchor for the production is the acting, distinguished by the taut pauses and verbal overlaps of a sharp ensemble.
Danielle Slavick plays Lara as a woman who feels the floor drop out from under her but never resorts to self-pity. Lara stays a cool customer even as she expresses pure wonder at how disembodied words on a screen can humiliate so utterly.
As Wade, Ben Beckley paints a character who can be both hipster jerk and sympathetic friend. Beckley shows Wade staggering under the weight of the world, yet having the measured skepticism to shrug it off.
Eric M. Messner plays Peter through an arc of changing impressions of Lara. Messner gives the character just a bit of good-guy doofiness as he struggles with trusting her. As Casey, William Oliver Watkins shows a man one step ahead of everyone else, with a little grin that is both wicked and wise.
The scenic design by Sara C. Walsh and lighting design by Isabella Byrd present a world that's just a bit unstable, from that soft, carpeted platform with vertiginous sides to lighting that boldly captures the mood of anxiety. In the only peek at their inner lives, costume designer Barbara A. Bell dresses the characters in trendy but unself-conscious clothes that don't attempt to impress a judgmental world.
Jordan makes a virtue of stirring up large themes and not quite disposing of them in a tidy narrative. No easy answers are possible, but the audience can sift through the ideas churned up in witty, realistic dialogue that makes the situation both humorous and hopeless. In this funny and affecting show, cuddling a phone to talk to someone means embracing ambiguity.