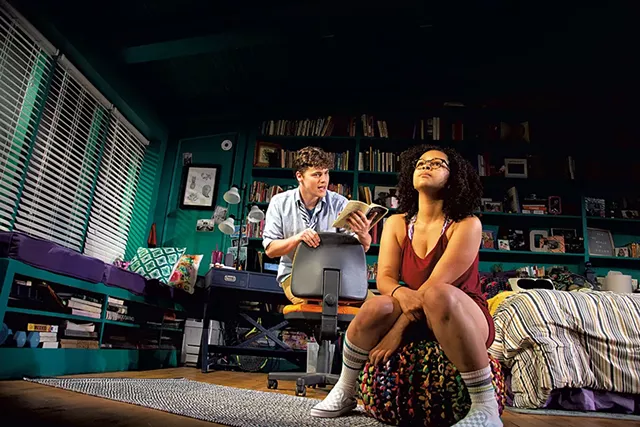 Courtesy Of Alex Perry
Glenn Stott (left) and Jordan Tyson
Weston Playhouse's flexible second stage at Walker Farm is an ideal venue for an intimate two-character play, and Lauren Gunderson's 2013 I And You offers two chewy teenage roles and a fascinating situation. At Friday's preview performance, the delightful storm of witty banter was sometimes flying a little too fast to register, until the story itself slowed the actors down. Gunderson's play about the need for people to connect is a laugh-out-loud comedy, but it skillfully poses some very big questions along the way.
Caroline, a high school senior, can no longer attend classes. She was born with a serious illness and is now confined to her bedroom, connecting with her teachers online. She'll graduate with her class, but she knows them only through social media.
Then Anthony arrives in her room, toting a poorly made poster and a copy of Walt Whitman's Leaves of Grass. He has volunteered to be Caroline's partner for an American literature assignment and has made his way through the long poem on his own. But for tomorrow's presentation, he needs to make a video of her contribution and get her to rescue his woeful poster.
Caroline has been sick all her life, but she doesn't swim in self-pity or cling to the false cheer that people often extend when facing a person with a fatal illness. She's supremely cynical and won't take a sip of the sympathy Anthony proffers. She's fiercely honest about her hopeless situation and ridicules Anthony for trying to engage her in the assignment. But even when she's downright rude, Anthony doesn't rebuke her. Her medical condition is a kind of shield.
Using Whitman's raucous poem and a willingness to confront her, Anthony nudges her to lower that shield. They share their tastes. Anthony plays basketball and loves Pop-Tarts; Caroline likes a lot of glitter on her craft projects. He introduces her to John Coltrane. She answers back with some Jerry Lee Lewis, and eventually they argue their way into the beginning of friendship.
Gunderson's neatly constructed 90-minute play is no maudlin romance of a dying girl. It's more like an angst-ridden teen film in which Whitman's lines come to sound like a teenager's perspective. What makes any story sentimental is usually more its tone than its plot, and this production emphasizes the script's hard-nosed squabbling, the better to set off a spark of love between the characters.
From Whitman, Gunderson fishes out a theme that animates Anthony and ultimately captures Caroline. In the poet's ferocious hunger to obliterate boundaries, to fuse his perceiver's I with the reader's you, Whitman invokes the common humanity uniting everyone. His sinuous, rambling poem is about connection, and that's just what Caroline had stopped hoping to make.
The script is loaded with sparring, and director Johanna Gruenhut focuses the actors on sheer argument for much of the play, so much so that they often rattle off their responses without doing much listening to each other. Early on, Caroline's intensity reads as shrillness, and Anthony's perseverance becomes implausibly angelic.
But Whitman finally casts a spell on Caroline. She describes herself as an expert on contemplating death, but Anthony introduces her to Whitman's long view. Here, the actors start making connections as performers, and their characters come alive. Confrontation evolves into a search for comfort.
Gruenhut composes handsome pictures with the actors. When Anthony gets Caroline to admit she is still making vivid plans for her future, he faces the audience sitting on the floor at the foot of the bed, and she lies on it, flopped on her stomach facing outward. It's a beautiful look at both of them, but they aren't looking at each other.
In another scene, Gruenhut keeps us from seeing either of them in a fraught exchange before the ending. Nice compositions, but the missing piece is showing the characters acting and reacting to each other.
The two actors channel the script's teen-speak faithfully, but both radiate more physical maturity than 17-year-olds. They tend to use impulsive outbursts to portray youthfulness and lack the self-consciousness of teens.
As Caroline, Jordan Tyson is a bundle of energy, stomping through her room and leaping on her bed. She captures a teenager's frustration but often paints only bitterness, not its deeper cause. Glenn Stott plays Anthony with sweet earnestness, letting the character's enthusiasm for Whitman resonate with a teen's fervor.
By giving Anthony a loosened tie and untucked, button-down shirt, costume designer Ásta Bennie Hostetter hints at a prep school and demarcates the character's social class and expectations about education. Dressed this way, he's not a basketball player with a surprising interest in Whitman but a good student who happens to play basketball.
Hostetter puts Caroline in a loose pair of shorts with matching sleeveless top. She romps in her room, so comfortable in her own skin that she doesn't mind showing a lot of it to Anthony.
Scenic designer Tim Mackabee makes Caroline's room cave-like with a sharply pitched ceiling; it rises above a bookcase that spans a wide back wall and displays her possessions. The walls and ceiling are painted a startlingly bright deep-sea green, and the monochrome effect sounds a strong note. This is not a messy teen's room but a curated space, missing the collection of Caroline's quirky pictures mentioned in the script and filled with more books than any kid would collect today.
The play's repartee is so nonstop that it can feel facile, but underneath it Gunderson's story is powerful, all the way through to a surprising ending. For teenagers, deciding what — and whom — to care about can feel life changing. For audiences of every age, seeing characters develop connections is a reminder that life, however short, is about one person's I daring to understand another's you.