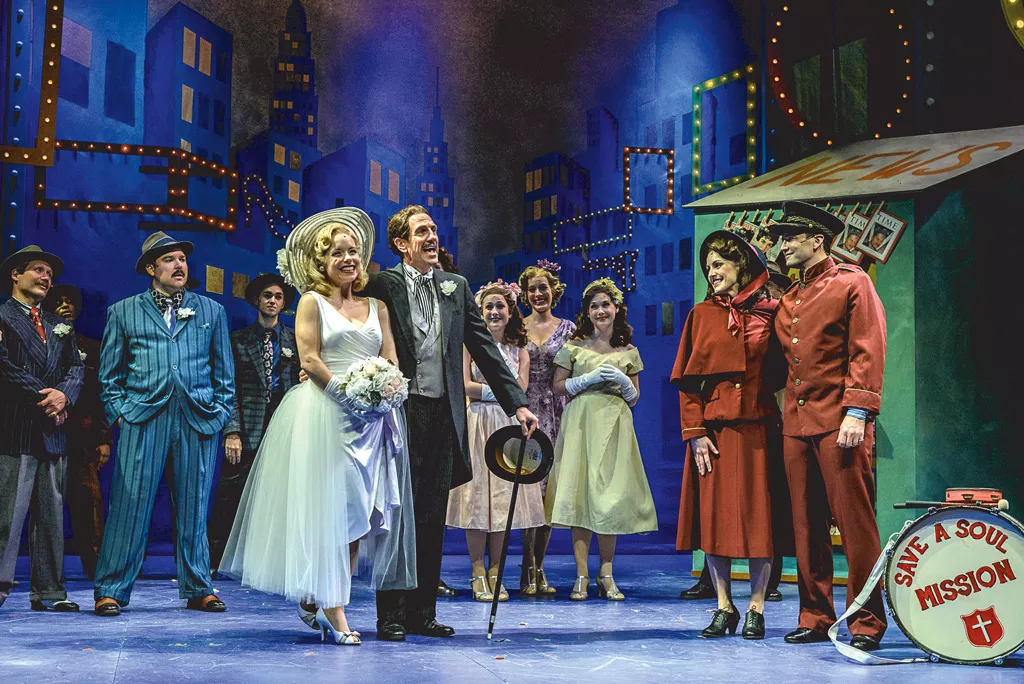 Courtesy of Hubert Schriebl
The cast of Guys and Dolls
While life comes down to a crapshoot for some of the characters in Guys and Dolls, ticket buyers take no risk with Weston Playhouse's thoroughly entertaining production. From the opening tableau of bustling New Yorkers to the finale, the show burns as bright as the lights on 1930s Broadway, where this hilarious collection of lowlifes and dreamers dance, sing and dish out Damon Runyon's distinctive dialect.
With memorable tunes and adorable characters, the musical is a classic well worth revisiting. The book by Jo Swerling and Abe Burrows is based on Runyon's slang-riddled stories of Prohibition-era gamblers, gangsters, cops, broads and temperance reformers. Frank Loesser's music and lyrics remain fresh and funny.
The show premiered on Broadway in 1950 and won the Tony Award for Best Musical. Guys and Dolls is lighthearted, but sweetly sophisticated, too. The rooting interest lies in two couples. Small-time hustler Nathan Detroit has been eluding the cops for ages and puts similar energy into avoiding marrying his fiancée of 14 years, cabaret performer Miss Adelaide. They're a comic pair, but their love proves deep. The smooth-talking gambler Sky Masterson and Sarah Brown, the earnest head of the local temperance mission, make an unlikely pair, which is exactly why they're pushed together — on a bet.
Loesser's musical numbers are gems that advance the plot, define the characters and garner laughs from witty lyrics. Director Malcolm Ewen stages many songs as conversations, letting the characters try to convince each other, especially when the subject is love. In "Sue Me," Adelaide's soaring musical complaint is punctured by Nathan's two-note rejoinder. The melodic difference sets the characters on a collision course. Ewen capitalizes on this tension by letting each character alternate in gaining or losing advantage as Nathan steadily entreats and Adelaide rebuffs him, only to give in when his embrace proves irresistible.
The script captures Runyon's style, a charming amalgam of slang and formal diction. The characters never use contractions, which makes them sound as proper as schoolteachers, but their talk is of dough, dames and playing the ponies. Here's gambler Nicely-Nicely Johnson telling Sky that a craps game is still going: "Big Jule, being a large loser, does not wish the game to terminate." The ratio of tough-guy vernacular, tortured syntax and gratuitous formality makes the characters intriguing, not to mention unthreatening.
The Weston Playhouse stage is fairly small, but you wouldn't know it from the effects Ewen and choreographer Michael Raine achieve. Ewen uses movement to create a lively metropolis, the characters always right on the edge of energy that bursts into a dance number. He contrasts the erratic motion of live-wire gamblers with the slow, straight-line procession of the mission band, incapable of inspiring any sinners to repent.
Raine choreographs the nightclub scenes with fairly conventional moves, true to the style of entertainment shown, but there are surprises in other numbers. For the "Crapshooters' Dance," Raine integrates athletic feats such as handsprings with the intensity of a dice-roller's flick of the wrist. For the full-tilt "Sit Down, You're Rockin' the Boat," Raine unleashes a steady, exuberant build as 18 characters find nutty ecstasy in this parody of repentance.
Marissa McGowan is radiant as Adelaide. Without resorting to a ditzy dame caricature, she makes hapless Adelaide smart enough to understand what love is doing to her while maintaining the character's goofball innocence. She sings "A Bushel and a Peck" with absolute charm while avoiding the unctuous, squeaky tone that's often used to make the singer infantile.
As Nathan, Samuel Lloyd Jr. mixes subtle character work with broad comedy. He can land a joke with the best of them, and he paints Nathan as a lovable sad sack. His accent is painted a little thick — dentalizing every single "t" grows wearing — but if ever a loser deserved to win, it's Lloyd's Nathan.
Andrea Prestinario brings a lovely soprano voice to her romantic portrayal of Sarah. The character is set up as an earnest pedant, and Prestinario never undercuts the zeal required for a Salvation Army proselytizer, but she does give her little dashes of warmth. For a romance to grow on what looks like barren ground, it needs the little startled looks Prestinario gives Sky. And her tipsy "If I Were a Bell" is a delightful release.
Sean Palmer glides with grace and confidence as Sky, clearly a man accustomed to getting everything he wants. Palmer has the good looks and fine voice to make an ideal romantic lead, and he's content to stay with what's skin deep. He is sometimes reserved in a role that can be larger than life, but in "Luck Be a Lady," he turns on the passion in a triumph.
Matt Wolpe and Jim Raposa are standouts as the gamblers Nicely-Nicely Johnson and Benny Southstreet. They have a nice physical contrast — tall and short, calm and tightly wound — and the energy to rivet attention.
The set design by Howard C. Jones plays some tricks to enlarge the stage while setting the scene as a fantasy of New York City. He uses exaggerated perspective to create deep vanishing points and distorts building shapes to deceive the eye. He finishes it all off with wit, such as the ribbon on top of the Hot Box nightclub stage.
Costume designer Karen Ann Ledger plucks sartorial elements from many periods and exaggerates them slightly. Her big, brazen style startles just enough to place the characters in a mythic world and evokes a sense of the past no more specific than an allegorical long ago.
The talented cast delivers all the pure fun of the comedy and characters. With snappy choreography, fine singing, and a delightful set and costumes, Weston's production doesn't miss an opportunity to dazzle and delight.