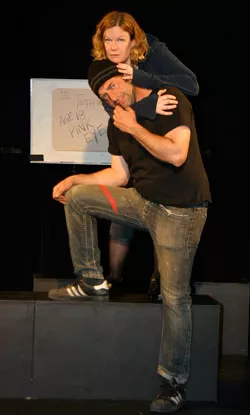 Less is decidedly more in Heat & Hot Water's production of Rajiv Joseph's Gruesome Playground Injuries, now playing at Burlington's Off Center for the Dramatic Arts. The production and the script are the theatrical definition of bare bones: simple props, a black-box theater, two characters. But from this austere plain rise two brilliant performances that create some of the darkest and funniest moments you will ever see on stage.
Joseph distills character and story into eight power-packed episodes. They work like modern flash fiction: no long buildup, straight to the tornado touching down. Humor is a key ingredient, but Joseph's story is about pain itself. By embodying it so concretely in injuries the characters experience, the play achieves a gorgeous paradox. The wounds become metaphor, physically marked on the character's bodies with red athletic tape, in a stylization that makes them both too fantastic to be real and too agonizing to be false.
The scenes hop forward and backward in time, a construction that not only shatters chronology but gives the audience an intriguing distance. Sometimes we have the perspective of the future, but primarily we're struggling to reconcile events that have exploded before us. Joseph's omnipotent timescale makes the story's particulars less important than the full emotional content of the scenes. In a sense, the characters and plot aren't real at all, but the feelings always are.
The play opens windows on the characters from ages 8 to 38. Doug (Jordan Gullikson) is a thrill seeker who needs pain to orient himself and confuses recklessness with bravery. Kayleen (Chris Caswell) is a masochist who graduates from vague childhood stomachaches to self-injury and ups the ante enough times to land in a mental hospital. Doug's wounds are visible, while Kayleen's tend to be hidden, and the two immediately achieve a special symmetry as they reveal what hurts them. Quietly, they take care of each other. The audience watches the play hoping that these two will save, protect and heal each other, but Joseph never allows it to be that simple.
This show can rekindle viewers' faith in what live theater can be. It opens with Gullikson and Caswell plunging right into the acting challenge of being 8 years old. Caswell manages a pure, youthful vocal clarity that eliminates adulthood from the first word she speaks. Gullikson portrays the dark curiosity of a child who can only control his fears by making himself more frightened. Pointing to the bleeding cut on his face, he asks Kayleen, "Do you want to touch it?" with all the solemnity of a religious rite. Their bond forms.
In the next scene, they're 23. Kayleen is desperate to conceal how drunk she is (very), and Doug is handling the news about his latest injury (serious). We watch this fully realized scene with a little superimposition of the 8-year-olds the actors just portrayed. It's a thrilling dramatic effect throughout the play to zoom through time this way, always gripped by powerful, assured performances.
Caswell has many extraordinary moments; one of them is Kayleen's monologue in Doug's hospital room. Caswell remains so completely, un-self-consciously inside her character as she articulates her thoughts that we soon have the delicious sense of being granted the privilege of understanding another person in an unguarded moment. The words she speaks happen to her, without control or premeditation. And she surprises herself, and us, more than once with the decisions she makes. There's a thrilling sense of free fall: We don't know what will or can happen next. We surrender to Caswell's riveting performance.
Gullikson gives Doug a deep, abiding sorrow but tempers it with earnest humor. Instead of despair, he radiates a search for peace and seems confident that he will find it, against all odds. That this calm might only exist at the eye of a hurricane doesn't keep him from seeking it. Gullikson's large frame gives Doug a powerful solidity, but he contrasts it with delicate hands and soft gestures. He's especially good at showing his puzzlement about the world. Doug hopes it will all make sense sometime but can't be sure he'll get his wish. Gullikson skillfully pairs that childlike yearning with an adult's brooding temperament, dazzling us time and again.
Best of all, Caswell and Gullikson work well together. They connect with each other to reveal live theater's greatest quality: It allows us to witness actors taking the risk of perfecting a moment no one can snatch back. The show plays without intermission over 80 exhilarating minutes.
Each episode is so packed with intensity that the audience uses scene transitions much as the actors do — to pause and regroup. We reflect; the actors prepare. And as they briefly rest in neutrality, we witness a bit of their process. On a whiteboard, one actor writes a scene title, which generally describes a wound, and how old the characters are at the time. The order of scenes is far from random, but watching these actors in the intervals gives us a sense that what they write is a proposal, an idea they have to agree on. Even though we have been watching a scrupulously rehearsed and directed production, each scene transition has a weightless moment in which Caswell and Gullikson seem to dare each other. And they make good each time.
These transitions don't include costume changes. The decision to run the entire show, covering 30 years, with each actor wearing the same dark, drab clothes presumably reflects a design to keep the focus on the performances, not on clever symbols or the flourishes of quick-change artistry. Costumer Cora Fauser has chosen casual, nonachiever clothing that doesn't evoke any particular age. The effect is further to dim our expectations for these two. This is arguably overkill in a production that purges sentimentality from every crevice, but it's an honorable choice.
Director Mark Alan Gordon establishes a stunning rapport between the actors. His decisions about stylizing the wounds and using simple set elements always serve the script well and keep attention trained on the performers. Gordon strikes an ideal balance between humor and tragedy, and shows us that wishing for characters to "save" each other is far too pat.
We're conditioned to hunt in our stories for romance or its obstacles, but this play is not a courtship or a story of thwarted love. Doug and Kayleen need each other, but that doesn't mean they embody each other's happy ending. Their wounds define them, and they share a mystical compassion for each other. That's deliverance enough.
"Gruesome Playground Injuries" by Rajiv Joseph, directed by Mark Alan Gordon, produced by Heat & Hot Water Productions. Wednesday through Saturday, May 8 to 11, at 8 p.m.; and 2 p.m. matinee on Saturday at the Off Center for the Dramatic Arts in Burlington. $15-20. Info, 448-0706. offcentervt.com
The original print version of this article was headlined "Pain Believers."