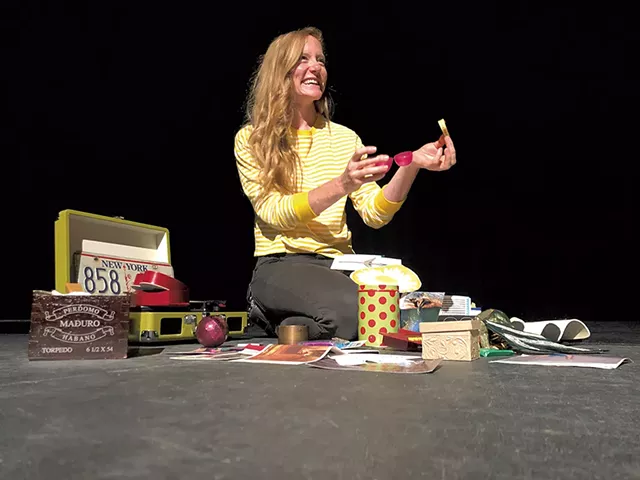 Courtesy Of Andy Butterfield
Aly Perry
It's about depression, but it's joyful. It's a solo performance, but it's not done alone. It's one person's story, but everyone in the audience can feel a connection to it. It follows a script, but it can't be repeated. Every Brilliant Thing is brand new every time the solo performer and the audience combine to create it. The concept and characters stay the same, but what awaits viewers is improvisation.
In the Middlebury Actors Workshop production, which was performed in several venues previously and runs this weekend at Burlington's FlynnSpace, actor Aly Perry brings effervescence and depth to a play that reimagines what monologue can be.
Her character speaks with confessional truthfulness directly to the audience, but she also draws them together and makes a magical, communal experience out of a story about a suicide attempt. There's plenty of hope, just not the simplistic, happy-ending kind.
The play begins with Perry's character at age 7. She's at a veterinarian's, being coaxed by adults to understand that "it's time to let go" of the family dog. As she narrates the story from an adult's perspective while enacting the events as a child, she explains that she knew nothing about the permanence of death or any of the concepts the adults around her introduce. She's learning about loss, and the audience is learning about how this play works, because the scene with the vet is improvised.
Improvisation is a skill that can be honed, but it must always incorporate random forces that can't be anticipated. Every Brilliant Thing is powered by Perry's receptivity and creativity, and by the audience's willingness to trust her.
The play is both framework and script. British playwright Duncan Macmillan based it on his own short story and developed it with comedian Jonny Donahoe, who performed in its premiere at an English fringe festival in 2013.
The house lights stay up. Audience members look at each other. It's not an anonymous night at the theater but an opportunity to see others experiencing the show. Combine Perry's vibrant presence with the knowledge that you're not alone, and the play becomes as gleeful as a good wedding, where strangers make new friends.
Perry plays an unnamed character seen at different ages. As a child, she faces her mother's attempted suicide and her father's withdrawal. So she starts making a list of what she considers every brilliant thing about life. At first, the list is intended to prove to her mother why it's worth living. And it starts with a 7-year-old's perspective on favorite things, such as ice cream and watching people fall down.
A list of wonderful things, the character learns, isn't miraculously persuasive. Her mother stays depressed and attempts suicide again. And so the character struggles with whether the list is worthwhile and how happiness and depression emerge in every life, including her own. She adds to the list, goes to college, falls in love, falls back out.
Ice cream remains a solid choice as a brilliant thing, but the list grows with her to express her experience and includes delicious minutiae such as "watching someone watch your favorite movie."
Macmillan's vehicle depends on the performer and the audience on any given night, but it is structured to deliver a few ideas with uncommon poignancy and power. That cute, simple idea of a list becomes the character's tether to hope. It's not so cute or simple when it defines the edge of a void, no matter how funny many of the entries are. And suicide is treated seriously, including the fact that discussing it sensationally can stimulate people to consider it.
Though the subject matter is serious, the tone is cheerful. It's like the deepest conversation you can have with a close friend, yet feels like it takes place during a bouncy ride to parts unknown in an ATV.
Perry brings both physical and interpretive strengths to the role. With sharp clarity, she delineates her character's different ages with movement and posture. Her boundless energy is a delight, and she swoops through emotions with all-out passion. She laughs, winks, beckons, cries and stomps, all to engage fully with the audience.
Director Robin Fawcett created rehearsal techniques to prepare Perry for surprises, built on the "yes, and" principle of improv that accepts anything. Describing Perry's challenge and the play's unusual structure, Fawcett said the play is "less about Aly putting herself inside a character and more about putting a narrative inside herself."
Perry's shirt constitutes two items from her list: the color yellow, and stripes. The only furniture necessary is a couple of stools. That bare-bones feeling gives the audience a chance to reflect on their own lives, to consider what belongs on a list of brilliant things and what makes life worth living.
The show requires collaboration with viewers, and it's done without a whisker of pressure on the set of strangers who make up the audience. As people enter, Perry greets them and gives some of them numbered phrases printed on odd items. All she tells viewers is that they'll know what to do. When she calls a number during the show, people get a chance to read an item on the list of brilliant things.
Perry coaches when necessary and sometimes has to deflect the irony some people use as a shield. Watching the actor teach people to shed self-consciousness is a reason to see the show.
Every Brilliant Thing is not a monologue declaimed by a solo performer. It's an invitation to connect with a character and with an audience experiencing a unique moment they all helped construct. Perry leaps into improv's thin air. It seems she can cup her hands to hold every member of the audience. None of us falls; all of us lift each other up.