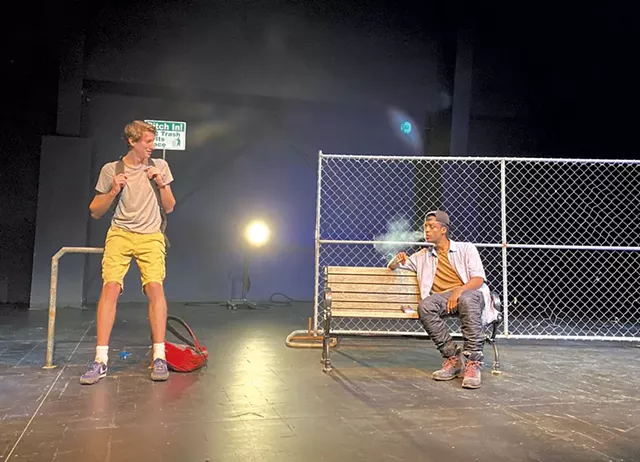 Courtesy Of Jacqueline Byrne
John Kroft (left) and Nuri Hazzard
The theater for this moment is either a comforting diversion or a reflection of the changes we're confronting. Northern Stage is trying both with a three-part series called Tiny Necessary Theater. Starting with the tough stuff, the first of their pieces looks at racism in a compelling two-character show. Convenient to stream, and with a low ticket price, Northern Stage is making theater accessible. And necessary.
Greg Keller's Dutch Masters premiered in 2018 but is set in New York City when David Dinkins, the city's first and only Black mayor, was in office in the early '90s. It won't seem so long ago — systemic racism was masked then with the claim "we're all equal now."
On a summer day in 1992, two young men meet on a nearly empty Bronx-bound D train. Eric is Black, Steve is white, and their interactions are rooted in racial differences that they strain to avoid addressing overtly. After Eric tosses a "whassup?" to the lanky guy buried in a book on the train, the two will spend 70 taut minutes in a physical and mental dance of trust and suspicion.
They will discover a surprising connection, but not before Keller lets them struggle to see each other through the tangle of respect, fear and anger that forms their racial perspective. The dialogue is natural, but it's all icebergs — what's beneath the surface pitches the characters forward and asks the audience to witness the unspoken essence of racial distrust.
Director Rachel H. Dickson keeps the characters in a delicate balance, pushing and pulling each other as they shift the audience's sympathies. In riveting performances, the actors carve out the little hesitation before revealing the truth, or suppressing it.
Eric's motives are impossible to guess. Only minutes after meeting Steve, he confides, "Me and my friends are robbing this train." Is it a tip, a boast, a lie, a confidence or a threat? As Eric, Nuri Hazzard lets every interpretation glisten in his silent stare at the white kid too frozen to clutch his backpack off the seat.
Hazzard smiles broadly one moment then glowers the next, daring Steve to accept his friendship. Is Eric propelled by anger or a yearning to connect? Hazzard captures both menace and sincerity, driving viewers to experience their own prejudices. Should Steve trust him? Would I?
As Steve, John Kroft is a jangle of long limbs and pure nerves. He churns through sloppy lies about why he can't join Eric to smoke dope while striving to agree with Eric's suggestion that "We be boys, right?" Kroft plays Steve as boyish and impulsive, and when Eric calls out his evasions, Steve shows more curiosity than courage when he leaves the train with Eric.
A two-character play is a partnership, and Hazzard and Kroft maintain a stunning connection from start to finish. Two things this reviewer has missed most during the loss of live theater were in welcome abundance here: the give-and-take of performers working face-to-face and the gorgeous danger of a confrontation. Streaming lacks the immediacy of live performance, but this production crackles with energy nonetheless.
Physical distance or proximity underlines every point of tension in the play. The actors are together, performing for the camera on sets at Northern Stage. Anyone who's ridden a subway knows about guarding personal space, and the play begins with Eric pushing himself into Steve's. The characters approach and recoil as they test trust, and the camera often exaggerates distance by limiting depth of field to leave one actor out of focus.
Film designer and editor Alek Deva uses camera techniques to flatten or expand space. The performing restraints of COVID-19 kept the actors six feet apart except for brief moments, but Dickson converts the limitation into strength, emphasizing the characters' constant impulse to pull apart. Watching them flinch from each other converts pandemic distance into the gulf of racism itself.
The production is simple but technically masterful. Helen Rooker consulted on the effective lighting, and James Roeder advised on sets that merge abstraction with gritty touches of realism. Sound designer Kate Marvin built a sonic city background to convey the world beyond the frame.
The play is staged theatrically, but streaming adds the intimacy of close-ups. The camera is unobtrusive and the tone is neutral, as if we're seeing the characters more truthfully than they see themselves.
There's suspense in wondering what comes next, and this production is as gripping as it gets. But here the wondering extends a little deeper, as prejudice simmers and viewers can project their own responses to a situation that distills race and class differences. The fierce, hidden beliefs that the characters have to face are there for the viewer to confront, too.