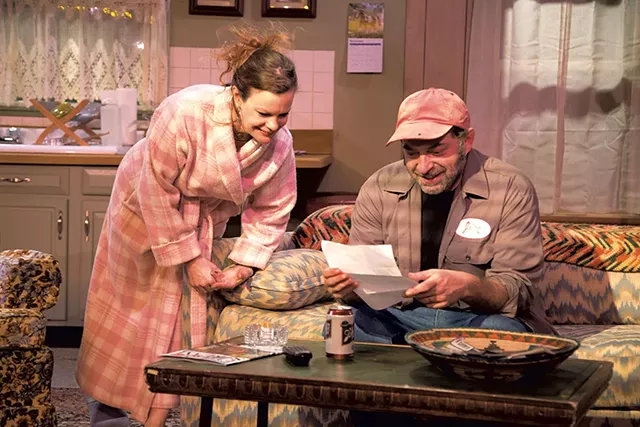 Courtesy Of Lindsay Raymondjack
Chris Caswell (left) and Jordan Gullikson
Stephen Spotswood's new play Doublewide takes audiences inside a well-kept but humble trailer to meet three generations of an American family nestled near the bottom of the 99 percent. These are folks easily overlooked, both economically and artistically, and it's cheering to see them treated with warmth and dignity in a well-realized production by Vermont Stage.
The production is part of a national rolling world premiere of the play, an innovation of the National New Play Network. Plays selected by NNPN can be picked up by multiple regional companies to increase attention to works that might otherwise get only a brief moment in the sun. Vermont Stage is the third of four theater companies to premiere Doublewide this year.
The play's virtue is its setting; its weakness is a story without a well-constructed plot. Spotswood laudably avoids working-class clichés and doesn't perpetuate any alcoholic-abusive-drug-user stereotypes. Instead, he presents two loving parents who care for their daughter and a grandmother who makes entertaining wisecracks.
The characters are members of the working poor and have learned to set their sights low and face their obstacles with humor and humanity. Showing the limited horizons for each character is itself a strong artistic statement and good proof that the American dream has been steadily shrinking.
Last Thursday's audience laughed often and seemed absorbed by characters who face depressing circumstances but always have enough sarcasm to lift their spirits. Spotswood doesn't make them especially witty, but they tease each other with the gusto that binds a family together.
Big Jim is a retail deliveryman, and his wife, Sharon, is a cashier at Walmart. They live paycheck to paycheck, which means they may never save enough to build a house to replace their current trailer.
Now the county wants to annex their strip of front yard to widen the road. But the family's remaining plot would be too small to build on, and zoning laws would stick them with a trailer forever. Jim tries to fight back, and his letter to a newspaper earns him an interview as "the little guy" bearing the brunt of traffic problems created by the thriving local casino.
Their daughter, Lorelai, is a high school junior who's seen a sad glimpse of her future by working as a waitress. She's doing poorly in school and imagines few prospects beyond a cheating boyfriend and an ability to lose herself while listening to music.
Chuck, a classmate, comes to tutor her. He's known Lorelai since elementary school and is plainly infatuated with her, but he conveys only tongue-tied awe. Lorelai couldn't care less about him or the schoolwork he nudges in front of her, but he perseveres.
Jim's mom, Coral, likes the free meals and endless hope of a jackpot served at the casino. The big money remains elusive, but the dream of it sustains her, while her sharp tongue lets her love her family without revealing a lick of sentimentality.
Director Cristina Alicea keeps the pace brisk, adding propulsion to Spotswood's structure of numerous short scenes. Because each scene is crowded with incidents and facts, viewers can be left wondering which story elements are crucial and which supply the texture of the characters' lives. On opening night, the company sometimes missed the opportunity to let small moments build. Often, its members concentrated on straight storytelling without pausing to let the interplay between characters become a story in itself. As the run continues, the actors may slow down to let emotion register, enriching their exchanges.
Chris Caswell as Sharon and Jordan Gullikson as Jim turn in strong performances. Caswell captures Sharon's courage in the way she cocks her head before pulling her leather coat tight, and Gullikson lets pride and tenderness play out on his grizzled, hangdog face.
They convey the couple's earthy affection with flirty looks and happy ass grabs, and their bedrock love gives them the strength to face individual adversities. In the second act, they slowed down enough to build a rich scene together; it's this kind of nuance that may arise as all of the actors grow more comfortable during the run.
As Lorelai, Mary Krantz embodies a teenager's quick lunges between energy and lassitude. She can stomp out of the trailer in a huff or collapse on her bed in misery, always showing Lorelai as tempest-tossed. Krantz avoids a caricature of adolescent misery by inhabiting Lorelai's pain with flinty passion.
Rebecca Hoodwin, as Coral, hits occasional notes of depth, but the role principally calls for her to skate on the surface of the character's hard-boiled wisecracks. Her comic relief earned generous laughs.
As Chuck, Robert Grimm is all earnest ineptitude until late in the play, when he has a more complex exchange with Lorelai. At first, Grimm takes the character's nervousness to a deer-in-the-headlights paralysis that seems to suit a silly comedy and not this realistic play. His final scene gives him a chance to go beyond his earlier affectation to show some complexity.
This play depends on realism, and scenic designer Jeff Modereger delivers both the spatial constraints and decorating details of a well-lived-in trailer. Lighting designer John Forbes creates a nice effect of car headlights coming and going, complemented by sound designer Martha Goode's effects. Costume designer Suzanne Kneller finds telling details to convey social class.
Doublewide doesn't confront poverty, but it does ask us to see the warmth and value of people often consigned to the margins of society. The play's realistic texture and gentle humor won over the opening-night audience by showing that behind the walls of a trailer are people worth attention and stories worth telling.