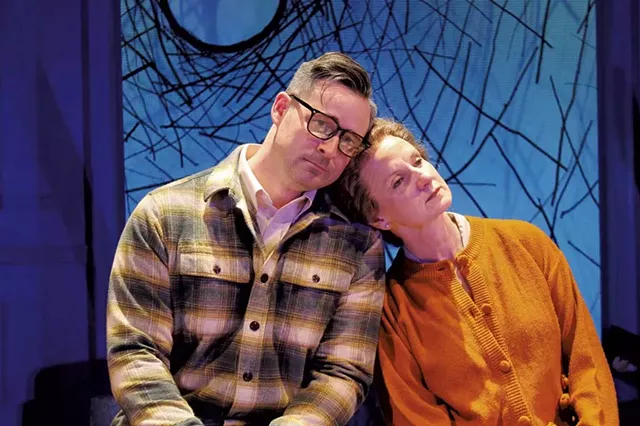 Courtesy Of Northern Stage
Thom Miller (left) and Carol Dunne
A letter writer has the time to consider what to say and how to say it. What's gained can be clear expression; what's lost is the immediate give-and-take of conversation. Playwright Sarah Ruhl explores the essence of theatrical interaction in Dear Elizabeth, composed of excerpts from the correspondence of two of the 20th century's most important poets, Elizabeth Bishop and Robert Lowell.
Ruhl accepts the challenge of animating exchanges that primarily don't take place face-to-face. She succeeds by giving ample attention to the few occasions when the characters did meet and by using theater's inherent compression of time to elevate the letters to an expression of the nature of memory itself. Ruhl lets the audience see the connections that arise from the force of character, not from proximity or action.
The Northern Stage production is lively and loose, far from a slow, formal evening of reading aloud. Though the plot contains only a single, entirely respectful dispute and the merest hint of a love story, Ruhl builds energy by focusing on the power of the poets' friendship. Their work occupies them, but their mutual concern for each other is a constant source of solace. This friendship weathers time and the stark differences in their writing styles and gives them a fundamental courage.
The 30-year correspondence between the two was published in 2008 as Words Into Air: The Complete Correspondence Between Elizabeth Bishop and Robert Lowell. Ruhl sifted through those 450 letters to create a script that moves sequentially and briskly through their peak creative years, from 1947 to 1977. Artist biographies often emphasize tabloid fodder, as if trouble could explain genius. Ruhl takes a more illuminating course. If sorrow soaks an artist's work, the work is nonetheless all that matters; in this play, the turbulence Bishop and Lowell faced in real life is the background for their friendship, not the basis for a sensational exposé.
The play skims past biographical drama, presuming the viewer knows the highlights already. Lowell was bipolar and was hospitalized multiple times. He veered through three marriages and became a father late in life. He won the Pulitzer Prize for poetry in 1947 and 1977 and ignited the literary movement of confessional poetry.
Bishop was an alcoholic and never put down roots. She was essentially orphaned after her father died when she was an infant and her mother was institutionalized with mental illness. She was a lesbian and intensely private. During the period covered by the play, her partner was the Brazilian architect Lota de Macedo Soares. Bishop won the Pulitzer Prize for poetry in 1956 and wrote poems that wrapped passion inside formal structure and precise diction.
The play never implies that a messy life is the price to be paid for art. Ruhl is ruthless in keeping the focus on what the two shared in their letters, and in the wrong hands the script could trivialize mental illness and alcoholism. This production, directed by Northern Stage producing artistic director Carol Dunne, skillfully stitches the problems into the characters' lives. Bishop has a bottle in her desk; Lowell lowers himself onto an institutional bed. Monumental struggles become facts without embellishment.
Dunne's staging is filled with movement, but all of it has a pinpoint focus. The characters hold and read physical letters, then drop them haphazardly to the floor. The gentle drift of pages and their accumulation onstage suggests the passage of time.
Lowell and Bishop met rarely, but the play gives these moments prominence, and Dunne stages them beautifully by distilling them into action that achieves the abstraction of memory. When they first meet as distant admirers of each other's work, Lowell, an amateur audiophile, records Bishop reading her poetry. The two actors assume supplicant postures, Lowell offering up his microphone to her, Bishop bending gently toward it. They don't touch; they are almost disembodied by their concentration on capturing her voice.
Dunne is similarly particular in subsequent scenes, elevating small gestures into symbolic statements. She developed her vision for the show while directing it for two actors who performed it in early October in repertory with another show at Northern Stage. In the current run, Dunne plays Bishop, and Thom Miller takes on Lowell.
Miller makes Lowell an earnest, engaging artist, if not a visibly reckless one. Lowell has the larger arc from high to low, and Miller does an admirable job of showing how well he adapts to both extremes, easy in his surrender to incapacity and eager in his work.
Dunne is wry and assured as Bishop, conveying a freedom in her connection with Lowell that she plainly does not permit in other corners of her life. Dunne lets the character weigh how much something will affect her right before it does. Her only false step occurs in reading Bishop's poem "One Art," when she adds drama that Bishop didn't indulge.
Both actors do the work of bringing the letters to life. Reading and reacting to what's being read have equal weight in this vigorous production, and the audience can get lost in exchanges that feel both urgent and airy.
Sound designer Jane Shaw sets the mood, costume designer Hunter Kaczorowski neatly defines the period and lighting designer Jennifer Reiser carves out dozens of moments with light alone. Rebecca Lord-Surratt's scenic design includes some overly fussy elements, like a rotating set of orbs, but lets the characters and their words take prominence.
The play moves from dark to light and back again, skating on a correspondence that defined friendship. As poets, they cannot know the impact of their work as they produce it. Bishop earnestly asks, "When does one begin to write the real poems?" It's a question that defines what it means to examine life while living it, the way a letter writer does.