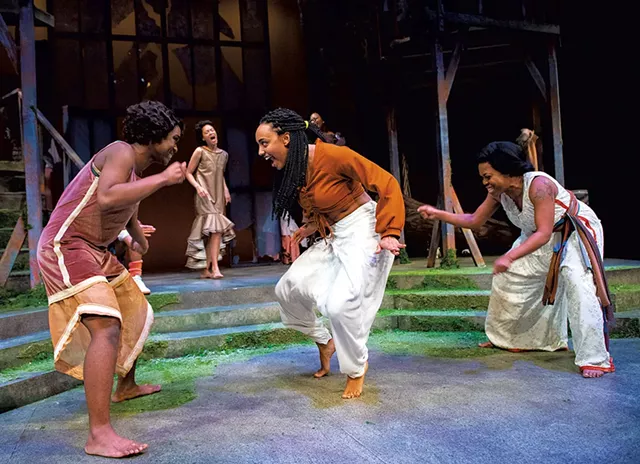 Courtesy Of Kata Sasvari
From left: Olivia Williams, Stella Asa, Monique St. Cyr, Stephanie Everett and Lakeisha Coffey
The thump and shuffle of bare feet dancing, the pulse of a bass line, the groove of a melody. In its premiere at Northern Stage, Citrus begins with music and demonstrates how rich theater can be when actors working together like a jazz ensemble combine poetry, movement and sound. The play's subject matter is black women's experience in America. Its power is the connection of nine actors portraying what is both everyday and fundamental.
Playwright Celeste Jennings only recently graduated from college, but she's built a play that interweaves perspectives spanning 150 years. The play moves so freely in time and uses language so boldly that it's reminiscent of Shakespeare's boundless worlds. Jennings writes with humor and perception, and her text has poetry's essential quality: access to pure emotion.
The show's spirit is solidarity, and what the cast feels for each other the audience may share, too. Seamless transitions keep the performance soaring. And Thursday's preview audience gave way to some toe tapping and lots of laughter.
In vignettes, recounted with understatement and often seen from a slightly unexpected perspective, Jennings trains her eye on her own experiences and America's past.
A member of the Little Rock Nine arrives at the steps of a high school that's to be desegregated, clutching her books. It's 1957, and the performer delivers the girl's emotional state by describing her white blouse and gingham-checked skirt. The actor stands in a fierce spotlight, and the sense of the world watching one ninth grader is forceful. Her skirt flares out in a little circle around her, emphasizing how very alone she is.
Some scenes bring multiple characters together in overlapping monologues, others in exchanges of dialogue. Jennings uses the term "choreopoem" for the text — the word Ntozake Shange applied to her groundbreaking 1976 play For Colored Girls Who Have Considered Suicide / When the Rainbow Is Enuf. Shange believed that black theater artists neglected their interdisciplinary culture if they failed to incorporate dance and music.
Jennings wrote Citrus while an undergraduate at Dartmouth College. Northern Stage featured it in a staged reading in 2019, then chose it for a professional main stage production. The premiere is everything a young playwright could want, with a cast of superb actors, insightful direction and high production values.
Over 34 episodes, about 50 characters speak and evoke the echoes of hundreds more by referring to "their mothers and their mothers and their mothers." It's a vision of history but not a history lesson. Without appropriating the pain of her predecessors, Jennings places her characters in the Jim Crow era, the Harlem Renaissance in the 1920s, different stages of the civil rights movement, 1990s hip-hop culture, and today's Black Lives Matter movement.
Citrus is no litany of oppression. It tackles grief and struggle not to indulge in indignation but to characterize black experience. Jennings makes no hierarchy of past or present suffering nor implies a false equivalence. As one present-day character asks, "How do I stay grateful and acknowledge that things are way better for me than my ancestors, but also recognize that they never got better without rebellion?"
Assimilating America's past is the play's formidable context, but Jennings takes it down to a human scale.
Many scenes are in the present, or timeless. At a school with only two black teachers, the newly hired one and the veteran must decide whether they're natural allies or potential enemies over job security. In a four-part monologue, characters tell individual stories of sexual abuse and assault. Their experiences layer together, and all four must find a way to carry their past with them. In a truly hilarious scene, two characters don't just tell but show what it means to be awkward black girls.
The performers move into and out of characters by changing clothes or dancing or even jumping rope. All nine actors bring precision to their numerous roles, using just the exact gesture to deliver a feeling. Director JaMeeka Holloway-Burrell does what Jennings has done in the text — reduce experience to essence.
Stella Asa, Nemuna Ceesay, Lakeisha Coffey, Stephanie Everett, Jazmine Stewart, Monique St. Cyr, Samantha West, Aurelia Williams and Olivia Frances Williams are remarkable performers. They never blur a moment but land on it with the exactness of a dancer coming to earth. Brilliant individually, they work together beautifully. The simultaneous speech, synchronized movement and, above all, their openness to each other suffuse the play with feeling.
Choreographer Beatrice Capote makes movement count throughout the show, tailoring the dance to each performer's strengths. The choreography is loose and free, allowing the joy of movement to bubble up and escape as if from an unstoppered bottle.
The set, designed by MeJah Balams, is dense with structures that hint at multiple places and times. Behind high platforms that could be windows, rooms or fire escapes is a suggestion of a massive factory window of shattered glass. Sound and projection designer Sadah Espii Proctor uses the window and the floor for projections of words and historical photos. Lighting designer Kathy A. Perkins paints the space to bring out exultation one moment, dilapidation the next.
Jennings designed the costumes and made costume changes part of the action to emphasize how identity is established through appearance.
The pretty proposition that all men are created equal explicitly leaves out women and was written when slavery made people property. The American black experience can be seen optimistically as the hard-fought effort to perfect that proposition or as the cruel proof that it will always be a lie.
Citrus is populated with people looking at this question from multiple vantage points at multiple times. Jubilation and irreverence are just as important as grief and anger, and the play's ability to set so many perspectives spinning is absolutely invigorating.