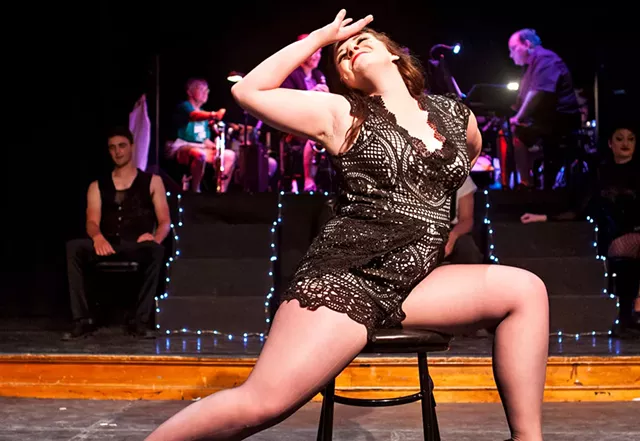 CourtesyofAdamSilverman/StoweTheatreGuild
AshleyBourdeauasVelma
The musical Chicago is a sad — and shrewd — look at what makes us happy. In the Stowe Theatre Guild production, as well as the Tony Award-winning version still running on Broadway, audiences are entertained by a cynical view of how entertainment itself exploits sentiment and sensationalism.
Jazz music from John Kander, wry lyrics from Fred Ebb, and a sardonic book by Ebb and Bob Fosse transport us to the era of Prohibition and vaudeville. The protagonists are women standing trial for murder, and 1920s jazz is the soundtrack for a pessimistic view of good times. The story satirizes celebrity criminals, turning every relationship into showbiz fakery.
Stowe Theatre Guild tackles this big musical with impressive style, assembling a cast of 18 and a polished band in a show that comprises nearly nonstop music and dance. The music has a sinewy snap to it, curling about the stage in mocking tones. The pause between a trumpet note and the drummer's rim shot is just the right length to swing the hips for emphasis. Uniformly strong vocal performances drive this production.
The characters form a showcase of smugness, and all have Fosse's trademark all-style-no-soul. The central conflict is not a jury's verdict but whether the "merry murderesses" are better off as allies or rivals for the public's affection.
Vaudeville star Velma is cooling her heels in the Cook County jail, awaiting trial for the murder of her two-timing husband. Soon joining her is Roxie, who's shot her lover and hasn't quite succeeded in getting her husband, Amos, to take the rap. The prison's bad-news babes are clad in fishnet stockings but wear not a shred of remorse as they count on slick attorney Billy Flynn to manipulate the jury. Matron Mama Morton expects her palm to be greased, while reporters are eager to feed readers thrilling stories about violent women.
When Billy coaches Roxie on the story that will win over a jury, Ebb and Fosse turn the song into a ventriloquist's act, with Roxie mouthing Billy's words. Every song is rooted in vaudeville, and every character dances on the thin line between fame and infamy. Roxie and Velma fantasize not about freedom but about their future on the vaudeville circuit once they're acquitted. And the victims? They had it coming.
Chicago keeps on suiting itself to the times. When it opened in 1975, a tale of getting away with murder fit America's concern with ethical decay and nonstop opportunism. The 1996 Broadway revival was in eerie alignment with the O.J. Simpson trial; that version just passed its 20th anniversary, and the cultural fascination with celebrities only grows.
In Stowe, director Kacy Hope places all the songs in a cabaret setting, with the band perched on a riser at the back of the stage and café tables ringing the sides. Though events take place in locations such as a jail and a courtroom, those particulars are left to the imagination as Hope emphasizes the music's ties to vaudeville entertainment.
Ashley Bourdeau's Velma is more steely than sultry, but her self-possession is its own kind of allure. She sets the tone in the opening number, making "All That Jazz" a cool invitation to dissipation.
As Roxie, Mackenzie Brown dreams of celebrity with pure glee in the song "Roxie." She slathers on all the cutie-pie innocence needed to trick her husband, the press and very nearly the audience.
Josh Baughn sports a fine, smug grin as king-of-the-world Billy Flynn. In "Razzle Dazzle," his ode to swaying a jury, he struts across the stage with ironclad confidence.
Chris Demars is thoroughly winning as Amos, the sad-sack husband. He's got a face made for rumpling up in self-defeat but positively ripples with joy when he (mistakenly) finds reason for hope.
The talented ensemble never leaves the stage, forming an audience for the main story when they're not dancing and singing. They remain engaged, focusing the storytelling subtly with arched eyebrows, wise-guy squints or eyes popped in wonderment.
This production is built on strong choreography, executed with well-rehearsed precision. Choreographer Taryn Colby quotes liberally from Fosse's inventive repertoire of shoulder rolls, finger snaps, turned-in knees and turned-out fingers. Fosse's style isn't just jazz hands raised above a backbend. It's an attitude of disdain that performers use to turn the sexiest move into a put-on, and Colby conjures the tone as much as the moves.
Individual dance abilities vary, but these solid amateurs hit their cues with exactness and pull off demanding choreography. Precision is evident everywhere. The band is excellent, lines crackle, and the tight interplay in duets and ensemble numbers is crisp.
Hope's stage design trims the space with strings of lights across the front edge of the boards and in garlands gathered above the performers. The period references are confined to the music, with modern-day sex-kitten costumes and an all-purpose set.
Musical director Michael Halloran conducts a lively band and plays piano. He's kept the '20s jazz accents but smoothed out any heavy-handed honky-tonk, featuring more saxophone than clarinet and going light on the muted horns. The bright and brassy effects are there, but the music avoids the claustrophobic feel of a smoky dive and takes on a more freewheeling quality.
These characters are cool cynics who know better than to let sentimentality turn them into saps. Instead, they exploit it, and Chicago lets the audience lean back with similar detachment. By the penultimate number, "Nowadays," we're ready for pure exhilaration, and the music delivers, though the lyrics couldn't be darker. The trick is simply to enjoy it and not wonder if showbiz renders life itself a soulless con. As performers, the well-rehearsed cast in Stowe seems to find the very joy in entertaining us that their characters lack.