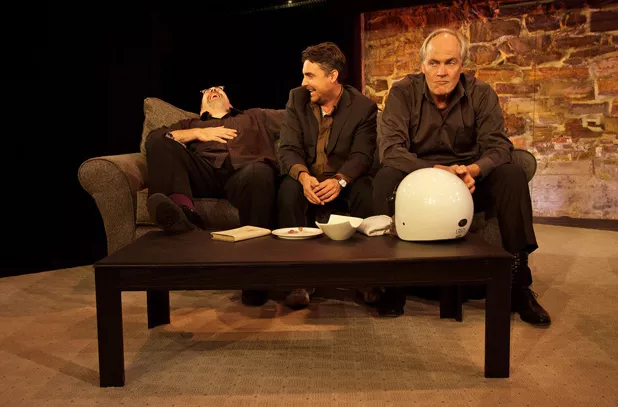 Left to right, Mark Alan Gordon, Adrian John O'Donnell, Roy Cutler
Vermont Stage Company kicks off its 20th season with a comedy. The title is 'Art,' but the play is not about the contemporary painting one of the characters acquires. It's about the art of friendship.
Serge, Marc and Yvan have been friends for 15 years, and they know just how and when to cheer or criticize one another. But their friendship faces a crisis when Serge's increasing interest in modern art culminates in the purchase of a $200,000 painting that's nothing more than white lines on a white background. It's the kind of artwork one can dismember with a description, but that all-white canvas is also a void on which the characters can project just what they feel. There's a lot more to such a simple canvas, and by reflecting each character's reaction, the painting helps prove how complex friendship can be.
Marc, whose sharp intellect borders on the condescending, considers the painting pointless and a ghastly waste of money. He sees it as his responsibility to shock, humiliate or otherwise provoke Serge until the latter admits his folly. Watching his best friend stray down this path is unacceptable.
Serge is very much a match for Marc in the matter of pride, and his knowledge of art is becoming central to his life. Marc's ridicule is intolerable; it's not what friends do. And if Marc hates the painting, does he perhaps hate Serge, too?
Caught in the middle is Yvan, who lacks the courage to contradict the others but also lacks the smugness to take any pleasure in doing so. With his life in a shambles as his wedding nears, Yvan bounces back and forth hoping to make peace.
Yasmina Reza's play premiered in Paris in 1994, went on to a long run in London's West End and won the 1998 Tony Award when it arrived on Broadway. It has stayed popular, though it's slowly becoming a time capsule from a self-satisfied era when the upper-middle class was more admired than reviled.
The play positively glows with commercial appeal: sparkling humor, one set, few props, three characters and a 90-minute length that won't weary the audience. Anyone can stage 'Art' and get laughs; it has the universal value of a really good recipe for brownies. The play is easy to dismiss as lightweight since it takes flight so effortlessly.
But what a takeoff it is. 'Art' begins with a bang as Marc squints in dismay and Serge basks in pride before the painting, battle lines hilariously drawn. With a mediocre cast, the play can coast on its acerbic dialogue and the audience's joy in skewering modern art. But with three talented performers, 'Art' reveals depths to be plumbed, and VSC's production gets to the core of Reza's shrewd observations.
Tara Lee Downs directs with an eye to the deeper connections among the three friends. She gives the laughs plenty of room to win us over, then lets the cast show us what happens when friendly sarcasm crosses over into polarizing contempt. By raising the stakes one gentle notch at a time, Downs gets the characters to punch past the surface of their friendship and test whether it can endure.
Mark Alan Gordon brings a riveting power to the role of Marc. He demands attention, sputters with brassy indignation and cannot for the life of him choke back an astonished guffaw at Serge's foray into art collecting. Gordon gives his character's arrogance full glory, from his bewildered exasperation at the failings of his friends to his lofty pronouncements. But when Marc is forced to recognize what he really needs from Serge, Gordon shows him discovering a truth so big it brings a hush from the audience.
As Serge, Roy Cutler struts as the earnest art connoisseur who's still eager for the approval of his friends even as he fears he may have outgrown them. Serge is torn, and Cutler shows his divided impulses to condemn his friends for their lack of sophistication and to demand their respect for his own. With his precise posture and self-possession, Cutler has the hauteur down, then neatly undercuts it with wilting, humanizing gestures.
Adrian John O'Donnell is adorable as the beleaguered Yvan. His eyes twinkle as they pop in astonishment at the escalation of Serge and Marc's hostilities, and when he cannot stop them, he resorts to escape or entreaty. O'Donnell is physically nimble, and equally adroit with the script's banter. But when he reaches the monologue about snarls in his wedding plans, O'Donnell plays it like he knows precisely what's funny about it and is keen to entertain his friends, missing the chance to let Yvan be overwhelmed. He's better in straight exchanges, when he surrenders to Yvan's hapless qualities, eliciting every laugh.
The three actors have that impressive confidence in one another that shows an ensemble is working together. They don't need the lines to lean on; they have built a full world together and can fill it with the pauses and the overlaps of naturalistic speech.
The production design is sharp, with nice attention to detail. The costumes and set share a masculine, dark-brown palette, and the play's conceit of hopping among the characters' apartments with only a change in wall décor is clarified with lighting transitions.
The pure humor of 'Art' can delight audiences; this production adds just the depth to make the pleasure worth reflecting on.
'Art' by Yasmina Reza, translated by Christopher Hampton, directed by Tara Lee Downs, produced by Vermont Stage Company. Through October 27, Wednesdays through Saturdays, 7:30 p.m.; Sundays, 2 p.m., at FlynnSpace in Burlington. $32-37.50. vtstage.org
The original print version of this article was headlined "Artistic License"