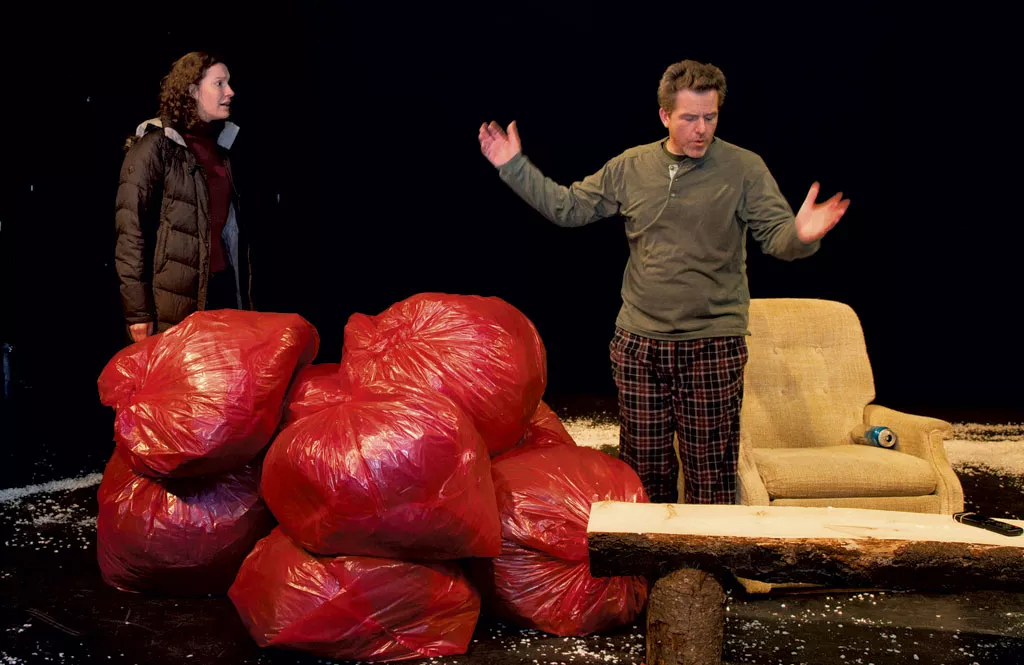 Courtesy of Jim Schley/Parish Players
Allison Fay Brown and Rob O'Leary
With winter barely in the rearview mirror, the Parish Players' production of Almost, Maine stirs knowing laughter in audiences all too familiar with winter's short days and cold nights. The small-town tales woven by playwright John Cariani might feel familiar to many Vermonters, too.
Told as nine interlinked stories, or scenes, over two acts, the play presents residents of a community near the Canadian border as they wrestle with relationships, mostly romantic. Touching on pivotal moments in people's lives and loves, the stories mix a little magic into the realism. Call it rom-com for the theater. But if Almost, Maine risks becoming theater lite, Cariani keeps things surprising, and sometimes deeply moving. Brisk pacing by director Samantha Davidson Green and the Parish Players cast also helps avoid that pitfall.
For this production, Green cast three women and four men to play 19 roles: Allison Fay Brown, Michelle Carlson and Leah C. Romano; and Noor Taher, Erik Gaetz, Rob O'Leary and Justin Pomerville.
Their town is so small it doesn't have a name, just a number: Township Thirteen, Range Seven. In a scene titled "Her Heart," one local tells a visitor, "It's not gonna be on your map, 'cause it's not an actual town, technically. See, to be a town, you gotta get organized. And we never got around to gettin' organized, so ... we're just 'Almost.'"
Of course, the fictional place — inspired by Cariani's hometown in Maine — is almost in Canada, too.
Perhaps because he's a native, the playwright avoids the stereotypes typically applied to rural New Englanders: rednecks, quirky eccentrics, simpletons. Instead, the characters speak simply and frankly, without sentimentality, as they navigate the path of love. The actors portray honest, hardworking people who lack cynicism and irony.
The play takes place on a single Friday night in midwinter. The Parish Players' set is simplicity itself, consisting primarily of a rough-hewn wooden bench outdoors — indicated by freshly fallen snow — or, for interior scenes, a wooden bar or bench. Overhead is northern Maine's vast sky filled with stars and Northern Lights, the lighting effects projected against a black backdrop. Lighting designer and technical director Alex Cherington, who also produced the play, switches to a plain black backdrop for interior scenes.
It is here that human emotions erupt and serendipity is at play as characters connect in unpredictable and myriad ways.
Cariani probably did not have Samuel Beckett in mind when he wrote this play. But, as in Waiting for Godot, his characters often seem to be waiting for someone who may or may not show up, and two characters often pass the time together while sitting on a bench. Almost, Maine does have a sense of the absurd, though it's rendered in more fanciful and mystical ways than in Godot. Instead of talking about the tedium of life, these characters embrace it. In "Her Heart," Glory (Carlson) carries her broken heart in a paper bag and East (Gaetz), who is a tradesman, wants to fix it. He first tries to steal it so he can mend it, then kisses her. It's a lesson in repairing a broken heart.
In an interview, Green said Almost, Maine is about "when people's emotions are thrown into uncertainty. People in entrenched relationships have reached the moment of truth, or contact between strangers [offers] the possibility of love and connection."
The play has a personal significance for her. A New England-born filmmaker who recently moved back after 20 years, Green had attended a production of Almost, Maine in New York City and liked what she saw. "The context of the cold winter night resonated with me," she said. "Moving back here has been a process of exploring the world that I came from — the natural forces, the seasons, the New England reticence. With a great sense of humor, the play delves into that."
Then Green met Cariani and had the opportunity to work with a newly revised edition of the script; among other changes it includes a scene for two women that can also be played by two men. In this production, the scene is in repertory and played by women and men on alternating nights. Green's strong suit is eliciting vibrant physical characterizations from the performers, whether it's Pomerville's sad Jimmy moping over a beer in "Sad & Glad" or Brown and Romano falling down over and over again, weak-kneed and in love, in "They Fell."
The play's weakest moments come where the story line is slight, as in the prologue, interlogue and epilogue, but not because of the actors. Brown as Ginette and Taher as Pete are full of charm with just a few lines to work with. When Ginette confesses her love to Pete as they sit side by side on a bench, Pete uses a snowball to show how even people sitting this close can be far away from one another. Brown and Taher appear in three short scenes and exude such tenderness that they are missed as soon as they disappear.
In "Getting It Back" at the close of Act 1, Gayle (Brown) and Lendall (O'Leary) get the pitch just about perfect. When Gayle drags big orange plastic bags into her soon-to-be-ex's living room, she's returning all the love Lendall has given her over the years. The audience is expected to accept this literal interpretation of "giving love," and they do. The sight gag is so silly that it shouldn't work, yet Brown's heartrending delivery, and the way O'Leary turns listening into an act of love, make it feel natural.
Visual cues throughout the show let the audience discover, along with the characters, more about the nature of love and how we give and take it.
Momentum builds throughout the four scenes in Act 2, as the characters' lives grow increasingly complicated, and culminates with the audience pleaser "Seeing the Thing." Dave (Pomerville) has a problem. He can't get Rhonda (Romano) to see that he loves her. After a perfect evening of snowmobiling, he tries sharing an abstract painting he made for her, but Rhonda just can't "see it," nor that Dave adores her. He finally tries the straightforward approach and kisses her.
The two finally connect, and Rhonda leaps into Dave's arms, launching a flurry of removing jackets, snow pants, sweaters, vests, shirts and long underwear. Romano, who is excellent in her three other roles, pours extra enthusiasm into her turn as Rhonda, a worker at Bushey's Lumber Mill and an arm-wrestling champion. Pomerville nails one of the play's most expressive roles for men: He is artsy, playful, romantic and funny.
Almost, Maine begins with scenes of tenderness and understanding, until the pain that accompanies love is discovered and the bruising begins. By Act 2, love's complications and mysterious disappearance begin to wreak havoc. Before the night is through, however, love is reaffirmed. Green and company upend the journey with humor, intelligent wordplay and razor-sharp timing, from first kiss to the slam of a car door.
Vermonters may be ready for spring, but audiences for Almost, Maine will likely relish its wintry tales for weeks to come.