Dorset Theatre Festival's production of David Ives' All in the Timing has a delightfully weightless quality — and not just because one of the six comic sketches takes place suspended on a construction girder. The exuberance of Ives' wordplay and the joyous energy of the three ensemble performers defy gravity. But this airy comedic concoction has substance, too.
At center stage, sections of bright-red scaffolding give the space a provisional quality, like a world balanced in transition. Anything can happen here, the clever set design by Kevin Judge seems to say. This suits Ives' boundless imagination and Jenn Thompson's smart comic direction perfectly.
To the sides, three wardrobe racks of clothing foretell quick costume changes and place a little bit of backstage right before our eyes. Even before the lights go down, actors Mark Alhadeff, Adam Harrington and Kelly McAndrew stroll onstage in robes with "DORSET" stitched on the back. While the audience settles in, they quietly draw on their first costumes. They're in plain sight, but the characters they'll unleash remain mysterious until the lights snap up and the first scene crackles to life.
All in the Timing was first produced in 1993 and revived on Broadway 20 years later. Dorset's production swaps out "Philip Glass Buys a Loaf of Bread" for another Ives one-act, "Mere Mortals," but the cohesion of Ives' wit remains. The sketches all play with language by bringing wild thought experiments to life.
In "Sure Thing," two strangers meet in a café. Bill tries a pickup line that Betty swats away with ease. Just as she does, a bell rings, and the universe offers an unexpected reset button. Bill and Betty try again — and again and again — like beneficiaries of a video game lavishly dispensing extra lives. Each ding lets them advance a little further toward perfect datable compatibility.
The premise is fun in itself, but watching Alhadeff and McAndrew change direction with each new chance is the real prize. Like trapeze artists making it look easy, they conceal the intense concentration necessary to shift their line readings and produce new effects, even new people. The hidden bell ringer is the third performer, and the scene is sweet proof that it is, indeed, all in the timing.
Each sketch follows the fundamental dramatic principle of giving characters obstacles to overcome. But Ives' ideas for obstacles are wonderfully bizarre, and the scenes are built of escalating surprises.
"Mere Mortals" finds three construction workers at lunch perched on the 50th floor of a skyscraper under construction. Ives gives them salt-of-the-earth, working-class language, but in their banter about bowling, they reveal identities — or presumed identities — sharply at odds with their circumstances. The three actors convey the warmth of friends and the precision of hitting the comic rhythms right on the nose. The storytelling is more interesting than the story itself here, but McAndrew's turn as a male construction worker and Harrington's measured skepticism make the performances sparkle.
All the sketches end with exclamation points, but they don't end with the kind of resolution typical of drama. In that sense, they're less one-act plays than sketch comedy with premises that can only be sustained so long. Still, each one feels completely realized.
In "The Universal Language," Dawn, a lonely woman with a bit of a stutter (McAndrew), seeks lessons in Unamunda, a free-form Esperanto taught by Don (Harrington). Ives is off to the races here, using everything from brand names to foreign phrases in an exhilarating game of sound-alike. As soon as you give in to it, you begin to comprehend: "Velcro" is "welcome," "police" is "please," "Kennedy hep du" is "can I help you," and on it goes. Enjoying it takes the same kind of surrender necessary to let Shakespeare's language bloom to life.
As McAndrew and Harrington launch themselves into the sketch, we see the inherent abstraction of language laid bare. The playful word strings become songs, exchanges and outbursts as the two characters are suddenly, gloriously communicating.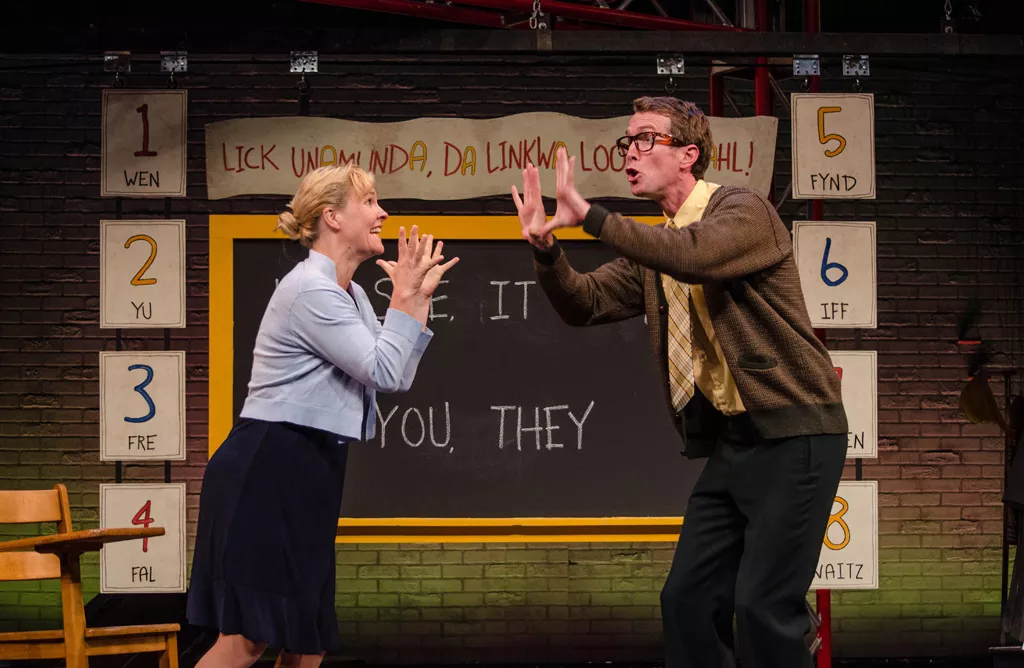 photos by Taylor Crichton; courtesy Dorset Theatre Festival
Kelly McAndrew, Adam Harrington
Ives is at his best misdirecting the audience. In "Words, Words, Words," the three actors are chimpanzees with typewriters, well aware that a researcher is expecting Hamlet any day now. They offer literary insights, then lurch into primitive antics with complete abandon. The juxtaposition of literate diction and pure nonsense keeps the audience happily off balance.
As the characters struggle with the existential dilemma of how to produce Hamlet without having any idea what it is, the mad leaps from human to animal grow increasingly hilarious. And the actors make great chimps: Alhadeff is frantic and low to the ground; McAndrew gives herself monkey-like pats that turn out to be checking her pockets for cigarettes; and Harrington hinges his knees high behind his typewriter and sits with a poet's concentration, pounding the keyboard with an ape's intensity. No matter how many bananas are peeled or peanuts are flung, the audience sees distinctly human behavior underneath it all.
The essence of comedy is surprise, and Thompson's direction supplies the precision to keep each little jack-in-the-box popping open at the right time. David Toser's costumes give each character a meticulously realistic foundation, punctuated by the sly convention of accenting each actor with a specific color. The production benefits from fine lighting by Michael Giannitti and sound by Jane Shaw.
Though Ives confronts his characters with absurd dilemmas, the essential problems are nevertheless recognizably universal. The characters wrestle with the anxiety of choosing, the need to be understood, the hope of controlling randomness, even the compulsion to stay alive. Ives uses oddity and hyperbole to make us see these struggles afresh, and Dorset's production adds the exuberance of stunning performances. It's irresistible.
INFO
All in the Timing by David Ives, directed by Jenn Thompson, produced by Dorset Theatre Festival. Through Saturday, August 9: Wednesdays through Saturdays, 8 p.m.; Wednesdays and Sundays, 3 p.m. $20-59. Box office, 867-2223. dorsettheatrefestival.org
The original print version of this article was headlined "Word Play"