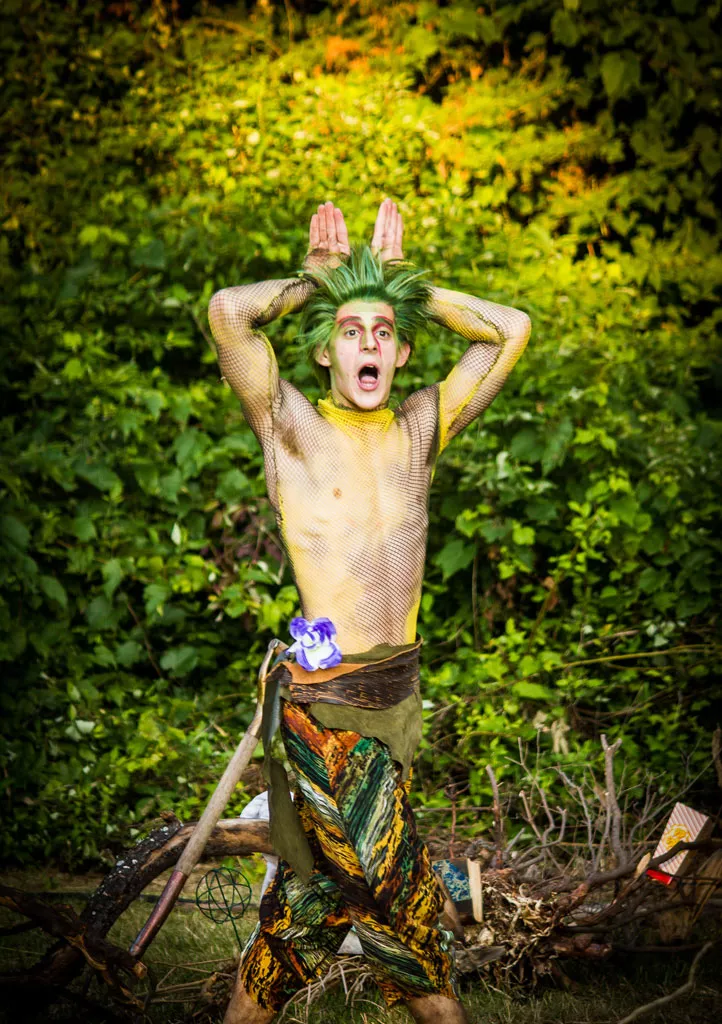 courtesy of Jan Nagle, Vermont Shakespeare Company
Nick Piacente as Puck
From the young Athenian lovers who pair and re-pair under magical influences to the overblown mythical lovers Pyramus and Thisbe depicted in a badly acted play-within-the-play, A Midsummer Night's Dream contains seven couples and, magically, time enough to unite them all. Shakespeare intermingles four worlds to show us the nature of love by pushing, tugging and exaggerating it, using fantasy to excavate subtle truths and humor to take away the sting.
Theseus and Hippolyta come from ancient myth. The four lovers, Demetrius, Lysander, Hermia and Helena, are timeless members of the upper class, animated by passions so universal that they embody our entire species. The forest fairies and their king and queen, Oberon and Titania, exist in a magical sphere. And the "mechanicals" are lower-class tradesmen, naïve to a fault. That Shakespeare can make all these worlds permeable gives the play the gauzy, perfect pleasure of dreams vaguely remembered.
The plot is a surreal stew of love stories, and Vermont Shakespeare Company's production presents some shimmering nuances that reveal the nature of love while delivering physical comedy to underscore the text's wildly witty language. Jena Necrason directs the show with an eye for movement, building scenes around actors who are always in physical tension, coiled and released for comic effect.
The plot begins with a triangle: Demetrius and Lysander both love Hermia. Hermia only has eyes for Lysander, but her father favors a marriage with Demetrius. Helena is the odd woman out, yearning in vain for Demetrius. Necrason directs to reveal the teenage quality of love here, giving Demetrius a chance to roll his eyes in frustration that Helena just doesn't get it, and having Lysander strut with bad-boy swagger to fascinate Hermia and infuriate her father. When foiled, the lovers huff in misery, as only adolescents can.
Once magical enchantments take over, the triangle flips with geometric precision. Oberon commissions his servant Puck to administer a potion that causes a sleeper to adore the first creature seen upon waking. Accidents ensue, and Demetrius and Lysander both awaken dazzled by Helena. Now, Necrason sets the men to over-emoting, wringing every mawkish particle out of their pledges to the highly suspicious Helena. The director firmly underscores the hyperbolic sentiments with physical action, as Lysander wrestles a madly clinging Hermia away and both men attempt absurd stunts to impress Helena.
The resulting escalation of emotion plays out as Helena and Hermia battle with insane gusto over the slights they've suffered. Puck and Oberon ultimately re-magic the four lovers to set things right, and, when they all wake again, Necrason makes their night in the forest a true journey. With new, noble maturity, Demetrius realizes he loves Helena. Lysander regrets his attempt to elope but feels his love for Hermia deepen. The clarity they achieve is the result of dreams they can barely remember, but they have grown into adults.
Meanwhile, Titania and Oberon are feuding over a trifle, but magical creatures take it hard. Titania has banished Oberon from her bower, and he humiliates her, bewitching her, too, to adore the first creature she sees and smugly hoping she will "wake when something vile is near."
Puck sees to that, transforming a mortal's head into that of an ass. He picks Bottom for this stunt after he observes the mechanicals getting up a play for Theseus' nuptials. Necrason demonstrates the low wattage of the mechanicals' brainpower by having all six cluster together to sidle onstage as a unit, as if incapable of individual volition. It's not the most winning metaphor, as it cripples the squad of bumpkins with tiresome immobility. But as they begin planning their play, Shakespeare's humorous insights into an actor's temperament blossom into hilarity.
John Nagle brilliantly conveys Bottom's craving for the stage. He wants to play all the parts and direct, too, falling over himself with enthusiasm. And when he's given a chance to emote, Nagle's Bottom takes everything he's seen an actor do and inflates it to bursting, capping it by giving Bottom an affected "artistic" gesture in the form of an upraised hand.
Ceara Ledwith is a perfect Hermia, moving from an impulsive romantic serenely aware of her own charm to a spitfire prepared to resort to tantrums and physical violence for the sake of love. Kit Rivers brings a modern mockery to Helena's catalog of woes, and is especially potent at administering long looks.
With limber movement and mobile facial expressions, Dean Linnard finds comic riches in Demetrius, conveying the righteous romanticism and boiling-point frustration of a lover. As Lysander, Christopher Payseur is a slightly sleepy man of action, up for anything but showing the goggle eyes that signify this wild man needs to crash.
Nick Piacente brings a gymnast's physical daring and a skilled actor's character insights to the role of Puck. His smart, novel touches include showing Puck's fear of ghosts in the night and starting his journey 'round the Earth on Oberon's errand by pulling back an imaginary bow and then hurtling offstage, himself an arrow.
Necrason uses movement to convey magic. When Puck administers the love potions, each sleeper's back arches as if pulled upward. The puppet movement is echoed and amplified when they open their eyes. Lysander springs straight up from sleep to see Helena, and the unthinking speed with which he answers her "Lysander, if you live, good sir, awake" with "And run through fire I will for thy sweet sake" is hilarious. The quality of puppetry makes love an external force, hardly willed or understood.
The production's one significant flaw is costume design that presents too many competing ideas. Theseus and Hippolyta commence the play looking like a 1920s gangster and his gun moll. Then we whip forward to the late 1950s for the lovers' attire, while the mechanicals get contemporary workmen's garb and the fairies flit about in simple white gowns accented with flowers. These conflicting styles don't underline the play's different worlds but instead present an unsettled hodgepodge.
A Midsummer Night's Dream is perhaps a perfect play, a comic exploration of all facets of love, from amorous urges to true love, with a mild, mirthful detour to bestiality and even, between Theseus and Hippolyta, the marriage of a captive bride reconciled to her captor. Any look at love is also an examination of how we talk about love, and Shakespeare creates several nesting frames around the subject. By the end, the audience is watching the court of Athens become an audience for the mechanicals' "tedious brief scene" of the lovers Pyramus and Thisbe.
Joining that audience, especially on a summer night with the world at its fullest, suspends the viewer in a dream that makes love eternally new.
INFO
A Midsummer Night's Dream by William Shakespeare, directed by Jena Necrason, produced by Vermont Shakespeare Company, Wednesday and Thursday, August 13 and 14, 6 p.m., on the Circus Lawn at Shelburne Museum. Open seating; bring a lawn chair or blanket. Additional performances Saturday, August 16, 7:30 p.m.; and Sunday, August 17, 2 p.m., at Royall Tyler Theatre, University of Vermont in Burlington. $15-25; kids under 12 free at Shelburne Museum and $10 at UVM. Info, 877-874-1911. vermontshakespeare.org, flynntix.org
The original print version of this article was headlined "Loves Me, Loves Me Not"