Courtesy of Dartmouth College/Seamore Zhu
The cast in a boxing training session
In 1722, Elizabeth Wilkinson, the first female pugilist to attain something like celebrity status, placed an ad in the London Journal to settle a beef: "I, Elizabeth Wilkinson, of Clerkenwell, having had some words with Hannah Hyfield, and requiring Satisfaction, do invite her to meet me on the Stage and Box me."
Wilkinson went on to make a name for herself in the nascent London prizefighting scene, garnering more press than some of her male peers. Had social media existed then, she would have tweet-bombed her rivals to great effect; in a newspaper announcement accepting a challenge from a female mule driver, known in the ring as "the famous Stoke Newington ass-woman," Wilkinson crowed, "...doubt not that the blows which I shall present her with will be more difficult for her to digest than any she ever gave her asses."
By the end of the 19th century, Wilkinson's legacy had all but disappeared from the historical narrative — likely because, as historians have argued, her success undercut Victorian beliefs about the inherent weakness of women. Women's boxing had become the stuff of vaudeville acts, staged by men who sought to cash in on the titillating spectacle of ladies in skirts, trading cartoonish blows.
This is the strange, corseted world we encounter in The Sweet Science of Bruising, a 2018 play by British screenwriter and director Joy Wilkinson (no relation to Elizabeth) that will make its U.S. debut this weekend in a Dartmouth College production at the Hopkins Center for the Arts.
"The male boxers, and the men who ran the show, were built up by Victorian writers, and the women were footnotes or vanished completely from view," Wilkinson told Seven Days. "The play is a way to put them back on center stage and hopefully set a new precedent."
Set in London in 1869, The Sweet Science of Bruising imagines the lives of four women who are drawn into a boxing ring, a subterranean milieu arguably no more hostile than their day-to-day realities. Each character seeks a kind of freedom through physical competition. One is an upper-class woman in an abusive marriage; another is an orphaned coal miner trying to become a champion prizefighter; another, a nurse who aspires to go to medical school; the fourth, an Irish immigrant, escaped to England after being raped and bearing a child out of wedlock.
Under the tutelage of an eccentric male professor, the women fight each other for cash purses, which represent the possibility of financial independence — and, by extension, a semblance of control over their own lives. But as the play progresses, director Peter Hackett notes, the women begin to recognize that they pose a much larger threat to the status quo by joining forces rather than merely accruing individual victories.
"They realize that they share a common sisterhood and, collectively, they understand the power of what they're doing publicly," said Hackett. "They're showing the world that women can be fierce."
Hackett first encountered The Sweet Science of Bruising last summer, when he arranged for the students in his theater study-abroad program to see the play, then in its second season at the historic Wilton's Music Hall in London. Captivated by the story, he reached out to Wilkinson to ask for the rights and to see if she would be willing to meet with his students after the show. Wilkinson agreed to both requests.
Several of the students who attended the London performance will appear in the Dartmouth production, including senior Kerrigan Quenemoen, who plays Violet, the nurse with dreams of becoming a doctor.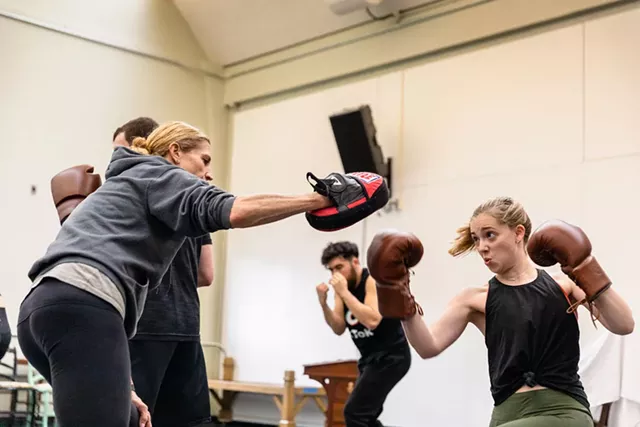 Courtesy of Dartmouth College/Seamore Zhu
From left: Jennifer Karr and Kerrigan Quenemoen sparring during rehearsals
Quenemoen was attracted to the role of Violet from the moment she first saw her onstage at Wilton's Music Hall.
"During intermission, I turned to my friend and said, 'I want to play her,'" said Quenemoen. "She has incredibly well-articulated thoughts about Darwin's theory of evolution, which had just come out at the time of the play, and, at night, she goes into the morgue to practice sewing on cadavers, even though she isn't supposed to. But she's also super passionate, so she's an interesting balance of rational and emotional."
To create believable fight scenes, Hackett brought in a trainer from the River Valley Club in Lebanon, N.H., to teach the four boxing cast members proper form and technique. The blows are choreographed — no one is actually getting punched in the face — but to augment the visual effect, the actors learned to produce the sound of flesh hitting flesh, a theater trick known as a "knap." The audience will be seated in risers on the stage, an intimate vantage designed to evoke the experience of spectators at the ring.
Rehearsals are generally grueling, but this preperformance regimen — an hour of boxing five days a week, on top of the normal rehearsal schedule — has been unusually exhausting, said Quenemoen. Learning to box is one thing; learning to box as a dramatic feint is a uniquely punishing exercise.
"It's actually more tiring to have to exert so much control over where the blows land than to just swing," she said.
To perform the role of a female boxer in Victorian England onstage, in other words, is to live the metaphor at the center of the play — to understand, in bodily terms, the choreography that women have always had to subvert.