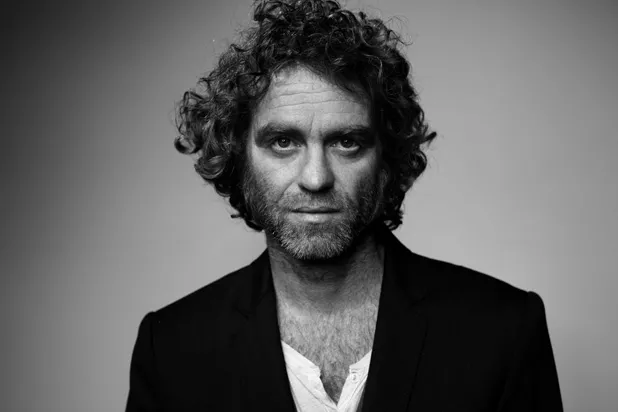 Throughout his nearly 20-year career, Sean Hayes has been perpetually on the verge of stardom. Over the years, media outlets from National Public Radio to Paste magazine have predicted he would break out, but he never quite has. Instead, Hayes remains the consummate "songwriter's songwriter" — a profoundly talented tunesmith who garners the admiration of a select, devoted audience that, with apologies to Built to Spill, keeps him like a secret.
On his latest album, Before We Turn to Dust, released in early September, San Francisco-based Hayes delivers another striking collection. Like the six albums that preceded it, this record is marked by wry observations, soulful melodies and palpable melancholy, all delivered in Hayes' signature warm, warbly croon, which is somehow both forceful and fragile.
In advance of his upcoming performance at the Goddard College Haybarn Theatre on Saturday, November 3, Seven Days caught up with Hayes by phone to talk politics, why happy people love sad songs and the curious case of Kanye West.
SEVEN DAYS: The new album boasts a somewhat surprising hip-hop influence. Where did that come from?
SEAN HAYES: I'm just really attracted to the rhythms of hip-hop. There's something about that kind of vibe I find appealing. And it kind of comes in and out on other records throughout the years. So I think I let it creep in a little bit more when I was writing this time.
SD: Were you listening to anything in particular that informed your writing?
SH: Kanye West, for one.
SD: I'm sorry, did you say Kanye West?
SH: [Laughs] Yeah. His newer one and a lot of his older stuff, too. He's one of those characters that's fascinating because he's so huge, and the perception of him becomes so strange.
SD: You've had some big life changes recently, most notably becoming a dad. Have those changes informed your writing at all?
SH: I think just simply by the fact that I can't help but write mostly from where I'm at in life. I tend not to step back too far and come up with a concept or put anything in a genre of writing. It's kind of like fast journal writing that inspires and reveals. So I think just the fact that I'm getting older changes my perspective. Family is huge.
SD: From a practical perspective, being a traveling musician doesn't offer much in the way of job security. Do you feel trepidation when it comes to balancing the life of a family man with that of the wandering minstrel?
SH: Every day. But it was part of the equation 20 years ago, before I even had a glimmer of a family. It's always kind of been back there in my mind. And in some ways I've been writing about it all that time. The song "Mary Magdalene," which I wrote 20 years ago, is about that. The severity of that song — I had sort of forgotten about the passion I had brewing inside me as a young man. Now, being 20 years into it, I see it differently.
SD: You wrote a song, "Fucked Me Right Up," that ranks for me with the most crushing breakup songs ever. In fact, I'm of the opinion — and I mean this in the most flattering way possible — that no one should ever listen to it, especially if they've recently been dumped. Thoughts?
SH: [Laughs] I would never want to listen to a song like that if I was actually in that situation. But it comes straight from the source. I think songs like that become sort of a habit for some people … the sadness is romanticized. Or, if you've been through it a long time ago, you can look at it from a removed perspective. That's what I do when I play it now: step back from it and view it as part of the theater of life.
SD: It seems counterintuitive that we would gravitate toward sad music when we're feeling low. But we do. Why do you think that is?
SH: I think we're just naturally drawn to conflict. If you look at theater or film, we're attracted to stories with drama, with struggle. It's a tricky thing. I think there's something about it that helps put our own drama into perspective.
SD: Are you much of a political guy? Any thoughts on the election?
SH: I am somewhat. And I have been paying attention, kind of watching from the road. I have a love/hate relationship with politics. I feel a little manipulated at times from a media standpoint. I wonder about the grand manipulation, the debates and polls. You have your people on this side who aren't going to change their minds no matter what happens, and you have the same thing on the other side. And then you have people on the sidelines in these strange little counties out there that are basically going to decide it. To keep it interesting, you have to come down on one side or another, which makes it seem more like a sports contest than an intellectual discussion.
Sean Hayes performs on Saturday, November 3, at 8 p.m. at the Goddard College Haybarn Theatre in Plainfield. $15/20. Birds of Chicago open.