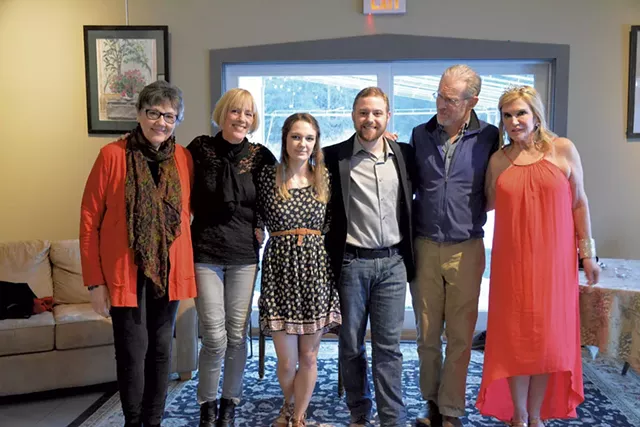 Courtesy Of Paula Bradley
Left to right: Vivian Jordan, Noni Stuart, Carli Harris, Justin Gardner, Bill Pelton and Mary Scripps
Grand Isle resident Noni Stuart wants to dispel the notion that the commute from Burlington to the Lake Champlain Islands is long. "It's a really short 30 minutes from anywhere in Burlington," she says. "It's an easy and beautiful drive, in fact."
Stuart is president of Island Stage, a new theater company based in the islands. When Island Stage opens its debut season this Friday, March 9, in South Hero, she hopes it will attract audiences from Burlington, as well as other cities in Vermont, New York and Canada.
"Our mission is to provide quality performing arts opportunities in the Lake Champlain Islands and offer [a] year-round theater presence," Stuart says.
Stuart, who is in her mid-sixties, is originally from Montréal but has spent her entire adult life in Vermont. A retired massage therapist and psychotherapist, she has acted with several local theatrical groups, including Lost Nation Theater in Montpelier, Unadilla Theatre in Marshfield, Valley Players Theater in Waitsfield and the Shelburne Players.
Island Stage has been several years in the making and recently received tax-exempt, nonprofit status. Six people, including Stuart, serve on the board of directors; all are volunteers.
"We aren't here to replace any other performing arts organization," Stuart says. "We want to be very humble and inclusive and work with others."
The group aims to eventually build a well-equipped arts center that will serve as a hub for the performing arts, she notes. In the interim, Island Stage will present shows in venues throughout Grand Isle County.
"I'm thrilled that we have a new theater company to bring more people to the islands," says Katya Wilcox, president of Island Arts, which serves as the area's arts uncil. The islands are becoming an arts destination, she asserts.
Island Stage launches its inaugural season with the 2013 Tony Award-winning play Vanya and Sonia and Masha and Spike by Christopher Durang. The comedy revolves around two middle-aged siblings who feel confused and resentful when their movie-star sister suddenly arrives with her new boy toy and threatens to sell the family house in which the siblings live.
Stuart is producing the play and performing as Masha. Justin Gardner, Carli Harris, Vivian Jordan, Bill Pelton and Mary Scripps make up the rest of the cast; Bob Carmody directs. Vanya and Sonia and Masha and Spike will be staged at the Folsom Education & Community Center in South Hero.
Island Stage plans to produce three shows annually. In July, it will present The Great Kooshog Lake Hollis McCauley Fishing Derby by Canadian playwright Norm Foster; and, in November, Love Letters by A.R. Gurney. Anyone is welcome to audition, says Stuart.
She stresses that Island Stage is keen to work with businesses to revitalize and strengthen the local economy. And she's making good on that pledge. Theatergoers who dine at Blue Paddle Bistro on Route 2 will get $5 off their tickets for the Friday and Saturday shows of Vanya and Sonia and Masha and Spike. Love Letters will be a dinner-theater experience at the North Hero House Inn & Restaurant.
Given Vermont's long winters, Stuart hopes that Island Stage will create opportunities for audiences from near and far to be entertained, have fun and be educated. She adds, "I think the importance of having a place where community can gather is so vital."