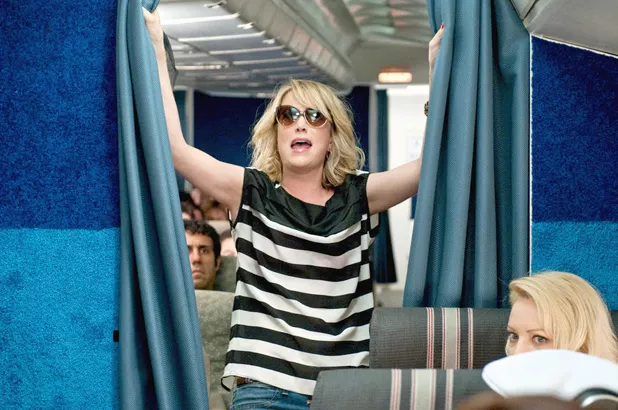 Rick Kisonak: As a member of the Broadcast Film Critics Association, I get to help decide every December which of the year's releases will be honored with a Critics' Choice award in January. It's usually a lot of fun to look back at the best movies and put together a list of nominees from scratch. Traditionally, the greatest challenge is whittling down my list of candidates. But 2011 has been different. For the first time, I found it difficult to come up with enough nominees.
Not that it's been a terrible 12 months — unless you happen to own a theater (ticket sales have been down all year). Now that I've seen the best 2011 has to offer, though, I feel it fair to categorize it as resoundingly underwhelming. There was no shortage of good films — just a near-absence of great ones. Is it me? Did I miss something? When you look back on it, how would you say the year measured up?
Margot Harrison: This was a sad year for multiplex fare, with remakes, sequels and adaptations the order of the day, but I think it was an excellent year for indie and foreign films. Directors are experimenting all over the place, whether they're shattering their narratives into kaleidoscopes of striking images (The Tree of Life, We Have to Talk About Kevin ) or staging the apocalypse (Melancholia , Take Shelter) or resurrecting vintage movie styles in loving detail (Drive , The Artist, Tinker Tailor Soldier Spy) or just pushing boundaries (Shame). The results aren't always great, but the adventurousness makes multiplexes fun again.
As a lover of stories and characters as well as style, though, I didn't like anything I saw on the big screen this year as much as I did the first four seasons of "Breaking Bad."
******
Most Stellar Performance
RK: Brendan Gleeson (The Guard), Michael Shannon (Take Shelter), Meryl Streep (The Iron Lady), Elizabeth Olsen (Martha Marcy May Marlene) and Kirsten Dunst (Melancholia ) all did vastly impressive work, but it was Bridesmaids' Melissa McCarthy who absolutely blew me away. That's just an incredibly inventive piece of acting. I need a sequel. And fast.
MH: This was a star-making year for Michael Fassbender and Jessica Chastain: His roles ranged from Mr. Rochester to Carl Jung to a sex addict; hers from trailer-trash bombshell to Israeli spy. And they riveted in all those parts. But Andy Serkis (aka Gollum) gets the prize for making the CGI chimp of Rise of the Planet of the Apes into a revolutionary hero we can all root for. Occupy humanity!
Most Annoying Performance
RK: A number of normally reliable actors turned in underwhelming performances this year: George Clooney turned in two (The Ides of March and The Descendants), as did Jodie Foster (The Beaver and Carnage). Tom Hanks was annoying as hell in the embarrassment that was Larry Crowne. But, let's face it, nobody was more annoying this year than Sarah Jessica Parker in I Don't Know How She Does It. I read on WikiLeaks that they're forcing detainees at Guantanamo to watch that thing. I'm pretty sure even Dick Cheney wouldn't have signed off on that.
MH: Adam Sandler in Just Go With It. He's a talented guy, but as long as people keep paying to watch Sandler do half-assed, mush-mouthed riffing, he will keep doing it. I managed to miss Jack And Jill, where he plays his own fat sister. Hilarious!
Best Comedy
RK: There were lots of good ones — Cedar Rapids, Everything Must Go, Midnight In Paris, 50/50, Horrible Bosses and The Guard among them — but nothing came close to Bridesmaids. It's in a league of its own. Any word on that sequel?
MH: Tie between "Community" and "American Horror Story." Wait, no. We're talking big screen only, so I vote Bridesmaids, too.
Lamest Comedy
RK: As mentioned already, The Beaver, Larry Crowne and I Don't Know How She Does It were très lame. So were Bad Teacher and 30 Minutes or Less. One picture took lameness to a new level, however, if only because it squandered more comic talent than all of those films combined. I give you Tower Heist, the old-school romp that reminded us precisely why they don't make them like that anymore.
MH: My lamest comedy is also my pick for worst picture (see below). An honorable mention to The Hangover Part II, a slavish retread of the original that wasn't fresh enough to be funny.
Biggest Letdown
RK: This could easily prove the year's most crowded field. Disappointing, subpar work poured in from every corner of the moviemaking world. Werner Herzog (Cave of Forgotten Dreams) was shockingly off his game. Alexander Payne (The Descendants) turned in a ho-hum, seven-years-in-the-making follow-up to Sideways. George Clooney missed the mark as director, cowriter and star in The Ides of March. Since when does Roman Polanski waste his time and talent on over-the-top, sitcom-y gab-a-thons like Carnage? A Dangerous Method snapped David Cronenberg's streak of winners. And I can't imagine what Steven Spielberg was thinking when he made War Horse. I'm still trying to figure out who the target audience is for this thing — 12-year-old girls who love horses and collect World War I memorabilia?
The biggest letdown for me, though, had to be The Artist. Talk about not living up to the hype. Black and white and silent for the most part, it's a cute experiment with a couple of clever touches, but the best film of the year? Please.
MH: My biggest letdown was watching cool movies such as Take Shelter and The Skin I live In disappear almost instantly from our theaters, while others, such as Attack the Block, never arrived. I don't blame theater owners for this: They need to see butts in seats. The price we pay for the convenience of video on demand, it seems, is more uniform dreck on our big screens.
Biggest Surprise
RK: Michael Fassbender's willy. The suddenly much-in-demand actor (also this year: X-Men: First Class, A Dangerous Method and Jane Eyre) certainly gave new meaning to the phrase "endowment for the arts" with his performance alongside Carey Mulligan in Shame, writer-director Steve McQueen's NC-17-rated portrait of a sex addict. But the biggest surprise wasn't the nonstop frontal nudity; it was that this glum snoozefest ever made it to the screen. A meaningless movie about meaningless sex. That would've made a pretty good tag line, actually.
MH: My biggest (happy) surprises were Hugo and Rango, two films nominally for kids that were also genuine pleasures for adults. The former channels old-movie love, and the latter will prepare your young'uns for Chinatown!
Most Unnecessary Remake
RK: Do you ever wonder about the thinking behind these things? Old bad movies don't beg to be updated, and timeless classics are unlikely to be equalled by new versions, so what's the point? All I know for certain is that choosing Sam Peckinpah's 1971 masterpiece Straw Dogs was about as dumb as studio decisions get. What's next — Justin Timberlake in a redo of Chinatown?
MH: Fright Night could have been a shoo-in here, but the remake ended up better than the original. By contrast, The Thing was actually a prequel to John Carpenter's The Thing, but it felt as Superfluous and perfunctory as any remake I've seen.
Least Superfluous Appropriation of a Comic Book, Video Game or Toy
RK: I'm going to cheat on this one because, frankly, I didn't see any nonSuperfluous movies this year that would fall under this heading. Does it get more Superfluous than Green Lantern and Cowboys & Aliens? I don't think so. My vote therefore goes to James Gunn's one-of-a-kind Super, in which Rainn Wilson plays a fry cook who switches careers and becomes a masked crime fighter called the Crimson Bolt. Ellen Page is great in the role of his "kid sidekick," Boltie. Super only seems like it was based on a comic book: Gunn wrote the script. But it's a Superhero story. One of the weirdest and most wonderfully original I've seen.
MH: Do the Muppets count as toys? Nah. This year in comic-book adaptations, Captain America: The First Avenger had its moments, with the gee-whiz 1940s setting contributing some charm. But I've about had it with the weekly parade of releases based on properties I don't care about.
Most Inexplicable Hit
RK: Speaking of Green Lantern and Cowboys & Aliens: At the box office, they came in at No. 21 and No. 26, respectively, among the hundreds of films released this year, and together took in well over $200 million domestically. I'd call that inexplicable.
MH: How about Pirates of the Caribbean: On Stranger Tides at No. 5? This franchise ran aground two movies ago. If you want a fix of Johnny Depp doing The Things he does, Rango is your film.
Most Inexplicable Flop
RK: What kind of a world do we live in, I wonder, where I Don't Know How She Does It is the 128th most successful motion picture of the year, and The Guard — a work of monumental genius — is the 136th? Have people lost their minds? Brendan Gleeson is universally acknowledged to be Ireland's finest living actor, and his Sgt. Gerry Boyle, a County Galway cop with a fondness for liquor, ladies of the evening and LSD, is one of the most brilliantly original movie creations in recent memory. It's beyond inexplicable.
MH: Consider Warrior (No. 118), a film with all the elements of a huge crowd pleaser — muscly dudes fighting in a cage, high family drama à la The Fighter, underdog themes, and did I mention those muscly dudes are played by future stars (I hope) Tom Hardy and Joel Edgerton? I couldn't care less about mixed martial arts, and I was white-knuckling through the fights. You'll have to catch it on video.
Most Reprehensible New Movie Trend
RK: A particularly egregious trend that's emerged over the past year is the art-house affectation of the no-ending ending. Meek's Cutoff pulled this stunt. As did Martha Marcy May Marlene, Shame and rampart, to name a few offenders. I hope the fashion will prove short lived. If a director's going to ask us to give our attention to a picture's beginning and middle, it's only good manners to provide an ending.
MH: Returning to the multiplex: This year brought us too many epic battles that looked like video games. There are creative ways to mix live action and digital effects, as we saw in Hugo, Rise of the Planet of the Apes and even a few scenes in that otherwise awful Transformers movie. Post-conversion 3-D is no excuse for turning your action into a dim, blurry hash that looks neither real nor cool.
Best Omen of Civilization's Impending Downfall
RK: The very scary fact that the science in Contagion is sound. I mean, if you believe the Centers for Disease Control and Prevention and the National Institutes of Health. I asked Santa for a gas mask after reading that.
MH: The millions of dollars Hollywood expended this year on crafting thinly disguised masturbatory fantasies for boys (Transformers: Dark of the Moon), girls (The Twilight Saga: Breaking Dawn: Part 1) and director Zack Snyder (Sucker Punch). At least the third one had a plot!
Best Movie With No Movie Stars
RK: I've got to go with Attack the Block, writer-director Joe Cornish's delightfully demented sci-fi/comedy mashup about a South London teen gang defending their hood against an alien invasion. No stars, no budget, just loads of fun.
MH: Agreed, but my pick is The Future, the second film from art-world-but-not-film-star Miranda July, starring her, Hamish Linklater and a stuffed kitty-cat. It's every bit as melancholic and thought provoking as Melancholia . Really!
Worst Movie With an All-Star Cast
RK: Take your pick — Tower Heist, Larry Crowne, Cowboys & Aliens, I Don't Know How She Does It. They each blew big time, and I guarantee you every one of their big names got paid more than it cost to make Attack the Block.
MH: Remember that trailer last winter where Vince Vaughn informed us that "electric cars are gay"? The controversial clip has more staying power than the comedy from which it came, The Dilemma, directed by Ron Howard and starring Vaughn, Winona Ryder, Jennifer Connelly, Kevin James, Channing Tatum and Queen Latifah.
Best Documentary
RK: I'm bummed that it's not making more reviewers' top-10 lists, but I maintain that The Last Mountain is one of the most important films of 2011. Bill Haney's shocking documentary indictment of Big Coal also ranks as one of the year's most horrifying. Freddy Krueger looks like Mr. Rogers next to some of the walking, talking monsters in this movie. Every bit as incendiary as Inside Job. You owe it to yourself to make this No. 1 in your Netflix queue.
MH: I love documentaries about unique, troubled people, and The Arbor fits the bill. It's the story of a teen welfare mom who became the toast of London literary society, but died young and left her kids a dark legacy. The filmmakers merge audio interviews and reenactments for an experience that's likewise unique in its genre.
Best Movie Vermont Probably Won't Get Until 2012
RK: Bridesmaids 2! I can dream, can't I? More realistically, I'd say the postholiday season is likely to bring such presents as Extremely Loud and Incredibly Close, Albert Nobbs, The Iron Lady and — the best of the bunch, for my money — We Need to Talk About Kevin, the Super-creepy story of a woman whose worries about her son's psychological well-being are brushed off by everyone around her, until the day he unleashes a one-man high school massacre. Tilda Swinton is riveting.
MH: Tinker Tailor Soldier Spy is a spy movie that actually stimulates your brain — just don't come sleepy or undercaffeinated. Take your hardcore cinephile friends to Kevin, Shame and A Dangerous Method and enjoy the debates afterward. Do not see any of those three on a first date. For a film that won't kill romance — or if you want to take your grandma — wait for The Artist. It's not groundbreaking cinema, just a sweet, feel-good film that will remind you to start watching TCM again.
Worst Picture
RK: OK, I think we've sufficiently razzed a handful of the year's lesser efforts. Being stinky is one thing, however, and being the most detestable is something else. It requires more than mere idiocy or derivativeness or dullness. This year, one film crossed a line you don't approach if you have even an ounce of good taste, and that was the WWII weepie Sarah's Key. I'm sorry: You just don't get to play the Nazi card if all you're trying to do is jerk tears and tug heartstrings. Watch a few hours of TLC: There are any number of tried-and-true alternatives. In 2011, nobody stooped lower than director Gilles Paquet-Brenner. Just what the world needed: movie history's first Holocaust chick flick.
MH: Adam Sandler hasn't made a Holocaust film. Yet. (All he'd have to do is remake Life is Beautiful with fart jokes.) But he did give us Just Go With It, a film that relentlessly milks "humor" from pratfalls, prosthetics, kids with funny accents and Dave Matthews picking up a coconut with his ass. I know it sounds silly and inoffensive, but there's something creepily condescending about the whole carefully programmed endeavor. Next time you watch a politician pandering to voters' dumbest impulses, think of the $103 million this film grossed.
Best Picture
RK: Melancholia . I know, I know. No one's going to see the latest from Lars von Trier except critics and the hardcore art-house crowd. But that doesn't change the fact that nothing released this year came close to matching its dark humor, artistic fearlessness and otherworldly beauty. Two things I doubt anyone will contest: Kirsten Dunst gives the most complex performance of 2011, and this is one movie that definitely has an ending.
MH: I contest the part about Dunst — she's nude, she's glum, and she's von Trier's mouthpiece, but Charlotte Gainsbourg was the one who made me care about impending doom.
My own favorite movies of the year were two: The Tree of Life and Drive . The first is an intricately wrought stained-glass window into one filmmaker's life, his dread of death and his intimations of immortality. (Plus dinosaurs!) The second is basically Fast Five for jaded hipsters, but it's the year's very best ride.