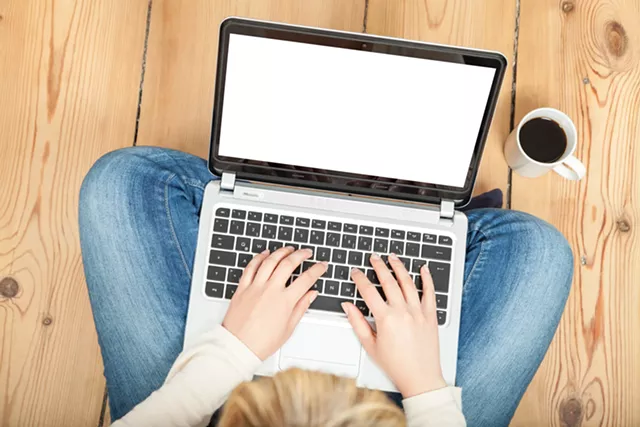 An axiom of modern journalism is, "Never read the comments." Such sections often turn into nasty scrums of name-calling and disses.
Well, we here at Seven Days do read the comments, and our contributors generally stay on topic and provide good context, perspective and arguments to stories. They also point out the occasional error — thanks for that!
This year, we logged more than 5,600 comments on the thousands of news stories, music reviews, features and other content we create week in, week out. In honor of that, we've rounded up our favorite comments of the year from sevendaysvt.com. Some were zany, interesting or just made us LOL.
None of the original spelling, punctuation or grammar has been corrected here, and most of the authors are identified by user names — not real ones. We've spared you the ongoing online debate about that.
We're taking a break for the holiday — there's no paper on January 4 — but the Seven Days website never sleeps or takes a vacation! So keep the comments coming. Thanks again for weighing in. m
This is the best fucking band that has ever existed
Posted by Mike Daly, November 29
Ed. note: #ReviewABandin10Words
If he were really legit his middle name would be Aron.
Posted by stellaquarta, November 14
Ed. note: The King's middle name was Aaron.
This article is surely satire. Nothing could possibly be this pretentious otherwise.
Posted by Leonard Bast, November 15
Ed. note: It's hard out there for a food writer!
There is no excitement anywhere like a First Baptist Church chicken pie supper. Come prepared for thrills and laughs.
Posted by Jay Furr, October 22
Ed. note: A ringing endorsement.
Bernie would have won the election.
Posted by Karen E. Koskoff, November 9
Ed. note: You had to know this was coming.
I bet not ONE of these women is a Wiccan. We. Do. Not. HEX. If we did, I'd hex these hags for defaming my religion. I resent this, and not just a little bit - and shame on you, Seven Days, for promoting this bigoted crap.
Posted by kestrel9000, November 4
Ed. note: This one needs no commentary.
I'd like to offer you some wine to go with your GMO cheese. The added bonus is you have to eat it in another state.
Posted by Mt.Philo, July 1
Ed. note: Just be careful what pasture you picnic in!
I ate Mister MIke's pizza the other day for the first time in nearly 25 years. Did you know that it's just as bad when you're a drunken 19 year old with a fake ID as it is when you're a sober 42 year old? It's true!
Posted by Dr. Mindbender, May 6
Ed. note: COLLEGE! So many memories — er, drunken blurs.
If you don't have children, never get sick, and don't grow old - you'll be fine under Trump
Posted by Sarita Austin, December 1
Editor's note: So ... Tuck Everlasting?
There's a pay phone outside the Fletcher Free Library. Saw someone using it yesterday.
Posted by Dr. Mindbender, January 27
Ed. note: Guess we found the one person still using a pay phone in 2016!
Saddest headline of 2016, right here.
Posted by Justin Boland, June 24
Ed. note: Remember, folks, he wrote this in June.
But who does Bernie's dry cleaner endorse?
Posted by Mt.Philo, July 29
Ed. note: Admit it, you guys loved reading all things Bernie this year.
Zuckerman should at least apologize for this year's farm share. I got like 2 cucumbers the entire summer and I don't remember getting any peas. Too busy campaigning I guess.
Posted by Mt.Philo, October 25
Ed. note: What, no mention of Zuck's ponytail?
If I were to steal from my employer because I thought I wasn't being paid enough I would be charged with embezzlement and fired. In politics that would make me a candidate for higher office.
Posted by Kurt Eckert, October 27
Ed. note: Don't try this at home.
Finally. A hipster coffee shop!
Posted by The Oracle, July 12
Ed. note: Get it? There are lots of hipster coffee shops!
Someone is seriously complaining that the ice cream has almond milk in it? My gluten free home brewed yoga beer is both dairy free and nut free.
Posted by Mark Lade, February 17
Ed. note: [Sings] You can't always get what you waaaant.
I live a block from the proposed venue. You can park in my driveway for $20.
Posted by Seth Gillim, May 19
Ed. note: Entrepreneurism!
Let me look into my crystal ball: In the future I will have to get written permission from some tree hugging, vegan, from NJ before I can give lead poisoning to the cute little squirrel who's chewing a hole in the side of my house.
Posted by Paul Jones, October 13
Ed. note: Probably!
Do we really know for certain that he bought this at a private sale?? No evidence, no sale slip, etc, etc. Could be a made up story to further the liberal agenda. Wish I'd know about it, I'd buy it in a minute.
Posted by Ron Minor, June 20
Ed. note: This is a strange conspiracy theory but ... OK!
If you really want to impress us you should pick up a TERRORIST at the Five Guys parking lot and deliver him to BPD!
Posted by Lawrence Thurber, June 16
Ed. note: Sure, we'll get right on it.
So you intentionally set up a legal gun buy to make it look sinister. Great job, you are a attention seeking dipshit. Look at me look at me!!! Over here!!! Look what I can do!!!! Asshat.
Posted by guns aren't the problem, you are, June 15
Ed. note: Paul tells us he hasn't been called an "asshat" since fifth grade.