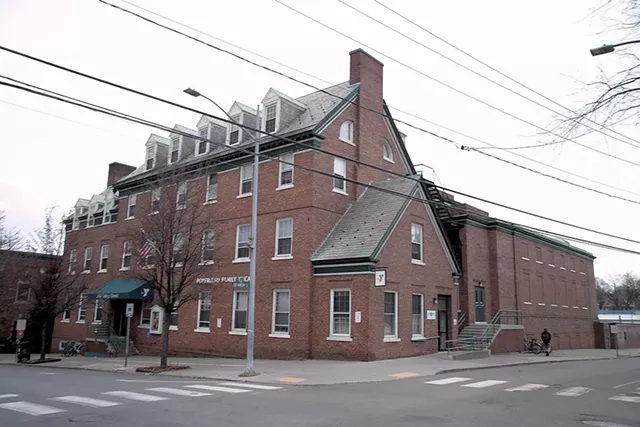 Matthew Thorsen
Greater Burlington YMCA
Strolling down the narrow hallways on the upper floors of the Greater Burlington YMCA, president and CEO Mary Burns explained that the cramped offices on either side were once used as lodging for "young men of good moral character" and later as dorms for GIs.
Now they could become luxury suites in a boutique hotel, student apartments or condominiums.
Those are some of the uses under consideration as prospective buyers tour the 1934 building that went up for sale in August for $3.75 million. Since then, realtor and listing agent Yves Bradley has shown the property to at least half a dozen potential buyers.
"They love it," he said. "If you look at it, it's a fantastic spot. It's very convenient to downtown without being right in it." The old brick building at the corner of South Union and College is two blocks from Church Street.
Both local and out-of-state developers have toured the facility, Bradley said, including prospective owners who want "a presence in Vermont and, more specifically, in the Burlington market for a boutique hotel," he added. Although no local colleges or commercial office brokers have yet expressed interest, at least one private developer has looked at the Y with the idea of leasing directly to students.
But no sale is imminent — the building is not under contract — and redevelopment is likely several years away. The timing will have to work for the Y, which is moving half a block up College Street to a site that is occupied by the former Ethan Allen Club. Soon after the Y's purchase of the new site went through in August, Burns announced that she will leave at the end of the year to take a job at a YMCA in Pennsylvania.
The Y paid $2.5 million for its new home, using funds raised to renovate its old one. Burns said a capital campaign is under way to raze the nondescript 1972 social club, most recently owned by Champlain College. The goal is to construct a new YMCA where members won't have to negotiate the 400 steps at the current Y or run 25 laps to hit a mile on its tiny indoor track. Plans also call for a new pool, more room for childcare and preschool programs, as well as a gathering space for seniors and other community members.
As ideas begin to gel for the next-generation Y, the future life of the current one is up in the air. A full teardown of the Colonial Revival building is unlikely, because the original portion of it is listed on the state historic register.* However, parts of the mazelike structure could meet the wrecking ball: the north end of the building, which includes a 1984 addition containing the Y's lap pool; and the east wing of the original structure running along South Union, which houses the gym and a second, smaller pool.
Bradley is pitching the property with those alterations in mind. The current pools "have to go," according to Bradley, to make room for a new addition with a parking garage below or alongside it — the current 12 spots just aren't enough for any imaginable new use, he said. Whether it's a hotel or apartments, Bradley said there would have to be at least 65 units to make the redevelopment cost-effective.
Uncertainty about which changes would win city permits creates "lots of question marks" about the property, Bradley conceded. But he's clear on one thing: "That building is not coming down." He said a full-scale demolition of the edifice would never get past the city's preservation-conscious development review board. "If anybody has asked about it, I've told them that would be a nonstarter. "There's just no way. It's listed; it's historically very significant. No way."
His prediction: As the Burlington area grows and space downtown becomes harder to come by, creative "infill" redevelopment is going to become more common and attract developers who can handle it.
Describing the Y as "a complicated site," he said, "It's a great opportunity, but it's not for the fainthearted. It's one that people really need to think through how it's going to work before they can take a run at it."
When it was erected during the Great Depression, Burlington's YMCA was a source of local pride. Community members managed to raise $270,000 in hard times to construct the building after its forerunner at 129 Church Street was destroyed by fire in 1928. The description of the building in the state historic register notes its bricked-in windows with marble sills, gabled wings and dormers, and Georgian massing.
Inside, though, it's a confusing labyrinth of dungeon-like workout spaces; crowded preschool classrooms; old, dented lockers; and hallways overflowing with exercise props — stationary bikes, yoga mats and blocks, and big rubber balls. Other than the black-and-white photos of the Y's Camp Abnaki, little about the place feels "historic" in the positive sense of the term.
The building has no elevator and, except for a back-door ramp leading to the lap pool, no handicap access. Dressed in a smart skirt and jacket, Burns seemed embarrassed as she pointed out this glaring deficiency in a facility committed to welcoming people of all abilities. "It just turns our stomach, makes us sick," she said.
It isn't just people with disabilities who can't navigate the full building. Burns said some older Y members have had to quit coming to the facility because they can no longer handle all the stairs, which technically travel over 10 different levels from the roofline to the lowest part of the basement.
Why hasn't the organization found a way to install an elevator? "Cost," according to Doug Bishop, the Y's director of communications, "and the board's goal to find a new facility."
Fixing other problems would also require major investments. The roof leaks, and the heating and ventilating system needs an overhaul.
Yet many of the Y's members remain loyal, despite the fact that they may be doing crunches on a mat in the Y's old bowling alley, dragging plastic platforms to the basketball court for step class or swimming in windowless rooms.
When the place opens at 5 a.m., "some of them are already waiting at the door to get in," Burns said. The Y closes on weekdays at 10 p.m.
The Y has been searching for new digs since Burns started working there as an office assistant in the 1980s. The institution considered moving to the suburbs, the Burlington waterfront and neighboring Memorial Auditorium — and did establish a satellite facility in Winooski. But a new HQ never materialized. The Ethan Allen Club was long seen as a possibility. In 2008, the Y tried to buy it but lost out to the higher-bidding Champlain College.
Champlain had planned to build student housing on the site, but opposition from neighbors and other factors led to the sale earlier this year. "Silent fundraising" for the new Y has started, Burns said, but it'll be up to her successor to launch and oversee the impending capital campaign. Former South Burlington City Council chair Pam Mackenzie is taking over as interim director when Burns says good-bye to the Y's 100 full-time employees on December 18. She earned $147,264 in wages last year, plus additional compensation valued at $15,887, according to YMCA federal tax filings.
The Internal Revenue Service forms also show that the Y's total revenues dropped from $8.8 million to $8.3 million between 2013 and 2014, with grants and contributions declining by $451,439 and program fees dropping by $24,340. The Y still finished the year in the black but with a balance of $127,706 in 2014 compared to $718,355 in 2013.
Program fees produce about 85 percent of the Y's revenue. Of those, childcare, youth development and camp programs represent the largest income stream — $5.4 million of a total $7 million in 2014. Athletic memberships are a relatively small portion of current income, and the Y fitness numbers have been stagnant for 15 years, hovering between 1,800 and 1,900 memberships.
Burns said that number needs to grow to help subsidize programs for seniors and people with disabilities, as well as public health initiatives such as diabetes prevention. That's part of what is motivating the organization to build a newer facility with better workout areas.
Also: Right now there are 150 people on the wait list for the Y's infant-toddler childcare program. The goal is to increase slots from 42 to 90 when the new facility is built, Burns said.
Last Tuesday Michael Nichols sat on the hip abduction machine in the Y weight room, scissoring his legs in and out as other Y members ran on treadmills and lifted free weights. He lives in the New North End and pays for metered parking when he comes to the Y, three or four times a week.
"It's great; I love it," Nichols said.
The new location could potentially be good, he said, especially if it has parking. Employees mostly use the current Y's dozen spots. Even paid parking is hard to come by since City Market/Onion River Co-op customers started using the lot between the Y and Corbin and Palmer Funeral Home.
Burns promised more places for cars at the new site, but perhaps not a lot more. There are no plans to build a garage. A higher priority is to create a safer drop-off for the many tots and children who participate in Y programs, from preschool to swim lessons.
Some aren't sure a new facility is needed, including Sam Nolan. He grew up in Burlington visiting the Y and was back last Tuesday for a workout. "It's a great community gym," said Nolan, who now lives in Massachusetts and came home to Vermont for hunting season.
The Y might be better off working on improving the current facility, he suggested, but if it does move up the street, he likes the fact that it will still be downtown. "Burlington needs a gym," Nolan said.
As a fitness center, the Y has a lot more competition than it did before the EDGE and Planet Fitness came onto the scene, with their constantly shifting deals that sometimes beat the Y's $62-a-month adult membership rate.
Outdated equipment, parking hassles and hygiene standards have driven others away. "The age of our facility and space limitations ... have played a part for some as to why they decide to let a fitness-oriented membership lapse," said Bishop, the Y's director of communications. Every time that happens, it hurts the Y's bottom line, as well as its ability to offer scholarships and the broad range of programming that makes it much more than a gym.
Back in 2012 the Y looked seriously at a $9 or $10 million expansion of the current building and hired Freeman French Freeman architects in Burlington. The firm's renderings called for two floors of new space over the lap pool and a new, two-story entrance addition in the alley on the west side. But the plan didn't improve the parking situation, and the Y dropped it to pursue purchase of the Ethan Allen Club property. "Their preference really was to build a new Y," said Jesse Beck, president of FFF.
The current one is quirky, Beck admitted, but the structure has potential. "There really are a lot of possibilities for adaptive reuse of that building."
Correction, December 8, 2015: An earlier version of this article misidentified the current Greater Burlington YMCA building's architectural style. It's Colonial Revival.