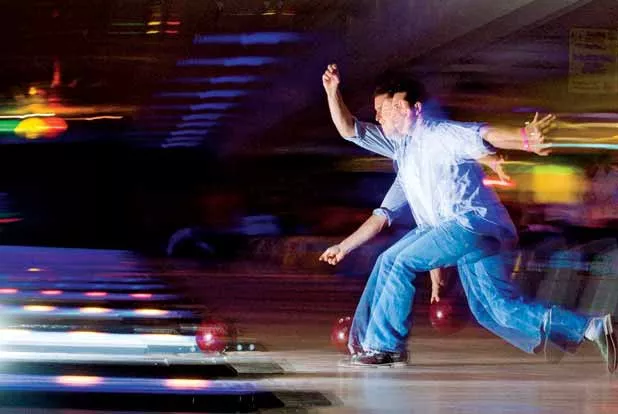 Andy Duback
Galactic Bowling at Yankee Lanes
Contrary to what you may have heard about college, it's not all about getting your crunk on. Don't get involved with that action until you turn legal. You definitely don't want the campus po-po on your back. Fortunately for you, drinking in ratty apartments isn't the only thing to do on weekends. So get your all-ages party hats on and watch your step — knowledge is about to be dropped. Here's our list of the best 18+ spots in the surrounding areas. There's something for everyone here. The putt-putt aficionados and indie hipsters in your life will be glad they know you.
242 Main
242 Main St., Burlington, 862-2244
This substance-free live-music venue is popular with the hardcore crowd, but it also hosts more mellow talks and events. Think SLC Punk meets Dead Poets Society in the form of a nightclub.
Broadacres Bingo
133 Broad Acres, Colchester, 860-1510
Bingo ain't just for church groups and old ladies at Broadacres. Pay the door fee of $14 — all of which goes to charity — and get as many freakin' cards as your daubers can handle. Broadacres guarantees at least $150 in jackpot cash each game. That's a hell of a lot of Ramen.
Club Metronome
188 Main St., Burlington, 865-4563
Are you a Phish Phan? Not until you've noodled at this venue above Nectar's, site of the band's first bar gig. Occasionally Metronome has 18+ nights, so go when you can. You'll want to be well-versed in the local music scene, and this is the place to get your feet wet.
Dobrá Tea
80 Church St., Burlington, 951-2424
Think hookah bar without the hookah. Sit in the pillow pits — if you can — and order from the novel-sized menu. When you're ready to order, ring the bell. You might feel weirdly imperialist, but don't worry — the waitstaff is used to it. If you've got rowdy friends, they need to lock it up before walking into this cool tea room.
Higher Ground
1214 Williston Rd., S. Burlington, 652-0777
This top-of-the-line music venue is the place to hear whatever music you pledge allegiance to. Looking for local jams? Check out the intimate Showcase Lounge. Aching for big-name artists? Head to the Main Ballroom.
Pizza Putt
1205 Airport Parkway, S. Burlington, 862-7888
After a week of labs and exams, a night of laser tag and mini-golf at Pizza Putt will remind you of how simple life was as a sixth-grader. Armed with the coupons available at pizzaputt.com, you'll get lunch and one game of mini-golf and laser tag for under 20 bucks. Sweet.
Merrill's Roxy Cinemas
222 College St., Burlington, 864-FILM
Catch mainstream and art house flicks at The Roxy, a movie theater with a ton of character (and liftable arm rests!). Use your student discount to its fullest and see as many indie flicks as possible. Be sure to admire the awesome cinema-themed graffiti on the College Street side on your way out.
Muddy Waters
184 Main St., Burlington, 658-0466
Get your mojo workin' at this funky, wood-worked coffee house. If people-watching is your thing, grab a drink, sit by the window, and let the characters of Burlington entertain you. If you're with friends, sit in the open area towards the back. The art and music in there are as great as the java.
Radio Bean
8 North Winooski Ave., Burlington, 660-9346
This cozy, bohemian hole-in-the-wall is a great place to kill a few hours or get lost in conversation. The eclectic decor includes a bed spring wine holder and a chandelier of old radios. If you're lucky, there might be a few folks playing instruments outside.
Vermont Frost Heaves
Memorial Auditorium, 250 Main St., Burlington, 578-7056, Season lasts from November to March.
This is our semi-pro basketball team, and believe it or not, they're actually pretty good. They were ABA champs in 2007 and 2008, before switching to the Premier Basketball League for the 2009 season. They're named for the bumps that appear on Vermont roads in the springtime. But don't hold that against them.
Yankee Lanes
215 Lower Mountain View Dr., Colchester, 655-2720
Recruit a group of your friends to dress up and cab over to Yankee Lanes for some seriously hilarious prom-style galaxy bowling.