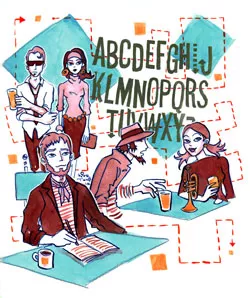 Many an undergrad who plunks her laptop on a café table likes to imagine she's a famous writer hunched behind a Moleskine, nursing a drink all day and night. It's an image we Americans get from reading expat writers Ernest Hemingway or F. Scott Fitzgerald, who immortalized the cafés of 1920s Montparnasse in Paris.
But the phenomenon is global. Cafés nurtured Chilean writer Roberto Bolaño, whose novels Amulet and The Savage Detectives document the poetry scene of Café la Habana and its neighbors in 1970s Mexico City. Café culture shaped a literary scene in post-Soviet cities such as Prague and Budapest in the 1990s.
The tradition of writing in public is alive and well in 21st-century Vermont, a state that has perhaps more than its fair share of scribblers per capita. Even some of its tiny towns have establishments that seem made for writing. A sign with the words "espresso" and "Wi-Fi" is the universal marker of such places, be they bookstores, galleries or coffee shops.
To determine some of the best spots to write, research or just commune with one's muse in public, Seven Days asked a few of those who know: the writers themselves. Whether you need to write poems, check email or just step out of the wintry clime for a few hours, consider dropping by one of these writer-endorsed watering holes.
Poets, be forewarned: You may not get any writing done. Emailers, beware, as well: You might just find yourself seized by the café spirit — laptop and latte forgotten — scribbling a sonnet on your napkin.
The author of the poetry collection Street Rat (University of Detroit Mercy Press, 2000) has written his first novel, The Mutt, published in 2009 by Burlington's Minimal Press.
Nunyuns, Burlington
The atmosphere here is relaxed and quiet. When the husband and wife who run the place are baking, the windows steam up. The music is good, never loud enough to intrude on the creative process. I occasionally run into other writers there, but the vibe is never "see and be seen." This is a neighborhood hangout for Old North Enders: good coffee and food; inexpensive, housemade bread. Most weeks I spend at least one day on my laptop here, working on poems and plays, and though these sessions can stretch for hours, I'm always made to feel welcome. When school lets out, a throng of kids comes in for sweets, adding to the café's quaint charm.
The Middlebury-based author of Crocus (Fordham University Press, 2007) has a chapbook, Flood Letters, forthcoming from Argos Bppls. (Disclosure: Gottshall taught a workshop I attended at Middlebury.) For the most part, the pastry-loving poet says she's "unable to write in cafés."
Vergennes Laundry, Vergennes
I envy writers I see working in the coffee shops of Addison County who speak of the freedom from distraction that cafés provide. Unfortunately, I've always found the proximity of pain au chocolat pretty distracting.
But now there is Vergennes Laundry, the new wood-fired bakery, cheese shop and espresso bar on Main Street in Vergennes. Owner-chef Julianne Jones designed the space to honor its previous life as a laundromat, with creamy white and blond-wood surfaces and clean lines. I spent an afternoon there recently, shuffling pages of my manuscript and sampling gougère, hazelnut-fig biscotti and artistic espresso drinks (my latte was topped with a delicate foam heart). It was warm inside, despite the day's rawness, and the place resembled my idea of heaven: The tables are big and sturdy, pain au chocolat is plentiful, and the coffee is hot and fresh and served in bowls.
I may never be able to write there, but Vergennes Laundry offers something I find even more useful: inspiration in the form of an artistic sensibility and appreciation for small luxuries — precise, nourishing comforts that — like good poems — are never cloyingly sweet.
A Middlebury College professor of English and American literatures and a bestselling novelist, Cohen's latest is Amateur Barbarians (Scribner, 2009).
Carol's Hungry Mind Café, Middlebury
On those occasions when the long-distance slog of the writer's life makes me feel antsy and indolent — that is, pretty much every day — I like to go out to a café and feel antsy and indolent there. As my town has all of, let's see, one coffee shop, I know it well and appreciate it fiercely. So let me say it outright: Carol's Hungry Mind is my home away from home, a place with good light, strong coffee and a sound system devoted to the oeuvre of Richard Thompson. The only downside is the distracting presence of all the other antsy and indolent writers in town. Who knew there were so many?
If the economy were better, we'd each have our own café. But then we'd miss the most attractive thing about the place: the presence, at any given moment, of half a dozen people staring miserably at their laptops, hoping I'll sit down and, in complaining about how badly my own work is going, succeed in distracting them from how badly their work is going. And then, after a while, you look up and it's time for lunch.
The poet published In No One's Land in 2006 (Ahsahta Press) and has a volume of poems entitled My Love Is a Dead Arctic Explorer forthcoming from the same publisher.
Everyone needs the gaze of strangers once in a while. Particularly in poetry writing, a solitary pursuit where many hours bulge behind a few discrete lines, the knowledge that you have been seen — shuffling papers, moving your pen back and forth — lends a sense of accountability, of productivity, which are hard to get from the actual amount of work at the end of each day.
When I seek such witness, I head to Bristol Bakery. I love the refuge it provides during weekly trips to the laundromat. It's warm, clean, unpretentious. I like the winter boot puddles under the tables. I like that I can nurse a pot of tea without feeling I've overstayed my welcome. And if I need help emerging from stagnant solipsism, I can take a look around and make eye contact with a friend.
The University of Vermont Spanish professor and multimedia artist is the author of the poetry collection Código de Barras (Bar Codes).
The Block Gallery, Winooski
I am writing from nostalgia. Nostalgia for those days with more time for coffee and the newspaper on a worn-out sofa, for some poem sketched with the aroma of a latte. I finally find time to revisit The Block Gallery. The window reveals the vague movement of the traffic dressed in a layer of snow. Inside, time remains intact, while a copper bag floats in water, circling shapes that remind me of Africa: rooibos, red tea. But it is not the curious oryx staring from the diamond side, the Namibian forbidden side, floating densely in red dunes within my cup that distracts me, but the beast that circles patrons and displays of local art: the owner's dog, dressed as a horse with a turnout blanket. Or is it a horse disguised as a pointer? "It keeps her warm," explains the owner … I pour milk in my tea and break the spell. Time invariably returns, while I go back to my newspaper.
The Ireland-born artist in residence at St. Michael's College has numerous collections of poems, most recently The Ship of Birth (LSU Press, 2007) and The New Citizen Army (Combat Paper Press, 2010). Delanty coedited the recent anthology The Word Exchange: Anglo-Saxon Poems in Translation (W.W. Norton, 2010) and was just named the president of the Association of Literary Scholars, Critics and Writers.
The Daily Planet, Leunig's Bistro, Muddy Waters, Burlington
I must be considered one of the most unsociable of patrons. (I apologize for my scowl here and now to the many other patrons past, present and future who risked or will risk striking up a conversation with me.) For nearly a quarter of a century I have frequented The Daily Planet, Leunig's and Muddy Waters. As the owners, waiters, and bar women and men know, I have a favorite seat in each establishment where the daughters of Mnemosyne are most comfortable around — seats that my molecules are part of by now.
So, the bar stool by the mirror at the end of the bar in The Daily Planet, the stool nearest the coat hangers at the bar in Leunig's, and the inconspicuous pew behind the bookshelves in Muddy Waters are each mine. If you happen to be seated in one of those spots and see a chap with gray hair and a Pan beard glaring at you, it is yours truly. Best to vacate the seat immediately or the vexed Muses will persuade the Furies to descend upon you.