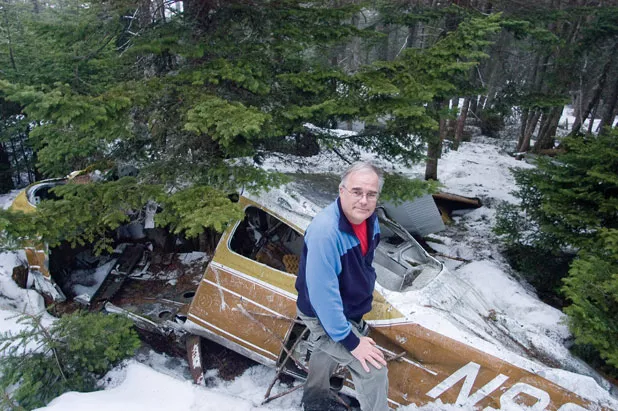 Matthew Thorsen
Brian Lindner
Brian Lindner is thigh-deep in snow on the summit of Mount Abraham when he spies what he's looking for. Tucked under dense evergreens, partially buried in snow, lies the wreckage of a single-engine plane that crashed on the mountaintop in 1973.
At first glance, the airplane, a Cessna 182N, could almost pass for an old rusty car. The engine and propeller are gone, the controls ripped out. What remains is only the brown and white fuselage — crumpled like an aluminum can — a sheared-off wing and pieces of sheet metal littering the forest. On its hull, visitors have scrawled names or messages such as "Tilley" and "DANK."
The wreck sits just feet from the Long Trail, one of Vermont's most traveled, but you could easily miss it. On the day Lindner led Seven Days on a 90-minute hike to the site, we almost did.
Lindner has spent most of his life researching plane crashes in Vermont, hiking deep into the woods to find the wreckage. He was lured into the pastime at the age of 11 by one of Vermont's most infamous air disasters: the 1944 crash of a B-24 into Camel's Hump that killed nine crewmen.
Now 57, Lindner has spent the years since investigating and searching for lesser-known crashes. Over four decades, he has cataloged 31 wrecks in the woods of Vermont and hiked to more than half of them.
The crash on top of Mount Abraham in Lincoln was one of the easy ones: A friend told him just where to find it. More typical are the arduous, years-long pursuits that have led Lindner on more wild goose chases than he can remember.
It took Lindner almost four years to find a wreck in Brandon, where an L-20 Beaver — a big single-engine propeller plane — went down in a snow squall in 1957, an incident Lindner calls "Vermont's most botched search and rescue ever." Officials thought the plane was sitting on the tarmac at Bradley International Airport in Connecticut when in fact it had crashed in Vermont. Three men on board were killed on impact, and a fourth died of dehydration waiting to be rescued.
The bodies were later found and recovered, but, for whatever reason, reports by the Army, state police and local newspapers listed the wrong location for the wreck.
His biggest find, though, was a Piper PA-28 that crashed on Mount Abraham near Waitsfield on August 26, 1967. Lindner began searching for it in his twenties. He didn't lay eyes on it until almost 30 years later.
He made a dozen trips into the woods without finding the wreck. He flew over the site in a friend's plane to spot it from the air and pinpoint its exact GPS coordinates. Then he went back in on foot.
"I was literally crawling on my belly through scrub spruce," says Lindner. "I pick my head up and look right at a piece of the wreckage. I was pretty pumped."
Lindner has never found bodies or remains at the crash sites; generally, those are located and removed by rescuers.
Many times, though, he has led next of kin to the sites so they can pay respects to loved ones who perished there. Lindner has performed this service for many relatives of Camel's Hump victims. In 1998, he led two widows and all their children to a site in Montgomery where, in 1958, a B-47 bomber crashed into the Cold Hollow Mountains.
What drives Lindner to hunt for lost planes is a passion for history, nature and the thrill of the hunt. Like a detective on a cold case, he often follows leads to dead ends, only to return to libraries, photographs and government documents in search of that previously overlooked clue that could prove pivotal.
"Some people hunt deer; other people go to flea markets to hunt for rare coins," Lindner says. "I hunt for plane wrecks."
When he's not hunting planes, Lindner works days at National Life Group and is a part-time Vermont state trooper. He also helps run Waterbury Backcountry Rescue Team and works ski patrol at Stowe Mountain Resort on weekends.
If there's one overarching lesson Lindner has gleaned from his lifelong quest, it's that plane wrecks — and the possibility of surviving them — are all about luck: where you're seated, who's flying and who last worked on the engine.
The crash Lindner has guided us to is a perfect example. The pilot took two friends up one morning in June 1973 and got lost in the clouds. He was descending slowly when, all of a sudden, he saw the mountain in front of him. He clipped treetops and smashed into the forest. Not only were the plane's occupants not hurt but, miraculously, they came to rest 100 feet from the Long Trail. "They popped open the hatch and just walked out," Lindner says.
Not everyone is so lucky, of course. Mount Abraham is rugged and remote. Crashing in dense forest can spell certain doom for someone ill equipped for survival.
Lindner documents every crash site he's found with exact GPS coordinates, photographs and notes. Someday, he plans to donate the whole collection to the Vermont Historical Society or the University of Vermont.
His next quest begins this summer: a wreck in Lowell that two men working on the Lowell wind-turbine project recently stumbled upon.
Lindner is not a pilot and, perhaps remarkably, has no fear of flying.
"But if I ever die in a plane crash, all my friends are going to laugh," he says. "How ironic."