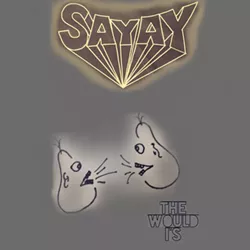 (Self released, CD, digital download)
On their Facebook page, Vergennes-based rockers the Would I's bill themselves as blending "the mojo of the '60s, the tight jeans of the '70s, the big hair of the '80s and the whatever from the '90s." And judging from their recently released debut album, Sayay, that description is just about right. Which is a good thing, because precious little other info about the band is floating around out there. Much like the funky little city from which they hail, the Would I's are a bit of a mystery.
The trio is bassist/guitarist Chris Clark, drummer Mike DiNicola and guitarist Owen Charron, all of whom add vocals — though no lead-vocal credits are given in the sparse liner notes of Sayay. The band does employ an impressive roster of guest musicians, however. These include enigmatic Vergennes songwriter Josh Brooks on guitar and harmonica, keyboardist Chris Wyckoff, saxophonist Chris Hamel and the multitalented Ryan Power. Power also engineered and produced the record, in addition to chipping in some keyboard licks of his own.
As their bio line suggests, the Would I's borrow liberally from several eras of rock and roll. Opener "Brand New Car" is a revved-up slice of power pop that nods to the mod-ish rock of late-'60s the Who and the Kinks. "Empty Room" is a bubbly tune that evokes the offbeat rock of early '80s Camper Van Beethoven. "Timmy" appears to oblige the "whatever of the '90s" with a jammy, harmony-heavy hook that recalls Lawn Boy-era Phish.
While the Would I's jump around stylistically, a sonic aesthetic at play gives the record continuity. At its core, the band is a power trio. And as such, jangly guitars, bouncy bass lines and popping drums define the Would I's sound. But a closer listen reveals a good deal of experimentation within that limited framework. "Free n Easy" is a deceptively complex cut with a killer vocal hook. "Leanne Marie" offers rumbling barroom rock. "Meditations on State Street Blues" revisits Kinks-esque Brit pop, this time with a sardonic sneer that Ray Davies would appreciate.
You can't have a good power-pop record without a power ballad. Album centerpiece "The Only One" fits the bill with swaying, lighter-worthy aplomb and sets up the record's second half.
Unfortunately, that half is a little thin — the band seems to have front-loaded the album. Still, there are a couple of highlights, most notably "No Sticking Around for Flowers to Bloom," which blends Neil Young-inspired grunge-icana (Ameri-grunge?) with a subtly hair-metal-tinged melodic bent.
Even though Sayay runs out of steam by the limp album closer "Tonight 'til Tomorrow," there's more than enough strong material here to recommend that listeners spend some time exploring the pop-rock mystery that is the Would I's.
Sayay by the Would I's is available at thewouldis.bandcamp.com.