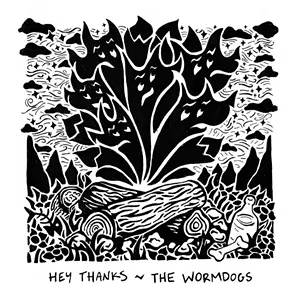 Courtesy
The Wormdogs, Hey Thanks
(Astrology Days Records, digital download)
The Wormdogs are a young Burlington-area band with a familiar sound. We've had a lot of these shout-singin', foot-stompin', festival-ready groups in recent years; it's a formula that would be equally at home at Nectar's or Radio Bean. And while the group bills itself as a "bluegrass rock n roll" outfit, it definitely leans more toward Umphrey's McGee than Bill Monroe.
Like so many of their party-rockin' predecessors, the Wormdogs are charming, energetic and not yet very good at writing lyrics. They make up for this with sheer conviction and lots of call-and-response vocal arrangements that rope in the entire band. Sometimes this is barbershop-style harmony work, and sometimes it's pure pirate hollering.
The Wormdogs' latest LP, Hey Thanks, finds the band at a crossroads. They do superb work when they cohere, but they're still too willing to indulge in songs that just never amount to much. Which is a pity, because, pared down to an all-killer EP, this would have been a far better product.
The album opens with "River Song," in breezy, Michael Hurley-style slice-of-life blues. A perfect opener, it sets the tone and shows off the sextet's dynamic range. The tune leans into the propulsive mandolin work of Elliot Diana and then opens into a full-band roar.
"Old Time Song" is a cute, self-aware folk-rock ballad about being genre interlopers. "No, I'm not from Kentucky, I've never seen the Tennessee Hills," sings bassist Braden Lalancette, "but I guess I did spend an hour in Nashville." The song is carried by the guitar work of Eric Soszynski and Nick Ledak and a great arrangement that's pure Old Crow Medicine Show pastiche. All art is theft, though, and all that matters here is that it works.
Perhaps the album's finest moment is "Same Old Thing," which shows off some tight, smart arrangements and the warm baritone of drummer Will Pearl, the best vocalist in the band by a country mile. Danica Cunningham does superb work on the fiddle here, pushing the song at every turn with lyrical solo runs.
The Wormdogs dabble with instrumental fare, too, albeit with mixed results. "Doggin Is My Business" (also the name of their 2018 debut) is a jammy workout that doesn't have enough heft to hold attention. "Graveyard Blues," on the other hand, is a damn fine song. That's due to an arrangement that takes full advantage of a six-piece band, as well as a composition that's got places to go, from slow, haunting waltz to smoking guitar solo.
Although some tracks here surely should have been cut, it's hard to fault anyone for bringing a joyful noise into the world these days. So, while it's a mixed bag, Hey Thanks also squints toward a bright future. The Wormdogs have the chops and talent to transcend their own formula and evolve into something authentically great. Here's hoping we all survive long enough to hear it.
Hey Thanks is available at thewormdogs.bandcamp.com.