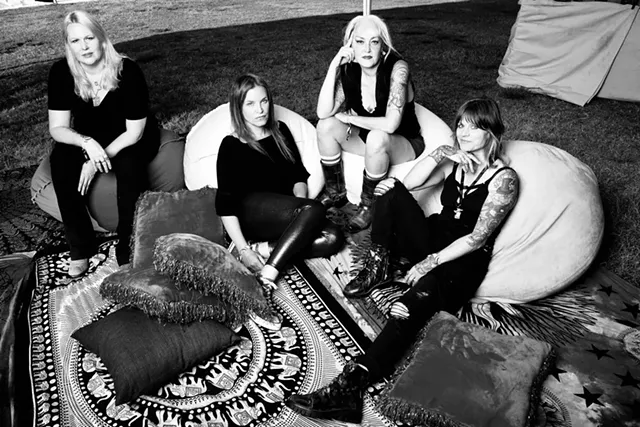 Courtesy Of Michael Wise
Black Sabbitch, from left: Emily Burton, Angie Scarpa, Melanie Makaiwi and Alice Austin
For the past several years, nostalgia has driven the entertainment industry. Reboots, spin-offs, reimaginings, remakes, sequels and prequels have dominated movie theater marquees and streaming services alike. While products have ranged from excellent to downright awful, pining for yesteryear hasn't yet subsided.
The same phenomenon hit the live music scene, as well. Though cover bands and tribute groups aren't new by any means, they seem to have proliferated exponentially over the past half decade. Browse Seven Days' club dates on any given week, and you'll likely find multiple bands at local venues paying homage to artists such as the Talking Heads, the Allman Brothers Band and, of course, the Grateful Dead.
However, the members of Los Angeles-based Black Sabbitch, an all-women tribute to heavy metal pioneers Black Sabbath, don't necessarily think of themselves as a tribute group. The band — which includes '90s Burlington rocker Alice Austin (Zola Turn, Queen Tangerine) alongside Emily Burton and founders Angie Scarpa and Melanie Makaiwi — performs on Thursday, January 16, at the Double E Performance Center's T-Rex Theater in Essex Junction.
Seven Days caught up with Black Sabbitch by phone.
SEVEN DAYS: Tribute groups are absolutely huge right now, at least 'round these parts. In addition to several homegrown acts, tribute bands from all over seem to come through the area on a near-weekly basis. Are you connected with any kind of tribute-group network or community of like-minded artists?
ALICE AUSTIN: Not that I know of. I think social media, probably. It's funny that you're talking about tributes, because we don't think of ourselves as a tribute at all. We call ourselves the all-female Black Sabbath. And sometimes I forget that, yes, we are a tribute band because we just try with everything that we have to embody these songs and make them our own.
It's an interesting question, though. Often, when we're on the road, we ask to not be paired with other tributes. We like to be paired up with original acts with similar style. But it's interesting how it's taken off.
ANGIE SCARPA: We're on a tour right now, playing the whole East Coast. And there isn't one tribute act booked to open for us on any of the shows. We didn't ask for that. We're playing theaters and venues that don't necessarily have tribute acts at them. All four of us kind of grew up touring and making records of our own music. We've never done anything like this before. We embody the music in a way that is more about the vibe of what an early '70s Black Sabbath show would have been and less about trying to copy what the records sounded like.
The idea for me, when I started the band, was: I really wanted to see Black Sabbath in the early '70s and couldn't. Now, I can. Granted, I only see it from behind, because I'm the drummer. But I think a lot of other people are happy to experience that in a way that isn't just turning the record on.
SD: How do you make the choices that result in what sounds like more of an interpretation than a facsimile of the old records?
AS: I think it just comes down to who all of us were as people before we joined the band. Melanie and myself, when we started the band, we had been in a band together for years prior to that. We knew each other as musicians, and people knew us because we had a reputation. So we brought our own personalities to it even though we're huge Black Sabbath fans.
And when we found Emily and Alice, we brought them into the band because of who they were as musicians and less depending on if Alice can imitate Ozzy Osbourne's voice. Because, as a woman, she's never gonna sound like Ozzy Osbourne anyway. She can sing in the same key and bring something to it that's herself. And it feels like you're listening to Sabbath, and you don't really realize her voice doesn't sound like Ozzy. It has the same character, though.
SD: Do any specific moments from Black Sabbath recordings — like intonations or drum fills, that kind of thing — make it into your shows?
AS: Every night, when we play "N.I.B.," Melanie plays the bass solo and plays it note for note — probably more authentically than Geezer Butler ever did, because he wrote it, so he felt like he had the ability to improvise on it. Whereas, if we improvise, I think we're held to a higher standard, frankly. Because people will judge us if we're not playing it in a way that feels authentic to them. Whereas Black Sabbath can get onstage and do whatever they want, because they wrote the songs. There are definitely drum fills I play note for note, because everyone knows them and they're in their head. And Emily's guitar solos are very much like that, as well.
MELANIE MAKAIWI: It's sort of a magical thing that happens, in my opinion. The music became kind of just part of what I do. It sounds funny, but it feels like a song that I wrote. So I play it in a way that I feel like it's mine and that I'm just playing in a band like I always have.
EMILY BURTON: When I was learning to play guitar, all I really wanted to do was play like Tony Iommi. I tried to play like him in my original band. So now that I get to play the Black Sabbath songs, it's satisfying. We're staying true to the records. I don't want it to come off like we're going off on tangents. When you come to hear us play, we're playing the songs and parts that you really want to hear. For me, it's those certain guitar moments in each song. That's what I want to try to hit. I know if I went to see Sabbath, or anyone playing Sabbath, those are the parts that I love.
SD: So the band is sort of a giant self-fulfilling prophecy. You all started with Black Sabbath informing the way you played, and now you're taking the next logical step.
AS: It's fun. When we started the band and were learning the songs, we would talk about how we played these songs when we were 13 and how we thought they went, and how we play them now as seasoned musicians.
SD: I imagine, as a band of women performing the music of an all-male band, you might run afoul of some trolls. How do you deal with what the media has called "toxic fandom"?
AS: It's funny. That was more true seven years ago when we started the band. I don't know if it's because society has gotten a bit more grown up. We have enough of a reputation now that there aren't a whole lot of people who look down their noses at us anymore. In the beginning, we would get to a show and a sound guy would be explaining to us how our amps work. But as soon as we would play, people would be like, "Oh, you know what you're doing." Every once in a while, some drunk guy will tell us a bunch of stuff about Sabbath.
AA:On top of that, the beautiful thing about what you're asking — I think people appreciate the femininity that we bring to the show. It's super groovy and heavy but also very feminine. And I think people appreciate that.
An earlier version of this story misspelled Tony Iommi's name. This interview has been edited and condensed for clarity and length.