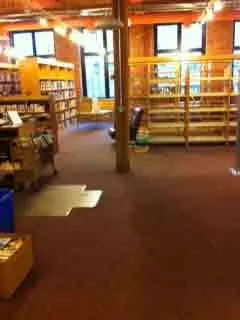 Ann-Elise Johnson
Packing up on December 14
It's not every day that a city library picks up and moves, but Winooski's Memorial Library has done it twice in the last decade.
Seven years ago, the library moved from its home on East Spring Street to a storefront in the Champlain Mill. That downtown location made a lot of sense when the Mill was a mall. But now it's essentially an office building owned by online grocery software firm MyWebGrocer. So the library is moving again, this time to a space in the O'Brien Community Center on Malletts Bay Avenue, next to the Winooski branch of the Greater Burlington YMCA.
The library closed its doors at the Champlain Mill on Friday, December 14. If all goes well, it will open to the public in its new space on Monday, January 7, according to librarian Amanda Perry.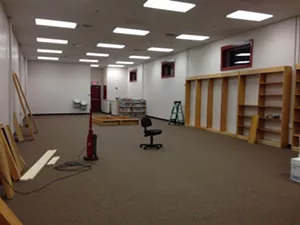 Cathy Resmer
The new library space in the O'Brien Community Center
The library's preschool storytime will resume later in January. You can find updates on the library's 2013 schedule
on its Facebook page
.
Full disclosure: I'm on the Winooski Library Advisory Board, so I got a tour of the new space on Tuesday. It looks a little bit like a strip mall, but I think the books will make a big difference. There's some art on the way, too. Plus: If you can't walk over, there's plenty of parking right out front.
Incidentally, check out what some local developers did to the old Winooski library on Spring Street. It's now a swanky private residence.