Sarah Priestap
Glenn, Dylan and Lauri Richardson
When Glenn and Lauri Richardson moved to Vermont more than three decades ago, the Williamsville General Store was the "nerve center" of their new hometown, recalled Glenn. It had been that way since 1828.
So when the store shut down in 2007, "That was a lonely time in the village," said the southern California native. The clapboard building sat idle for several years before its owner approached the Richardsons' grown son, Dylan, about starting a food-related business there.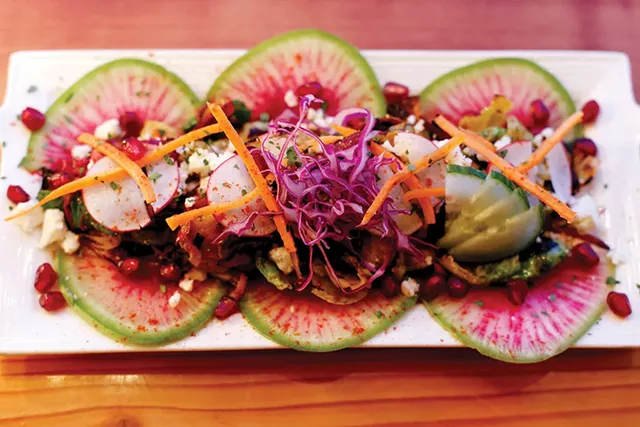 Sarah Priestap
Williamsville Eatery
Dylan had learned about world cuisine in his post-high school travels and cooked for a time at a pizzeria in Cambridge, Mass. Ready to run his own kitchen, he asked his father to collaborate on transforming the erstwhile general store into a restaurant.
"Working with food is ... an immediate pleasure and satisfaction for all involved," Glenn said. "And life is short. So I said yes."
26 Dover Rd.
Brattleboro/Okemo Valley
Williamsville, VT
802-365-9600
American (New) and Pizzeria
The Williamsville Eatery debuted in summer 2014, filling bellies and the need for a community gathering space. Neighbors and strangers passing through town connect over simple yet sophisticated new American fare in the same room where 19th-century townsfolk once traded greetings while stocking up on sundries.
Sarah Priestap
Wood-fired pizza
One autumn evening, the Eatery highlighted seasonal root vegetables in a chicken pot pie, its pillowy biscuit topped with melted cheese and a nasturtium petal. In early winter, local steaks were finished with smoked paprika and shallot butter. Thursday and Sunday nights are reserved for chef Dylan's wood-fired pizzas, from the Cheese, Please pie to the Fe-Fi-Fo Fig.
Glenn works behind the bar, while Lauri does the baking and runs the front of house. Her chocolate rocket cake — a rich delicacy — is what she served Dylan on his childhood birthdays.
"The way we cook down here is the way we cook at home," said Glenn. "What you see ... is who we are."