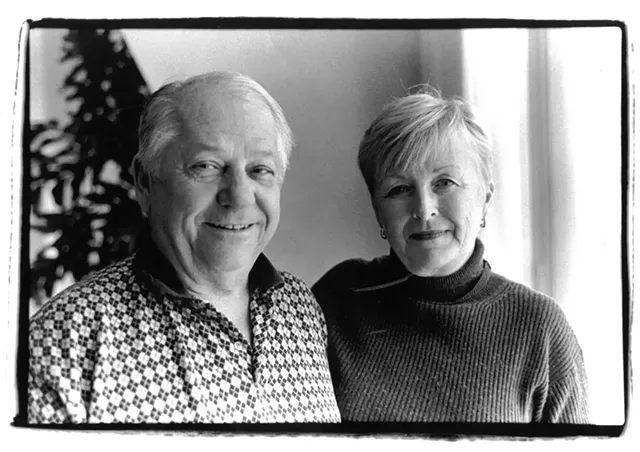 Paula Routly
Robert "Bobby" Miller and his wife Holly in 2000
The old Roman adage "charity begins at home" may need a little updating. Self-centered boomers could easily interpret the saying as license to pamper themselves even more. But Holly and Bob Miller clearly subscribe to the original Italian interpretation, and their history of philanthropy in Vermont proves it. In a state crawling with trust funders who keep their bank statements close to their chests, the Rutland-raised couple stands out for its public approach to giving, and for the increasing number of buildings that bear one - or both - of their names.
Following the example of local benefactors Warren and Lois McClure, the Millers eschew anonymity, even though it guarantees a steady stream of requests. "It's all about letting the community know that these things don't happen from money falling out of trees, but because of the generosity of friends and neighbors," Holly explains. If that generates a little competitive civic spirit, so be it. "It's also about helping other people learn how to give," she adds.
The Millers didn't grow up with money. But since they were married 14 years ago, they have returned millions of dollars in cash and in-kind contributions - and, where appropriate, have carved their names in the concrete. When he wasn't developing office space in Newport or Rutland with R.E.M. Development, the man who masterminded Miller's Landmark on the top block of Burlington's Church Street rehabbed the King Street Youth Center at cost. He also found and financed the fitup of the New Visiting Nurses Association building in Colchester - a contribution valued at $400,000.
You can read "Holly D. Miller Building" from Prim Road. At the ribbon-cutting, Bob surprised his wife, who chaired the capital campaign, by leaving his own name off the dedication. "Bobby said, 'This is Holly's. She worked harder than anybody on it,'" says Patty Motch, VNA's director of development and community affairs. Acknowledging theirs is a powerful partnership both in and out of the spotlight, Motch describes Holly as a "people person... with a spiritual side." Her husband can "look at a building and know exactly what its possibilities are," Motch says. "He's a very smart man."
Champlain College also bears the Miller mark - the couple coughed up $1.5 million in cash three years ago to finance the stunning new high-tech library on campus. That got a rise out of one Champlain student moonlighting as a waitress at a local Chinese restaurant. "Holly and Bobby Miller - as in the Champlain College Library?" was the breathless reaction of their server, Bob recounts, when she recognized the names of her customers from the arched entryway of the communications center. She might have expected them to be historic figures - or at least dining some place classier. With a Beavis-and-Butthead chuckle, Bobby insists, "We're no different from other folks."
*****
Despite a nine-year age difference - Holly is 55, Bob 64 - the Millers were connected even before they met. Both grew up in Rutland, in poor, working-class families. Their grandparents were acquainted, but the two of them were not, although Holly, née Harlene Dudley, does remember seeing Bob at the swimming pool. "There weren't too many little boys running around with one arm," she notes. Her husband's left arm was amputated at birth.
Although he can smile about it now, Bob sketches out a childhood that rivals the one described in Frank McCourt's Angela's Ashes. His alcoholic father rarely brought home any wages, and, by age 10, Bob was buying clothes for himself. Although he won't go into detail, he says there was "very little supervision" in the household. "The whole family was very dysfunctional, and there was some violence there," he says judiciously.
Bob took refuge with relatives, cultivating a resourcefulness that now earns him adjectives such as "street-smart," "no-nonsense" and "straight-shooting." Former Rutland resident Jimmy Johnston remembers Bob as "hell on wheels," on account of his passion for car racing and auto mechanics. He also recalls the scrappy survivor wielding a wrench with one arm better than most guys do with two. He moved into an efficiency apartment over a garage while he was still in high school. "My guidance counselor told me I'd never go to college," Bobby says. "And I knew one thing: I wasn't going to jail. I knew right from wrong."
Bob Miller ended up taking off for California with a bunch of friends, and then hitchhiking back to Connecticut. Although nobody would hire him as a mechanic there on account of his arm, he talked his way into a drafting job. "I said to myself, 'I had a year of mechanical drawing in high school, so today I'll become a draftsman.'" He learned on the job, earning excellent wages, and planned his next move - back to Vermont.
Holly and her family were living in Burlington by that time, in a series of apartments they could never quite afford. When she was a young adolescent, they landed on lower North Street, in an area she referred to as "the war zone." "My mother would hide when the landlord would come, and I would have to answer the door," Holly recalls. "My father worked long hours, and hard, but there wasn't enough to go around." She also remembers her mother hocking her wedding ring to buy Christmas presents for the five children.
Like Bob, Holly went to work during high school, and brought home more money as an A&W waitress than her father made as a meat cutter. And, as with her husband, her guidance counselor at Burlington High was less than encouraging. "I was a junior honors student in high school. In my mind, I was going to college. I didn't know how, and nobody in my family had gone, but when it came time to pick courses, I picked college this and college that.
"My guidance counselor called me in and said, 'What are you thinking? You can't go to college. Look where you are living - your family. Change those courses, take clerical and secretarial, and get a job. . . and help your family.'"
Holly traces her compassion for other people back to that defining moment. "The message I got was, 'People like you don't go to college.' Bob would get up and fight if somebody said that, but I just took it inside. I carried that with me for years."
Unfortunately, she says, the same kind of stereotyping is directed at rich people, and can be just as isolating. "Everyone that I've seen in the past six weeks has said, 'How come you're not at your home in Florida?' I say to them, 'We don't have a home in Florida. Why do you think we have a home in Florida?'"
While her husband drives a Mercedes, Holly opts for a simple van when she does volunteer hospice work. "We come from a different place that way. He says, 'I earned it, I'm not going to hide it,'" she explains. "I just want to blend in. I don't want to be misunderstood."
*****
Although they come from similar backgrounds, Bob and Holly Miller have very different financial philosophies. Holly worries about security - "My thing is, can we pay the rent?" she says. She occasionally asks her husband, "Can we really afford that?" Bob is a risk-taker, motivated by his own promises to succeed and deliver. Although he still has a weakness for automobiles - and once ran a car in the New England racing circuit - Holly says he has no attachment to material things, including the couple's penthouse apartment in Burlington. "I'm always thinking, 'What if? What if?' He says, 'Worst-case scenario, we just walk down the street, go find jobs and start over."
Despite those differences, the Millers appear to be extraordinarily compatible, listening to each other with the attentiveness of newlyweds. Although Bob has been known to lose his temper on the job, he says he and Holly have never had a fight. Of course, they both had some practice in the relationship realm, and even dated briefly before they got married - to other people. Bob had two children with his first wife, who is still a friend to them both. Holly adopted a daughter with her first husband, a doctor, but the marriage ended after 17 years.
By the time he and Holly tied the knot, Bob thought he was ready to retire - he'd already worked 25 years and made lots of money, putting up buildings in Chittenden County. It all started at Jennison Engineering in Burlington. With only his on-the-job drafting experience to recommend him, Bob convinced the owner he could make an engineering office profitable - and got the job. "He called me a few days later and said, 'What department do you want to work in - plumbing, heating or electrical?' I said, 'I don't care, because I don't know anything about any of them.'"
Resentful and jealous, his colleagues put Bob to the test, and he quickly learned the engineering basics, such as how to run a heat loss or a cooling load on a building. He moved on to the electrical department of Freeman French Freeman and started picking up extra hours at Vermont Heating. When they wanted him full-time, he said, "I'll come, but I want a piece of the action. Here I am, 26. I want to be partner." He was a shareholder until the original owner retired and turned over the reins to four sons and a son-in-law.
Citing "philosophical differences," Miller left Vermont Heating voluntarily and started a competing company - New England Air Systems - in 1972. "The first year we made a ton of money, I mean a ton of money," he recalls. Soon after, he started giving the stuff away. In 1979, when the Medical Center Hospital was raising money for a new building, Miller submitted a bid, then reduced it by $500,000. "In reality, we left a half a million on the table," he says. New England Air got the job, of course, along with a lot of good karma. "It really does come back," he suggests. When you give it away, "everyone trusts you and wants to do business with you."
Over the next few years, the company made significant cash or in-kind gifts to the Flynn Theatre, the Discovery Museum, Trinity College, the Sisters of Mercy and the Children's Miracle Network. But his final charitable act there did not involve a ribbon-cutting. In 1984, after a dozen years running the business, Bob sold New England Air to its employees. "It gets companies spread out to people who would never own them," he reasons, sounding more like a Socialist than a Republican. Similarly, he's helped countless businesses get off the ground with reduced rent, no-interest loans and other creative financing arrangements.
Says Johnston, "He's earned everything he's got, but he's never forgotten where he came from."
Selling his company was supposed to free him up to travel with Holly and "dabble around in real estate a bit." But it didn't quite work out that way. "I started building buildings," Bob recalls the early years of R.E.M. Development, and "everyone wanted to lease from us." The first project was Whitcomb Industrial Park in Williston. Soon after, Bob was building the state office building on Cherry Street. Community leaders then convinced him to renovate the old J.C. Penney's building on the top block of Church Street. "I did the same thing in Newport, I did it in Rutland, and other downtowns," Bob says. Time and time again, he proved the Field of Dreams cliche: "If you build it, they will come."
And in some cases, it kept them from going elsewhere. A Miller-built warehouse in Newport gave Vermont Teddy Bear the space it needed to expand. Ditto Jogbra in Essex, which Bob notes would have left the state if he hadn't found space for the company. By putting up a new building, "We were able to convince them to stay here, and to bring another department up. So instead of losing 90 jobs, we upped it to almost 200," Bob says. "Tensolite is another company - we convinced them to stay. That's another 250."
Miller is clearly a deal-maker, bringing businesses to areas that are hurting for it. "A lot of times you hear bad things about developers, but you don't hear anything bad about Bobby Miller," says Newport City Manager John Ward. "He's made Newport a better place, and he's done it right. He does a great job with the properties he buys and fixes up." Ward was particularly impressed that despite a zoning snag that caused him a little "heartburn," Bob still came through with 5000 bucks for the local rec department.
*****
It comes as no surprise that Holly and Bob Miller are particularly devoted to helping kids - their less-than-cushy childhoods make them particularly sympathetic to disadvantaged families. Along with their work at the King Street Youth Center, they have established a $100,000 endowment at the H.O. Wheeler School, which generates scholarships for college-bound students who have attended the elementary school in Burlington's Old North End.
But Holly is also interested in issues that come up at the end of life. Her father passed away a year before she married Bob, and instead of bringing him to the hospital, her mother, brothers and sisters helped him die at home. "It was just an incredible experience," she says - one that inspired her to train as a hospice volunteer. At that point she hooked up with a group trying to start the Vermont Respite House - a home away from home for terminally ill people.
"I felt passionately about people having the opportunity to die with dignity, according to their own design. And if they couldn't be at home, this was the second-best place," she recalls. Before she knew it, she was co-chair of the capital campaign. "I wasn't at all interested in fundraising, but as a board member, it was critical," Holly says, adding that she and Bob gave the lead gift of $100,000 and oversaw the construction. They also involved the McClures, whom they describe as "mentors."
"I did everything from grocery shop to help care for residents, and clean," Holly recalls, describing their first project together as a "training ground in terms of giving. Bob likes to say, 'When you get Holly, you get me, too.' He's a real partner in that way."
Needless to say, plenty of nonprofits would kill to have this couple in their corner. Plus, the Millers make themselves accessible, and listen to every pitch. They say they consider it a "privilege" to be asked for money, and "a responsibility to decide: Is this the best use of our resources?" But "You can't get to them all, and we don't," Bob concedes. They also feel compelled to keep supporting the organizations they have helped in the past - for the sake of continuity - and insist there are thousands of people in Vermont who could give much more than they do.
But that doesn't mean they aren't moved by the occasional call for help, like the one they received from a social service agency in Newport. The agency was requesting a donation on behalf of a single mom "whose washing machine crapped out," as Bobby puts it. "She's got three or four kids, okay, and they ask, 'Do you think you could afford to buy this gal a washing machine?' I say, 'What about a dryer? Let's get her a dryer, too.' What's six or seven hundred bucks when you can make someone happy?"
Holly is more philosophical about it. "People find out you have money, and immediately they think you don't have a heart, or you have never had any problems in your life, or you wouldn't understand them, or you would judge them," she says. "For me, looking back makes what I have now much richer. I don't ever want to forget."