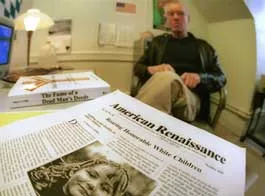 Robert Griffin has slept next to the enemy, but not necessarily with him. In the summer of 1998, the University of Vermont education professor spent six weeks living on a 364-acre compound in West Virginia. His host was a man who is typically described as "America's leading neo-Nazi," with words like racist, violent and hater trailing close behind. His name is William Pierce.
"He's the most fascinating human being I've ever been around — ever," says the tall, silver-haired Griffin in his modest office in UVM's Waterman Building. "Whatever you think of him, I found him to be a man of integrity and courage and dedication, and in his eyes he is doing the most important thing he can think of with his life," Griffin continues. "Those have become standards that I've applied in my own life."
Pierce isn't the only controversial subject Griffin has taken on. Last October, the professor published an article entitled "Rearing Honorable White Children: Instilling Racial Identity in Today's Child-ren." The piece appeared in American Renaissance, a journal that links inferior intelligence, criminal activity and sexual depravity to non-whites. The publication's editor, Jared Taylor, heads a nonprofit foundation that has been classified as a hate group by the Anti-Defamation League and the Southern Poverty Law Center (SPLC).
These are curious credentials for a teacher at a liberal institution in a state that elected a socialist congressman and legalized civil unions. Earlier this year, the student-government-funded branch of the International Socialist Organization canceled a meeting rather than tolerate the presence of a "right-wing" observer. Plans are currently in the works for separate housing to be offered for gay and lesbian students. In this left-leaning — and politically correct — environment, Griffin's non-condemning portraits of white supremacists challenge the unspoken code of liberalism while pushing the envelope of academic freedom.
Critics claim Griffin is an apologist for white supremacists, that he hides his true beliefs behind the screen of academia. But these charges have come mainly from off-campus. Aside from a short piece about his parenting article in the student-run Cynic, Griffin's writings have made barely a ripple at his home institution. One faculty member credited the lack of controversy to the fact that Griffin is "a loner" disinclined to share his political views, much less his recent publications, with colleagues. Griffin himself suggests he is not an advocate but a conduit for the ideas of his subjects and the minds of his readers, which he hopes are open.
Griffin, who taught a graduate seminar entitled "Conservative, Libertarian and Far Right Views on Education" this semester, isn't publishing this research in mainstream scholarly journals. In October 2000 he uploaded his monograph, The Fame of a Dead Man's Deeds: An Up-Close Portrait of White Nationalist William Pierce, onto www.mightywords.com, the now-defunct e-book subsidiary of Barnes & Noble. His agent had shopped the book around to major publishers, who consistently passed it over.
"Nobody said they had political or cultural objections to the book," Griffin recalls. "They just said, 'Nobody's interested in this book." Nevertheless, Fame sprang to life online, ascending to mightywords' number-one slot and holding steady for the rest of the fall. Griffin's book is now available through the vanity press First Books Library.
If you're still drawing a blank at the name William Pierce, perhaps you'll recognize his opus. Under the pen name Andrew Macdonald, Pierce wrote The Turner Diaries, a futuristic race-war novel that has served as a primer for the radical right since its publication in 1978. The book's most notorious adherent was Timothy McVeigh, who distributed copies of Diaries at gun shows and to his Army buddies, often at his own expense. When McVeigh was apprehended by police after the bombing of the Murrah Federal Building in April 1995, he was in possession of passages from The Turner Diaries that described the bombing of an FBI building using a truck packed with explosives.
Pierce also heads the National Alliance, a group the SPLC calls "the best organized, most revolutionary neo-Nazi organization in America." In the early '80s, National Alliance members in the Pacific Northwest formed a cell called The Order, taking its name from the elite group in The Turner Diaries. They carried out bank robberies and murders, including that of Denver radio talk-show host Allan Berg in 1984.
The right wing has also embraced Griffin's book about Pierce — as is evident in certain corners of the Internet. Raves have come from www.Ilovewhitefolks. com, and customer reviewers on Amazon.com award it five stars before launching into their own politics. One of the latter called Fame a "European American 'must-read' book" that "should be on the top of every patriot's reading list. Unlike the major media that paint ANY pro-white advocist [sic] as a devil-worshipping, homicidal, toothless spewer of race hating nonsense — this book describes the reality and determination behind a man that is a true leader in the Aryan movement. A man that dares to tell the truth is always feared… Dr. William L. Pierce."
On Pierce's own National Alliance Web site, just above the "Ethnic Clean-sing" video game, you can find a description of Griffin's book, with a link to its page on Amazon. "People who read Dr. Griffin's book themselves will understand why New York publishers are afraid of it. It is an extensive, perceptive, objective and easily assimilable synopsis of the National Alliance message, as well as a fair-minded portrait of Dr. Pierce."
Griffin does not have a problem with Pierce promoting his book. "That's his call," the professor says. "I live a very private life. I write these things, I get them out. In a way, it's sort of an artist's mentality: I paint a picture, I do it the best I can… Am I proud of this book? Yes. Would I do it again? Yes. Would I think that it's a positive contribution? Yes. Do I think that everybody thinks that? No."
Griffin makes no bones about the purpose of his Pierce bio. "It's not a book of advocacy or even a book of analysis or a critique. It's a book of explication," he says. "By looking at someone like Pierce in an anthropological way, you might be able to make more sense of mainstream American life."
Professor Robert Nash defends his long-time colleague in the education department and points out the hypocrisy of those who judge him harshly. "As a journalist and participant observer, he is not affirming Pierce's views, but rather he is presenting the ideas and deeds of Pierce and others like him, in order to let his readers draw their own conclusions," Nash opines. "If he were doing exactly this kind of writing on more politically and educationally acceptable figures, there would be no controversy."
Griffin also took an "anthropological" approach in researching the inner educational workings of two families for the article he published in American Renaissance. Both chose to home-school their children in order to shield them from a youth culture that promotes "race mixing" and a school system they believe degrades their Western heritage.
Griffin, whose earlier work focused on secondary education and the role of sports in children's lives, says he knew no professional journal would have accepted the piece. "I published very easily until I started to move to the right of center politically," he explains. "I believe there is censorship in America and what we read is managed. Much of what we know is not on the basis of direct experience, and one of the things [Fame] is about, tacitly, is the contrast between what I found and what investigative reporters say people are."
Like his book on Pierce, Griffin's parenting article is not a polemic, but rather a vehicle for the views of his subjects. To the extent that he espouses an opinion in the story, it's a sense of respect for the parents' discipline and conviction, and the curiosity, intelligence and overall sociability of their children.
"I wasn't writing a race article there," says the author. "I was writing an article about people for whom race was a central dimension of their life, in their identity… A lot of the people I met as a byproduct of writing this book did not fit the stereotype of what we're told. They were not ignorant, bigoted, hate-filled people who were preoccupied with minorities. I didn't see any of these parents teaching people to be anti-Semitic, or anti-minority. They were trying to ground these kids in their heritage, and I think a lot of people do that, whether it's the Jewish heritage or a political orientation."
Chip Berlet, a senior analyst at the Boston-based Political Research Associates, has a different view. "This is a piece of journalism essentially promoting white separatist reality," he asserts.
SPLC researcher Mark Potok adds, "This is a piece that nominally is reporting on some people whose views Griffin may or may not share. I think that in five minutes of reading the piece any intelligent person can see that he is in every way defending and apologizing for these people."
---
Griffin's attraction to the ideas of Pierce and other white-rights advocates may stem from his own working-class roots in the American heartland. The son of a barber and a homemaker, Griffin hails from St. Paul, Minnesota. He was the first in his family to graduate from high school, not to mention college. Like many in his generation, he joined the Army as a means of escape. Ironically, the move might have cost him his chance to play professional baseball. A major-league scout found him after he'd signed up. With the help of the G.I. bill, Griffin later earned a Ph.D. at the University of Minnesota. He got tenure at UVM in 1980.
Now 61, Griffin says his background motivated him to work harder. "I thought I was going to starve," he says. "I hear all this talk about white privilege, and my people have never done anything but cut hair," Griffin says. "I want everybody to realize the promise of America — that means black and white and Asian and Jewish people, and whoever I've left out, but that includes a white boy from rural Vermont."
Griffin claims he does not want any child "turned away from his heritage. I don't want him to feel that he has to be deferential or sacrificial to some other group or step aside. I think we're all in the front row in America, all of us, including white people," he adds, "and I don't want to hear anyone trashed."
Those who track extremist hate groups in the U.S. are not moved by the professor's reasoning. "The point that Griffin never really makes is that Pierce is a Nazi — a genuine Nazi," asserts Potok. He calls Griffin's book "a movement hagiography."
"Here's a guy who came out of the American Nazi Party, who talks about the 'temporary unpleasantness' that will follow his accession to power, and what the man is talking about is the murder of Jews, 'race mixers,' homosexuals, abortionists and God knows who else," says Potok. "This is the kind of thing Griffin daintily avoids, wearing his professor's cap."
Griffin intentionally steers clear of terms like "neo-Nazi" and "white supremacist" in The Fame of a Dead Man's Deeds. "I think you get deflected by talking about labels, it's a way to avoid the debate," he says. "If a reader wants to apply those labels, that's great, but I'm not going to start with them."
One label Griffin does use is "white nationalist," starting with the subhead of his book. While this term has been used for years among the radical right, some critics, like Vanderbilt University Law professor Carol Swain, consider the expression part of a larger repackaging of white supremacy.
"They have taken the multiculturalist argument and appropriated it to their own ends," says Swain, author of the forthcoming book, The New White Nationalism in America. "In a world where you have Afro-American, Latino-American and Asian-American, Euro-American doesn't sound that odd when you apply some sorts of racial reciprocity to it," she suggests. "Basically, [white nationalists] want to celebrate group pride and self-determination in the same way that minorities are encouraged to do it."
An African-American, Swain says several factors have made the times ripe for a new ascendancy of white nationalists. Affirmative action, a disproportionate black-on-white violent crime rate, the rise in non-white immigration and the loss of high-wage jobs due to globalization, she argues, are all legitimate grievances that are being addressed mostly by groups on the far right. These factors, she predicts, will contribute to unprecedented racial conflict in America's future.
Members of the more sophisticated wing of the white-nationalist movement are not your average Klansmen, Swain further notes. Organizations like Jared Taylor's New Century Foundation or the Council of Conservative Citizens may appeal to white people who would not join what they perceive to be a "hate" group. The journal American Renaissance does not engage in name-calling, nor does it espouse violence. White-nationalist literature is often written in sophisticated language by writers with advanced degrees after their names.
Swain contends that as whites lose their majority status, white nationalists will see their best chance to reach into the American mainstream — a trend that recently contributed to the rise of ultra-nationalist Jean Marie Le Pen in France. "I think if whites become a minority, they will behave more like other minority groups and see a collective interest," Swain says. As a professor, she notes a strained climate of debate on ethnic issues, one in which whites seem reluctant to express their views on race for fear of being excoriated as "racists."
Some of Griffin's own ideas echo Swain's point about multiculturalism. As Griffin argues, "You could say, if you were black, 'I identify with my race and I care about my people and I'm going to live my life committed to their well-being and I'm going to join with others," he says. "I don't think it would play very well if you said, 'I'm white, I'm proud of being white, I feel in solidarity with other white people and I'm committed to furthering the well-being of my people. I think that would be labeled as neo-Nazi or racist."
Griffin concedes that his work on William Pierce altered his own views. "It has made me more conscious of race from a white perspective," he says. "It has become a lens that I see the world through much more than before." His next book project is a Studs Terkel–styled oral history of ordinary folks — white folks — for whom race plays an important part in their identity.
He does not agree, however, with any of the pejoratives that occasionally find their way into his e-mail inbox. His colleague Robert Nash, and another member of the education faculty who wished to remain anonymous, concur that Griffin is no bigot. "In an ironic sense, Griffin wants to show multicultural pluralists like myself that we aren't really pluralists if we automatically rule out of order those views that oppose our own taken-for-granted, postmodern, liberal biases," offers Nash.
College of Education and Social Services Dean Jill Tarule declined to speculate about Griffin or any faculty reaction to his work. She does believe that the university is deeply committed to diversity of opinion. "It's critical that professors have the freedom to explore the issues they want to explore," she says. "The marketplace of ideas is based on that freedom, and the freedom of debate as well. Does that mean I like the ideas that are being presented? No."
The school has been "a wonderful place," according to Griffin, in his quarter-century at UVM. "There's been no pressure on me to desist or be silent. The modern version of McCarthyism does not exist at this university. What I hope a university would be is a place where there's a full spectrum of ideas for students to encounter, and I hope that in some ways I'm contributing to that.
"No matter what you believe," Griffin continues, "there's somebody very articulate on the other side, and it's not you and what you believe against the forces of darkness; it's more complicated than that."