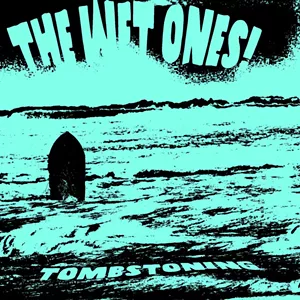 The Wet Ones!, Tombstoning
(Self-released, digital download)
The Wet Ones! are a surf-rock trio from Burlington, and this is not an uncommon thing. Despite the fact that it's a small college town on a lake in New England, Burlington has produced a remarkable run of surf outfits over the past decade, something I will not attempt to rationalize here. The band's debut LP, Tombstoning, is an urgent blast of gnarly instrumentals with a distinctly timeless feel.
The band's name is more than just a pun about premoistened towelettes. Well, maybe. The Wet Ones were an obscure '80s Australian rock group with an all-female lineup, but it's unclear how much of an influence they were here. Especially considering that the women's catalog skews more toward straightforward new wave with Aussie accents.
Liner notes for Tombstoning credit the personnel riding this wave as "Alex, Amy and John." That's Alex Pond of From the Ground Up, local DJ and scenester John Flanagan, and Amy Wild, who is probably best known for her work with another dynamite trio, Jessica Rabbit Syndrome. (JRS specialize in "glamour trash witchcore," an appellation so awesome it always bears repeating.)
Despite the sunny glamour of it all, surf music has never strayed that far from the primal urgency of punk, and Tombstoning hews closely to those roots. The riffs are delightfully dirty, and the arrangements are tight. Everything is duly cranked to 11 throughout, especially that sweet, sweet reverb.
The album is intended as a narrative: the story of a surfer. But in songs with hardly any vocals, the cinematic burden is very much on the listener. That's probably for the best. While the band never paddles beyond the basic surf formulas of yesteryear, the project still covers a lot of range, alternating between frenetic energy and chilled-out bliss to great effect.
One thing is for certain: That surfer wipes out hard at some point. "Tombstoning" is slang for getting crushed so hard that your surfboard sticks up out of the water vertically, like a ... well, you get it.
The garage band aesthetics make for a fun, future primitive ride, and Rough Francis' Urian Hackney does a superb mixing job here to balance the swells of thrash. Consider the back-to-back impact of "Los Molasses" and "Bite the Birds," nearly identical songs with nearly identical intros, which Hackney's educated ear molds into completely different movements.
The highlight of this epic session, however, is "Rincon '68," a lovely, slowed-down melody full of rock breaks. It's half Ventures, half Ramones and pure retro fantasia.
All in all, Tombstoning is a worthy addition to Lake Champlain's curiously prolific surf scene, putting the Wet Ones! alongside the Tsunamibots, the High Breaks and, of course, Barbacoa. While there's no way to suss out the future of a new band in Burlington's tumultuous churn, this is a standout project and promising outfit. Long may they ride.
Tombstoning is available at thewetones.bandcamp.com. The Wet Ones perform on Sunday, July 14, at the Light Club Lamp Shop in Burlington.