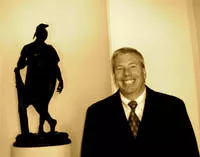 Who'd a thunk it? — that the weather, something we once thought we mortals had no control over, would become a hot-button political issue?
How dare the resident "climate expert" at the privately owned Weather Channel suggest that the American Meteorological Society deny its "seal of approval" to any meteorologist who "can't speak to the fundamental science of climate change." Dr. Heidi Cullen suggests in a New York Times story this week, "If you turn on the local forecast, you wouldn't necessarily know that global warming exists." Not so on the Weather Channel, reports the Times:
The network's other programs have also directly engaged the elephant in the room — or, in this case, the polar bear on the melting ice cap: a recent anniversary roundup of "The 100 Biggest Weather Moments" listed global warming as No. 1. And the network is training its meteorologists so that they can discuss long-term trends as well as five-day forecasts.
Unfortunately, a visit to the weather pages at the websites of our local TV news shops — WCAX and WPTZ — didn't even find the words "climate change," let alone a reference to global-warming trends. Pretending the winter snowcap on the Adirondacks and Green Mountains hasn't shrunk won't bring it back, will it?
In Vermont, the political battle over the shrinking snowfall has heated up in recent days. Democrat leaders from under the golden dome have taken their case on the road and onto the airwaves.
House Speaker Gaye Symington's appearance in Brattleboro drew a few critics, according to The Brattleboro Reformer. And House Natural Resource Committee Chairman Robert Dostis' appearance on "The Mark Johnson Show" at WDEV drew a surprise call from Entergy Vermont Yankee's top Statehouse lobbyist. Our write-up over in "Freyne Land," yours truly's blog, of lobbyist Gerry Morris' mano a mano radio confrontation with Dostis even drew a call from the office of Public Service Department Commissioner David O'Brien. Would I be interested in the Douglas administration's side of the story, too?
Absolutely!
You see, H.520, "The Vermont Energy Efficiency and Affordability Act," would extend our state's nationally acclaimed, extant energy-efficiency utility to all heating fuels, not just electric. The battle between our Republican governor and Democrat-controlled legislature is over how we pay for it. As written, the money would come from a tax on the power generated by commercial windmills and by Vermont's only nuclear power plant, Entergy Vermont Yankee in Vernon.
Governor Jim Douglas is expeced to veto H.520 this week. A two-thirds vote is needed to override a gubernatorial veto. Since H.520 passed the Democrat-controlled House on only an 85-61 vote, many initially thought a veto override unachievable.
But Chairman Dostis drew the impeccably fine line on WDEV that getting 100 votes in the 150-seat House might seem daunting on first glance, but the reality is, "You only need two-thirds of who is there."
Yes, indeed. Two-thirds of the members present that day. That means convincing a House member, even a Republican member who would like to avoid a serious Democratic challenge in November 2008, to "take a walk" and not show up on July 11 when the legislature convenes for a one-day special session, is a strategy in play.
"I would never count us out," said Chairman Dostis the Democrat. "It's too important a piece of legislation," he said.
"Too important," indeed. About one minute later, veteran Statehouse lobbyist Gerry Morris was on the phone challenging Dostis on behalf of his client, Entergy Vermont Yankee. Don't have the space here, but we ran some of the back-and-forth online in the "Freyne Land" blog under the heading "Is Entergy Worried?"
What we do have room for are some of the remarks made the following day by PSB Commish David O'Brien. O'Brien was on his cellphone from Harvard Square, where he was wrapping up a two-day energy conference at the Kennedy School of Government. And he noted that folks attending the conference from other states were all tipping their hats to Vermont when the topic turned to energy efficiency.
"They see us as progressive on efficiency, environmental protection and all of that," O'Brien told "Inside Track." "I guess we've been pretty successful. We spend the most per capita in the nation on efficiency. We have one of the lowest per capita carbon footprints in the country and one of the cleanest electric-energy portfolios. To me, what I don't get in this whole energy debate that goes on and on is that we can't embrace success. I don't understand it!"
He's good, isn't he?
Reps from neighboring states, said O'Brien, "are saying they're jealous of us because of the position we're in with Hydro-Québec and Vermont Yankee. That we've got stable prices when they're seeing 50 percent rate increases, and we've got a clean [carbon] footprint. My issue is, why do we want to put that kind of positive thing at risk?"
O'Brien calls H.520 as passed "not very well thought out."
The Douglas administration's energy man and protector of the Vermont rate payer also argues that H.520 breaks pre-existing agreements with Entergy Vermont Yankee, and "It upsets the environment with other employers: IBM, GE, Ethan Allen. They're all scared of this," says Commissioner O'Brien.
And, yes, we did ask him if anyone's suggested he sounds like a paid spokesman for Entergy, instead of the Vermont rate payer.
"I resent that," replied the commish clearly and firmly, "but it's a characterization that's got to be dealt with. We're not here to be spokespersons for Entergy," he told "Inside Track." "Like the governor said a couple weeks ago, he's a lobbyist for the rate payer, the taxpayer. We think that consumers are going to be very much affected by what's being proposed here."
But what if Symington and the Democrats muster up the magic two-thirds and override the Douglas veto?
"If this gets overridden, the work will continue. We're going to look for ways to reduce the carbon footprint of the state," replied O'Brien, "I just don't think taking this adversarial move towards a major business in Vermont and potentially upsetting our power-supply situation is the way to go."
Both sides are getting their backs up over this one.
"People who previously opposed the bill are now supporting it," said Chairman Dostis confidently. "When they learn the facts," he said, "they see it's a good bill."
The numbers will certainly tell, won't they?
---
Bernie Health Care — A "disgrace" is what Independent U.S. Sen. Bernie Sanders of Vermont calls it — and has been since yours truly first heard those Brooklyn pipes many years ago. "It" is the fact that the United States "is the only country in the industrialized world that does not provide health care to all of our kids."
But Vermont "should be very proud," he added, that we have been "one of the leaders in the nation in saying that virtually all of our kids are entitled to health care as a right. And we do it, not only because it is the right thing to do, but because it's the smart thing to do.
The fact is, noted Ol' Bernardo the other day, not diagnosing a child's illness early "ends up costing you more money down the line, not to mention human suffering."
Vermont, he said, "has done the right thing, and I want to take what Vermont has done and show the whole country that it can be cost effective. It's the right thing to do and I want to see what Vermont has done spread all over this nation."
Almost sounds like a presidential candidate, eh?
We could certainly do a whole lot worse. Imagine, a president committed to delivering on universal health care?
In fact, Sanders has a bill in the U.S. Senate hopper this week that recognizes "a right of health care for all America's children." The next step is to recognize health care as a right for all Americans — and it is in the works, indicated the Senate's only Independent.
"We are working on additional legislation to do that," he said. "It's not ready to be out quite yet."
The legislation in the U.S. Senate "will give states the option of going forward with universal health care. If that legislation is passed, my hope is that Vermont will choose to go with strong federal assistance in terms of waivers and additional financial assistance into a single-payer program. You're going to see a lot of that stuff coming down the pike," predicted Vermont's freshman senator.
Cool.
"We should not be proud," said the University of Chicago graduate, "that we are providing hundreds and hundreds of billions of dollars in tax breaks to people who don't need it, and we have nine and a half million children in this country who have no health insurance at all. That is not, in my mind, what America is supposed to be. It is not cost-effective. It is not humane. It is not part of what some of us consider to be real family values."
OK. Maybe vice-presidential candidate? Hillary Clinton and Bernie Sanders? Ol' Bernardo would sure keep the Barack Obama fans content, wouldn't he?
But we couldn't help but wonder if he was familiar with a gentleman by the name of Jim Douglas? You know, the three-term Republican governor of Vermont, who at the moment faces nary a single challenger to his declared intention to claim a fourth term?
You know — the Jim Douglas who champions the insurance industry and would let all the cherry pickers in if the legislature would allow it. The Jim Douglas who is not now, and never has been, a fan of single-payer health care?
"Well, Jim Douglas may not be a big fan of it," replied Sen. Sanders, "but a lot of people in the Vermont legislature are big fans of it." And, Sanders hinted, money will talk on this one.
"If our legislation is able to provide additional financial resources as well as the necessary waivers to make it possible to guarantee health care to all of our people through a single-payer system," said Ol' Bernardo, "Jim Douglas may be quite interested in going forward with us on that."
Yes, he certainly might. Stay tuned.
---
Fuck the FCC — Hey, cheer up. Good news Tuesday for freedom of speech: A decision by the United States Court of Appeals for the Second Circuit essentially tells the holier-than-thou, anti-free-speech Federal Communications Commission "to go fuck itself" for its outrageous censorship in the Land of the Free and the Home of the Brave.
The FCC has held in recent years "that any use of any variant of 'the F-Word' inherently has sexual connotation and therefore falls within the scope of the indecency definition. The FCC has also held that "the 'F-Word' is one of the most vulgar, graphic, and explicit descriptions of sexual activity."
Fucking-A. Really?
But the federal appeals court panel, which included a fucking Vermonter, noted that in recent times "even the top leaders of our government have used variants of these expletives in a manner that no reasonable person would believe referenced "sexual or excretory organs or activities."
The court referred specifically to President George W. Bush's remark to British Prime Minister Tony Blair that the United Nations needed to "get Syria to get Hezbollah to stop doing this shit," and Vice President Dick Cheney's widely reported "Go fuck yourself" comment to Senator Patrick Leahy on the floor of the U.S. Senate.
Remember that?
It was right after the Senate's group photo was taken in June 2004. Earlier in the week, Leahy had raised questions on that same Senate floor about war profiteering in Iraq by Halliburton. Cheney used to be president of Halliburton.
Small world, eh?
P.S. The Vermonter on the panel was Peter Hall, former U.S. Attorney for Vermont who also worked many years in private practice here. Hall ruled with the 2-1 majority.
Fucking-A!