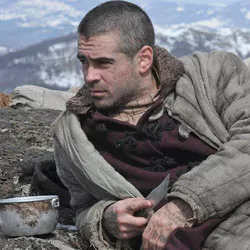 Some stories are so inspiring that people want them to be true. Such a story is The Long Walk, a 1956 book in which Polish refugee Slavomir Rawicz described his escape from a Siberian prison camp and 4000-mile journey by foot across Russia, the Gobi Desert and the Himalayas to freedom in India.
To this day, no one knows if anyone really took the "long walk." Evidence uncovered by Vermont researcher Linda Willis, whom I interviewed last week, suggests that Rawicz did his own World War II-era twist on the James Frey maneuver. The strange history of the tale itself — complete with competing elderly storytellers — might make for a clever and convoluted movie.
Peter Weir's film adaptation, The Way Back, takes a more straightforward approach to The Long Walk: It retells the core story and calls it "inspired by" the book, not "based on" it. The protagonist, an unlucky young Pole played by Jim Sturgess, isn't named Rawicz, and other elements have been heavily fictionalized. Still, true or not — and despite moments of hokiness — the story remains inspiring.
When the Soviets deposit young Janusz in Siberia at the start of the film, they tell him nature is his prison. Climate, terrain and the sheer span of Stalin's burgeoning empire rule out escape. But our hero and his companions in misery — including an enigmatic American who calls himself Mr. Smith (Ed Harris) and a hardened Russian criminal (Colin Farrell) — have nothing to lose. They jump the wire and confront their real nemesis: geography.
Working with Russell Boyd, his cinematographer since Gallipoli (1981), Weir gives the great open spaces of central Asia — sublime, stark, beautiful and threatening — the status of a character in the film. National Geographic Entertainment coproduced, and it shows.
The human stories are compelling, too, though several cast members are saddled with fake accents. Farrell makes the most of his Russian drag, hamming it up as a beady-eyed killer who's still a good drinking partner. Harris incarnates rugged dignity.
But most affecting is Saoirse Ronan, the young actress from Atonement, as a quietly determined Polish teenager who joins the group along the way. According to Slavomir Rawicz's wife, her husband couldn't tell this part of his tale without weeping. Weir and Ronan do justice to it — fabricated or not.
In general, Weir and cowriter Keith R. Clarke resist the temptation to add Hollywood happy endings to Rawicz's story. Until the conclusion, that is, when they use newsreel footage to turn the "long walk" into a metaphor for Europe's long emergence from communist domination. (The title The Way Back only makes sense in this light.)
In doing so, I think, the filmmakers lose sight of the theme that makes all great survival stories so powerful. The "long walk" doesn't end when you reach India, or when you sever your arm and escape from that Utah canyon, or when the Berlin Wall falls. It ends when you die.