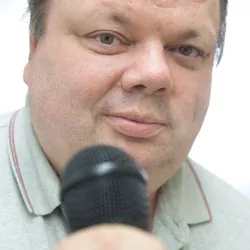 Matthew Thorsen
Dave Harrison
People enjoy karaoke for a variety of reasons. Incidentally, many of them are the same reasons other people hate karaoke, but I digress. Some folks get a kick out of catching the one or two ringers per night who offer impressive takes on Bonnie Raitt, Michael Jackson or Queen. Others — and I include myself here — have a morbid fascination with watching wannabe American Idols crash and burn, spectacularly butchering the latest Beyoncé single. But the vast majority of people who flock — or get dragged by boozed-up buddies — to karaoke bars do so for a far simpler, more innocent reason: It's good, campy fun.
For more than a decade, the crown cubic zirconia of karaoke bars in the Greater Burlington area has been JP's Pub. And the man holding court there has been Dave Harrison, who has hosted karaoke nights at the Main Street dive bar for the past 13 years. But this Friday, August 31, Harrison will hang up his mic and retire, ending an era in which the man became nearly synonymous with karaoke in Burlington.
On the surface, that may seem a dubious distinction. But in talking with Harrison, it's clear he sees it differently. The man genuinely loves what he does and values it for what it is: entertainment. And judging by the throngs of revelers who pack JP's on the weekends to sing along with him, plenty of them agree with him.
Harrison, 49, was born in New Orleans and grew up in a musical family, singing in church and school. Later, he regularly performed as the opening act for New Orleans variety-show star Chris Owens, whom he cites as a mentor. Owens, known as the "Queen of New Orleans Nightlife," soon helped Harrison land some choice opening gigs.
"Lou Rawls saw a show … and said he'd never seen a white boy sing the blues so close to its roots," says Harrison. He also claims to have drawn raves from the likes of Merv Griffin and Al Hirt.
Anyone who has seen Harrison at JP's knows the man can sing. He's rarely shy about taking a turn or three for himself on any given night. He's got a great voice and a knack for performing. All of which begs the question: Why karaoke?
Harrison started singing karaoke while in the military when he was 18. He was a regular at a noncommissioned-officer club that had a weekly karaoke night. One night, the evening's host stormed off the stage and quit. Harrison stepped up to finish the night and was soon hired as the regular host. He was hooked, and hasn't looked back since.
"I've met so many wonderful people over the years, and we all shared a common bond. I think it's the reason I'd rather sing duets than solo," Harrison says. "I've had the opportunity to sing with lots of people. It didn't matter if they were good or bad, what mattered was enjoying a moment with another person who enjoyed something I found rewarding."
A lifetime of singing has taken a toll on Harrison's booming pipes. He says it's becoming increasingly difficult, if not impossible, for him to hit certain notes. So he's walking away from a job he's loved for more than 30 years. But that doesn't mean he's giving up performing entirely.
"I'm thinking hard about standup comedy," Harrison says. Hope he knows there's no teleprompter in comedy clubs.
In the meantime, Harrison will host one last karaoke night at JP's. While he seems excited for his next chapter, he says he'll have mixed feelings when he sings his final note from the bar's cramped corner stage.
"I'm going to miss seeing people have fun at the shows I've hosted," he says. "I'll miss talking to them and enjoying the evening with them. I'm not sure how I'm going to feel after it's done. Hosting has been a big part of my life for many years."
They're Baaaack!
So remember a couple of months ago when the Tupelo Music Hall in White River Junction was going to close? Then remember the month after that, when it wasn't going to close? And then remember the month after that when it closed? Well, guess what?
In a press release sent out late last week, TMH announced it would be — drumroll, please! — reopening in September. (By the way, that sound you're hearing is me repeatedly slamming my head against my desk.)
According to the press release, Tupelo owner Scott Hayward has partnered with Mike Davidson, who owns the Freight House, the building in which TMH is housed. The dynamic duo are said to be adjusting the original TMH model of banking mostly on nationally touring acts, and switching the focus, at least to a degree, on more locally oriented fare. That's not to say TMH will abandon national bands. Rather, the plan seems to be to use those bigger acts to augment a steadier calendar of events, which will feature more local and regional music, as well as regular DJ nights. A small food and beverage menu is also reported to be in the blueprint.
So will it work? Certainly, a new approach is worth trying if it means TMH can be viable moving forward. And opening the door for more local acts to grace the club's stage certainly seems to make sense from an economic standpoint. They're generally less expensive to book, which should equate to lower ticket prices and, perhaps, more walk-up traffic. It's also cool to have another legitimately nice outlet in which locals can be heard. But given the club's recent strange chapter … we'll see.
In any case, welcome back, Tupelo Music Hall. And best of luck.
BiteTorrent
Did you know that this Friday, August 31, there will be a "blue moon"? In fact, there won't be another such event — when two full moons occur in the same month — until 2015. That means the next installation of Mildred Moody's Full Moon Masquerade slated for Nectar's the very same night stands to be among the rowdiest and most hedonistic as any in the series' nearly two-year history. Given the evening's generally raucous scene — rock bands and body paint and masks, oh my! — that's saying something. Adding to the salacious mix, the party will feature the final performance of local R&B crew Craig Mitchell & Motor City.
In more wholesome news, the fourth annual Hick Jam is also this Friday, August 31, at the Common Acres Campground in Hyde Park. The three-day fest features a wealth of local roots, reggae and Americana acts, including Conscious Roots, the Aerolites, Gordon Stone and the Eames Brothers Band, among many others. Also — and this is my favorite part — proceeds from the event are donated to local school-band programs. For more info, look to the Hick Jam Facebook page.
Burlington's Trapper Keeper have a new EP out, titled Names, which is a follow-up to last year's thoroughly ripping debut, Deadass. The new three-song quickie is noticeably tighter than its predecessor but doesn't sacrifice any of that record's ragged pop-punk ferocity. I dig it. Catch TK with ska legends the Toasters at Club Metronome this Sunday, September 2.
Last but not least, congrats to the weekly Honky Tonk Tuesdays at Radio Bean, which celebrates its seventh anniversary this Tuesday, September 4. Yee-haw! (Note to my editor: I might be a little late on Wednesday, September 5.)
Listening In
Once again, this week's totally self-indulgent column segment, in which I share a random sampling of what was on my iPod, turntable, CD player, eight-track player, etc., this week.
Bill Fay, Life Is People
Redd Kross, Researching the Blues
The Black Swans, Occasion for Song
Swans, The Seer
Weezer, Pinkerton