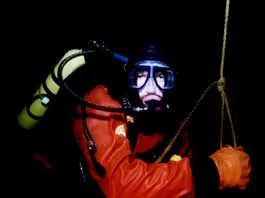 You might have noticed something strange in the waters of Lake Champlain during Burlington's First Night fireworks on December 31st. No, not Champ. That was a pair of scuba drivers underneath the cascading embers of colorful explosives, cozying up to each other in the 38-degree water.
"Best seats in the house," claims Betsy Carter of Essex Junction, who owns a real estate management company in South Burlington. She and her husband, Chris Whipple, the training director at Victory Sports dive shop in Colchester, kicked off the new year with a cold-water dunk. Not something most sane people would do, but if you live in Vermont and love diving, at some point you have a decision to make: spend a fortune hauling your butt and diving gear to the Caribbean a few times a season, or tackle the challenge of winter diving in Vermont's frigid waters, sometimes under two feet of ice.
As with other extreme sports, ice diving has its good and bad points. On the one hand, your friends and neighbors may question your mental capabilities and fear for your children. On the other, you don't have to buy an expensive ski pass and spend weekends in line with hordes of color-coordinated tourists. Besides, it's a hobby that commands attention at a cocktail party.
Ice divers get their highs going lower. Although it's generally darker down there under a foot of ice and snow, "The great thing about winter diving is the clarity of the water," enthuses Carter. "You can see twice as far as in the summer. All the algae and weeds disappear. And if you do have good ice cover, then you're not getting wind action to stir things up on the bottom."
No speeding motorboats with tipsy captains to worry about, either.
"There's virtually no noise in winter," adds Whipple. "And you get some of the same feelings when diving in the summer — you can hear yourself breathing; there are no pagers, no beepers, and everyday life goes away."
The underwater world has its aesthetic charms as well. "Some years the ice may crack and re-freeze, so you find all these neat patterns under the surface of the ice," Carter notes. The colors are hardly tropical, though. "It's pretty much greens and browns, and some of the local fish like bass, perch and trout," she concedes. "Not anything that spectacular."
Dr. Charles Seleen of Malletts Bay, a full-time dentist, likes the views under the ice at Nelson Pond in North Calais, near Woodbury. "The visibility is generally 100 feet out there," he says, "and there's a very nice site with some boulders. When the sun shines through, it's beautiful."
Seleen is also a certified winter diving instructor and will be leading two full weekend sessions in February. "No doubt winter diving is a little bit of an adventure," he admits. "I like the technical aspects; you need a well-coordinated team for all the different tasks involved."
Winter diving requires special gear. It's a bit like preparing for an ascent on Mt. Everest, but headed in the opposite direction. "I never thought of myself as a gearhead, but I am," says Carter. "I really enjoy all the stuff that goes along with it." She admits that the basement of the home she shares with her husband looks a lot like, well, a dive shop.
A key component is the suit. "It's a lot better to have a drysuit than a wetsuit," Carter notes. "The difference is that the wetsuit used in summer is made out of Neoprene; it allows water to get in, and your body warms that up to keep you warm. But when the water is 35 or 40 degrees, that ain't going to work."
A drysuit, she explains, has seals at the wrist and neck, with a valve on the chest that attaches to the air tank by a hose. Air then inflates into the suit to insulate the body and increase buoyancy. The regulators for breathing have to be environmentally sealed to keep them from freezing up.
There's a bit of weight lifting to the sport, too. "I might be carrying 150 pounds of gear on a dive," Carter says, noting that in winter she's had to carry big loads down unplowed roads to get to the lake. Divers often shovel snow off the ice in a pattern of circles and spokes to improve visibility and to help divers stay oriented. "There's hauling, shoveling, all of that… it's quite a physical venture," Carter says.
Safety is always on a diver's mind, Whipple says, but more so in winter. "To do a dive properly takes six people: two divers, two tenders, a safety diver and a tender for the safety diver." Typically two divers will go in the hole together, and each diver has a tender on the surface managing the 100-foot lines attached to each diver. Then there's an additional diver geared up and ready to go down in an emergency, as well as a tender for that diver.
Dives are shorter in winter — about 20 minutes — and divers are trained to return to the surface when a third of their air is used up. Disoriented divers are trained to approach the ice from underneath, and wait. If that sounds like a recipe for claustrophobia, Carter assures, "You're always on a leash in winter."
She got hooked on diving when she took a one-day scuba plunge during a vacation in Aruba. "I said, 'Wow, this is something I've got to do,'" Carter recalls. She became certified in Vermont later that year and started frequenting dive shops for equipment — and to re-fill her air tanks. That's how she met her future husband at Victory Sports. The couple were married in November 1999 in Florida — 30 feet underwater.
"I got certified as a cave diver in '97 and Chris wanted to be certified, too," Carter explains. "So we went down in November of '99; he got his cave diver certification, and at the end of his class we had our underwater cave wedding."
The couple notes that interest in diving has increased in recent years, especially among women. "There's a greater percentage of women in the certification classes each year," Whipple confirms.
"I got certified in 1993 and I was hard-pressed to find women divers," Carter remembers.
To keep established divers interested and to entice women into the sport, she has helped to organize a new club, the NorthEast Regional Diving Society — NERDS — to sponsor dives and education. "Once you pay for your equipment, it's a pretty inexpensive sport," she notes.
Sounds like cold comfort.
Ice diving classes are offered by Victory Sports of Colchester. Students must be 18 and advanced-certified or equivalent. For info on the course, call 862-0963 or e-mail vtscuba@aol.com. For info on the diving club, check out www.NEDiveSociety.org.