Stefan Hard
Rep. Janet Ancel, legislative chief fiscal officer Stephen Klein and Vermont-NEA lobbyist Jeff Fannon
Most days, it's tough to make it 15 feet in the nation's smallest statehouse without bumping into one of its most curious denizens: the Vermont lobbyist.
They are everywhere you look: crammed into committee rooms, holding court in the cafeteria and chatting up lawmakers at the capitol urinals. And yet, their outsize role in Vermont's pint-size democracy is little understood and rarely discussed outside the confines of the Statehouse complex.
Contrary to the caricature of fedora-clad Jack Abramoff wielding suitcases of cash, Vermont's influence peddlers are largely an honest, hardworking breed. They make their mark not by exploiting the system but by responding to its needs — and often just by being in the room.
"There's no arm-twisting. There's no 'let me buy you dinner' or 'let me take you golfing,'" says Rep. Tony Klein (D-East Montpelier), a former energy lobbyist who now chairs the House Committee on Natural Resources and Energy. "I think we have a really, really professional group here, and I think it's pretty unique in the country."
But the influence of professional lobbyists on Vermont state government is far greater than most Vermonters might imagine. As the scope and complexity of lawmaking has grown in recent decades, the resources available to lawmakers to keep up with it all have remained mostly static. Eagerly filling the void is Montpelier's standing army of lobbyists, whose institutional memory, policy expertise and year-round engagement make them invaluable assets to part-time, citizen legislators — and, of course, to their clients.
In recent decades, their ranks have far outpaced those of Vermont's 180 state legislators. According to the secretary of state, 458 businesses, nonprofits and other organizations employ 398 registered Vermont lobbyists. Last year, those groups reported doling out more than $6.1 million in lobbying-related compensation.
Not every registered lobbyist haunts the Statehouse halls. That designation applies to anyone paid at least $500 a year to influence legislators or administration officials, including plenty of corporate executives and nonprofit leaders who rarely enter the building.
But it's not unusual for the state's biggest businesses and advocacy groups to retain as many as a dozen lobbyists apiece. And when a legislative battle heats up, the professional influencers swoop in. The ongoing fight over the regulation of toxic chemicals, for instance, involves at least five Montpelier lobbying firms and countless in-house lobbyists representing organizations ranging from Walmart to the Vermont Public Interest Research Group.
Some lawmakers appear to welcome the influx. "We have nobody to help us do anything," says Sen. Diane Snelling (R-Chittenden). "There's quite a few lobbyists we have to rely on for information."
That's because the only Vermont legislators with dedicated staff members are the House speaker and Senate president pro tem, each of whom employ a single full-time assistant and a handful of interns. The remaining 178 legislators share an overstretched stable of 20 lawyers, 13 fiscal analysts and 30 mostly part-time administrative staff.
"Vermont's unique," veteran lobbyist Andrew MacLean said in a recent interview in the Statehouse cafeteria. "Legislators don't have staff. So in a lot of ways, we perform a staff function for legislators."
As if to prove the point: Soon after MacLean uttered those words, Snelling appeared at the cafeteria table and sat down beside him. With a friendly smile, she opined that while some outside advocacy groups overwhelm the legislative process, pros like MacLean facilitate it.
"I don't think the registered lobbyists that are known and are informed are the people that we, as citizens, need to be concerned about in terms of influence," she said, looking at MacLean. "Because I know you're representing someone."
The relationship is certainly symbiotic. When one of MacLean's out-of-state tobacco company clients came to town last year to discuss "tobacco harm reduction," he said, arranging meetings with the state's top brass was a cinch.
"We talked with [Department of Health Commissioner] Harry Chen. We talked with all kinds of legislative leaders and others, all day," MacLean recalled. "The client came out of the day saying, 'That was great.'"
Great for MacLean's clients, which include American Express, Corrections Corporation of America and RAI Services, the parent company of R.J. Reynolds Tobacco.
But is it great for those who elect Snelling and her colleagues to public office? Sen. Tim Ashe (D/P-Chittenden) doesn't think so.
"If I had one overarching complaint about Montpelier, it's that, over the course of time, lobbyists have become too embedded in the legislative process," the chairman of the tax-writing Senate Finance Committee says. "They weren't elected. Legislators were."
Who Lobbies?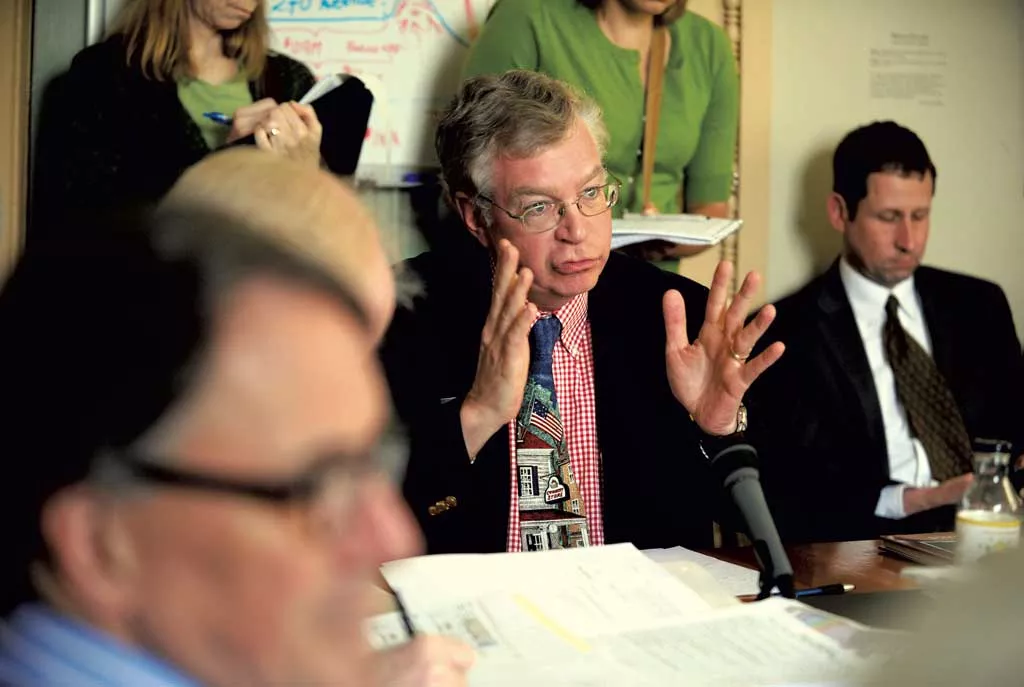 Stefan Hard
Jim Harrison (center)
Few democracies are as open and accessible as Vermont's.
"Anybody can stop the governor in the hallway and say, 'Hey, I want to talk to you about X, Y, Z.' That's priceless," says Vermont Retail & Grocers Association president Jim Harrison, who's lobbied for more than 25 years. "You don't have gatekeepers to get through to talk to your legislators. You can call them, you can email them and you can visit them. They can't escape you."
But petitioning state government effectively is a full-time job that requires a deep familiarity with the system and its players. That's where lobbyists come in — though few of them embrace the term.
"I consider myself a 'strategy consultant,'" says veteran lobbyist Kevin Ellis.
"I say 'public policy manager,'" says Vermont Businesses for Social Responsibility's Dan Barlow.
"I identify myself as an advocate, not a lobbyist," says Voices for Vermont's Children public policy associate Lindsay DesLauriers.
Indeed, the role registered lobbyists play in the legislative process varies greatly depending upon who employs them.
A union lobbyist, such as the Vermont State Employees Association's Steve Howard, may spend his day duking it out with administration officials over the hiring of temporary workers. An association lobbyist, such as the Vermont League of Cities and Towns' Karen Horn, might find herself neck-deep in health care policy. And an in-house corporate lobbyist, such as Green Mountain Power's Robert Dostis, might rarely enter the Statehouse, preferring to direct the company's strategy from afar.
Some of the biggest lobbying powerhouses are the ones you might least expect. Ten VPIRG employees, for instance, are registered lobbyists, though only a few of them are Statehouse regulars. As if that weren't enough, the organization recently retained Ellis' firm, Ellis Mills, to help it pass the toxic chemical regulation bill. Last year, VPIRG spent more than $118,000 on lobbying — more than all but Entergy, Green Mountain Power and Blue Cross Blue Shield of Vermont. In the first three months of this year, it spent $61,000 — plus another $200,000 on advertising.
"We are trying to level the playing field on behalf of the public interest, so we intentionally get involved in campaigns where there are likely to be well-heeled lobbyists or interests on the other side," explains VPIRG executive director Paul Burns.
He has a point. While a number of public interest groups — from Vermont Legal Aid to the state's chapter of the American Civil Liberties Union — employ experienced and successful lobbyists, the biggest spenders hail from the corporate realm.
"Ironically, our campaigns end up keeping a lot of these other lobbyists employed," Burns adds.
While they don't have to register with the secretary of state, some of the most powerful lobbyists in Montpelier are those who represent the executive branch. In addition to Louis Porter, Gov. Peter Shumlin's chief legislative liaison, the administration regularly deploys agency secretaries and department commissioners to push the governor's agenda — and keep the legislature in check.
Otherwise, the biggest kahunas in Vermont's influence industry are contract lobbyists, who are retained at any given time by as many as two dozen corporations, unions and other nonprofits. Some, such as Amy Shollenberger and Jeanne Kennedy, work alone, but most are part of Montpelier's 12 multimember lobbying firms. Those companies, which often charge corporate clients a five-figure retainer, were paid $4.6 million last year for their lobbying services.
Like college fraternities, each firm has cultivated a distinct reputation — forged by their client base, political affiliations and perceived effectiveness.
KSE Partners, one of the oldest firms in town, is known for its ties to the Democratic establishment and counts Green Mountain Power, AT&T and Hewlett-Packard as clients.
MacLean Meehan & Rice, a so-called "black hat" firm because nearly all their clients hail from the corporate world, represents the pharmaceutical industry, the American Beverage Association and Walmart.
"We have some business clients who have had an adversarial relationship with the legislature," MacLean, the firm's president, puts it delicately.
The Necrason Group — known as Sirotkin & Necrason until founding partner Michael Sirotkin was appointed to the Senate in January — used to be considered a "white hat" firm, due to its work for nonprofits and its liberal take on labor, housing and drug policy reform issues. But now that it represents Comcast and other corporate clients, fellow lobbyists like to say it's turned a shade of grey.
"Our base and history and reputation are rooted in nonprofit public interest or public service organizations," says Adam Necrason, who now runs the firm. "Over time, that's expanded — and we are proud to serve some business interests that our firm judges really are working to make Vermont better."
What Do They Do?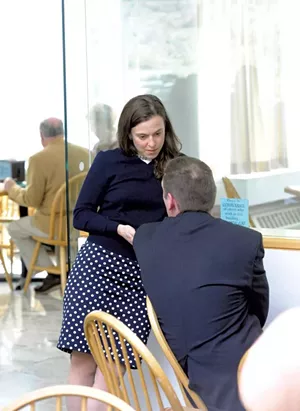 Stefan Hard
Lindsay DesLauriers (left)
Lindsay DesLauriers thought this would finally be the year for paid sick leave.
Since joining Montpelier-based Voices for Vermont Children three years ago, the former educator had taken a lead in the organization's long-running fight to mandate paid time off for sick employees and those caring for family members.
"It occurred to me that this divide between the business community and the advocacy community was a false divide," says DesLauriers, who hails from the family that built Bolton Valley Resort. "It was two worlds I could straddle, and I thought maybe I could bring them together on this issue."
Months before legislators returned to Montpelier in January, DesLaurier's coalition was busy setting the table for the session. It polled the issue to demonstrate its popularity with voters and held press conferences with former governor Madeleine Kunin to draw media coverage. DesLauriers coordinated with such allies as the Vermont Workers' Center, which hit the streets to rally support, and Vermont Businesses for Social Responsibility, whose members testified in favor.
"I was very hopeful that this would be a big issue this session," DesLaurier says. "I was really pleased with the attention it garnered."
Paying particularly close attention was the traditional business lobby, which had long argued that the measure would hurt companies and kill jobs. In public hearings and House committee meetings, organizations like the Associated General Contractors of Vermont and the Lake Champlain Regional Chamber of Commerce turned out business owners en masse.
Perhaps the strongest opposition came from the Vermont Retail & Grocers Association, whose members hold unique sway over their state legislators.
"The one thing that helps us probably more than other organizations is we're in everybody's communities," says Harrison, the organization's chief lobbyist. "In some cases, the village store is the unofficial town hall of a community. So if we can get our members engaged, that's a powerful ally to have."
They did, and it appeared to work.
Though a House committee enthusiastically approved the bill in February, Speaker Shap Smith (D-Morristown) applied the brakes soon thereafter, making clear that the legislation would not reach the House floor. Despite his personal support for the measure, he said, his Democratic caucus had grown skittish. With reelection campaigns on the horizon, members were hesitant to further burden business owners already peeved about last fall's rocky rollout of Vermont Health Connect.
Just halfway through the session, paid sick leave was on life support.
"The fact is, we had a majority at the beginning of the session, but people felt pressure from the business lobby, which whipped up fear in their districts," DesLauriers said at the time.
Though elected officials made the final call to kill the bill, it was lobbying — by Harrison and his influential network of grocers and retailers — that did it in.
Similar blockbuster battles erupt every year in the Statehouse, pitting ever-changing coalitions of lobbyists against one another. Last year, the Necrason Group and Amy Shollenberger fought tooth and nail with the lobbying firm Morris & Demag over whether to allow doctors to prescribe life-ending drugs to terminally ill patients.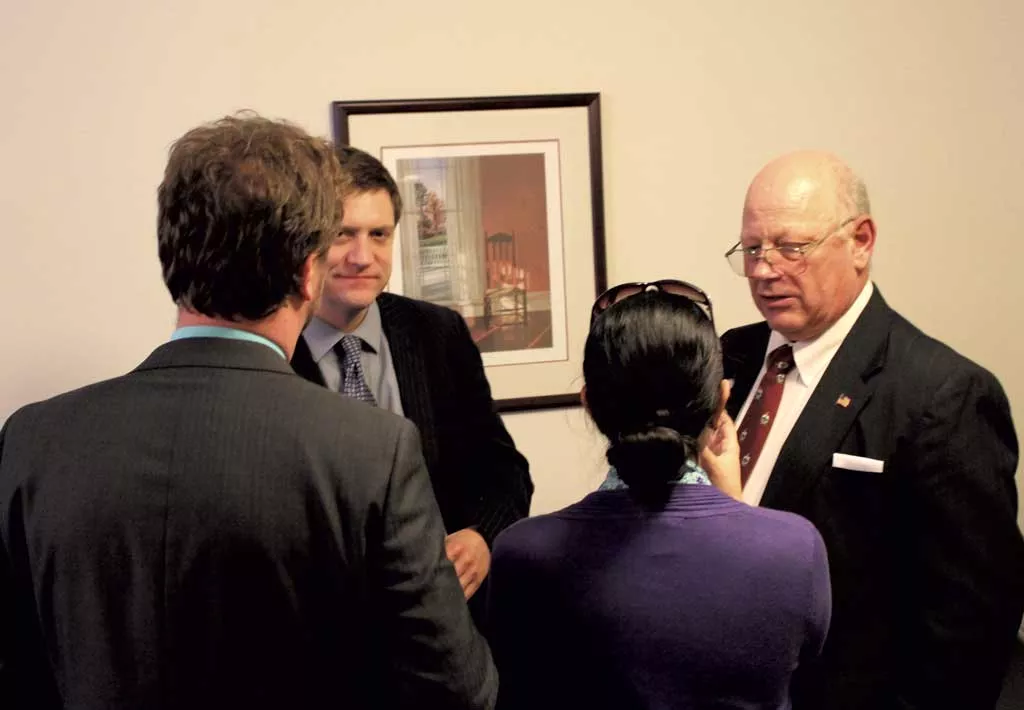 Courtesy of Paul Heintz
Rep. Sam Young, Secretary of Civil and Military Affairs Louis Porter, Rep. Kesha Ram and Sen. Norm McAllister at a Downs Rachlin Martin open house in April
The year before, seemingly every lobby shop in the building took part in the skirmish over Green Mountain Power's merger with Central Vermont Public Service. In one corner stood AARP, which demanded that CVPS refund a $21 million ratepayer bailout before linking up with GMP. In the other stood the two utilities' in-house lobbyists, plus a horde of hired guns: five Downs Rachlin Martin lobbyists, six from MacLean Meehan & Rice, eight from KSE Partners, and Jeanne Kennedy.
Of course, most of the work Vermont lobbyists do is considerably lower-profile. Some simply serve as their clients' eyes and ears in the building, keeping tabs on the shifting moods of the body politic. Others spend their time chasing appropriations or fending off new tax proposals. Many seek only to protect the status quo from the whims of legislators focused myopically on closing the latest budget gap.
"I think most people come to Montpelier looking for things," Harrison says. "We just want a fair and level playing field. If anything, don't make it harder for us to do our business and make a living for the owner and employees."
Some of the most effective lobbying takes place long before the battle is joined, when advocates feed lawmakers draft bills for their consideration.
"I have frequently stated that I believe more than 90 percent of legislation originates with the administration or an interest group," says Ashe, the Senate Finance chairman.
Lobbying isn't restricted to the Statehouse. MacLean and his partners spend much of their time helping their out-of-state clients navigate Vermont's strict regulatory climate, which requires certain finesse.
"We pride ourselves on recognizing how Vermont works," he says.
And that extends to the large and growing state contracting business. Thanks to Vermont's success winning a disproportionate share of federal health care reform funding, the state is bidding out hundreds of millions of dollars worth of information technology projects. When national firms come a-calling, Montpelier lobbyists are happy to advise them.
"They need a road map: Who's the governor, who's the speaker? Who's going to make that decision?" Ellis says. "That's why they hire a guy like me."
These days, most Vermont lobbying firms offer a wealth of services, from public relations to social media campaigns to grassroots — or so-called "AstroTurf" — organizing. Some go even further. For years, KSE Partners has operated a 50-state legislative monitoring service. And earlier this year, it dipped into the lucrative field of single-payer health care advocacy.
An ostensibly independent nonprofit KSE created, called Vermont's CURE, accepted its first $100,000 contribution this winter from the American Federation of Teachers. The nonprofit hopes to raise hundreds of thousands — if not millions — more to fight for single-payer. And KSE, the group's founder-turned-consultant, hopes to pocket some of that.
As complex as the industry has grown, its fundamentals have remained the same.
"You translate the mysteries of government into a language clients understand, so they can make business decisions," says Ellis, who spent 22 years at KSE Partners before leaving last year to start Ellis Mills.
Sometimes, that's as simple as advising an out-of-state exec on what to wear when testifying in a Vermont legislative committee.
"When you come here, wear a blue pinstripe suit," Ellis advises over more formal attire. "Don't be 'of Washington' when you come here. Be normal, because Vermonters are regular people, and they appreciate regular people who tell the truth."
What Makes a Good Lobbyist?
Lawmakers readily admit that they just don't have time to do their homework, especially in the swirl of the five-month legislative session. That leaves an opening for lobbyists to provide an invaluable service.
"We're very dependent on them for facts. Whereas, in a larger legislature, you'd turn to your staff," says Rep. Chris Pearson (P-Burlington).
But, he cautions, "A lobbyist doesn't get too many chances to get it wrong. If somebody's not trustworthy, you're not going to go back to them."
Says Steve Kimbell, a legendary lobbyist who spent 34 years in the business and cofounded KSE: "The most important aspect of lobbying occurs outside the building. Research the subject matter and your audience — that is, the legislators."
Then, he continues, "You gotta be in the building every minute the legislature is in session. You can't do it two or three days a week. An equally important principle to being there is keeping your mouth shut. You're there to listen, not talk. For the most part, lobbyists who talk a lot aren't very effective."
Jeanne Kennedy, who served two terms in the House before taking up lobbying in 1987, does as much watching as listening. From her perch near the press gallery in the House mezzanine, she keeps an eye on the comings and goings below — watching who talks to whom and who doesn't bother showing up.
"For me, I can't get a full feel of the place without doing that," she says. "I really do believe that what happens on the floor and what they do together has an impact on the committees and the process."
It helps to know what to look and listen for. Kennedy is one of many ex-legislators who subsequently turned to lobbying: Dostis, the GMP lobbyist, previously chaired the House energy committee; Gini Milkey, who lobbies for the Community of Vermont Elders, spent two decades in the House; and Vermont Center for Independent Living lobbyist Lynne Cleveland Vitzthum spent two terms in the House. Both of VSEA's top lobbyists, Steve Howard and Vince Illuzzi, served in the legislature. And countless former administration officials have moved on to lobbying.
"Obviously relationships are important. That's something longtime lobbyists are able to develop," says Illuzzi, who spent 32 years in the Senate before making an unsuccessful run for state auditor in 2012. "And that's why you see former legislators segueing into those positions, because you have the relationships and you know how the process works."
Those relationships are surely strengthened by schmoozing — in and outside the Statehouse.
Back when Bob Stannard was first elected to the House in 1983, lobbyists regularly wined and dined politicians.
"There would be insurance company people coming up and offering you ski tickets and dinners and adventures and all kinds of cool stuff," says Stannard, who left the House in 1990 and later became a lobbyist himself. "I kind of made it a habit of accepting the gifts and then voting against them."
In the late 1980s, when the legislature adopted new rules requiring lobbyists to disclose any gifts in excess of $15, Stannard says, "That dried up like an Arizona ranch."
These days, the free food often amounts to overcooked meatballs at afternoon receptions thrown by special interest groups in the Cedar Creek room of the Statehouse. Earlier in the day, industry associations and advocacy groups regularly hold luncheons for legislators across the street from the Statehouse at the Capitol Plaza.
Sometimes the schmoozing is tied to campaign cash.
A few times each session, Democratic and Republican leaders of the House and Senate host lobbyists at evening fundraisers benefiting their political action committees. This Wednesday evening, for instance, Speaker Smith's PAC is scheduled to hold a $500-per-person event at the Capitol Plaza — right as he and his colleagues are putting the finishing touches on this year's major bills.
The hospitality goes both ways. Several of Montpelier's top lobby shops host occasional open houses at their nearby offices, dishing out complimentary food and drink to legislators and administration officials. But they're less interested in having reporters document those events.
In March, a Seven Days reporter was politely asked to put away his camera when he attempted to photograph an open house at MacLean Meehan & Rice's Court Street headquarters. In April, he was told the same after snapping a few shots of committee chairs and Shumlin staffers enjoying the open bar at Downs Rachlin Martin's State Street office.
"It's not public. It's by invitation," DRM lobbyist Joe Choquette explained at the time. "We invited members of the legislature, our friends around town, the press, you know, friends that we have around here, to mingle with us and have some food and some drinks."
Asked the purpose of the event, Choquette said, "It's to create good will amongst the people that we work with — both legislators and other lobbyists you'll find around here from other firms, press people. It's not unlike what anyone would do if you had a house party and invited people to come over."
When the reporter asked if he could continue to walk around and photograph the festivities, Choquette — who lobbies for the American Petrolum Institute, Bank of America and, ironically, the Vermont Press Association — said he thought not.
"I guess I'd rather that you not take photos," he said. "It's making people uncomfortable."
What's the Cost?
Unsurprisingly, those involved and invested in Montpelier's influence machine rarely question whether it serves those whom legislators are elected to represent. Most lawmakers sound genuinely grateful for the help lobbyists provide, seeming never to wonder whether they're suffering from a systemic case of Stockholm syndrome.
But every now and then, lobbyists take their advocacy too far — even for Vermont's accepting legislature.
As chairman of the House Committee on Health Care, Rep. Mike Fisher (D-Lincoln) is used to the attention he receives from industry lobbyists seeking to work the ref for their clients' benefit. But when his committee debated a one-cent-per-ounce tax on sugar-sweetened drinks last February, he was taken aback by the response.
The American Beverage Association, which represents Coca-Cola, Pepsi, and other major soda producers and bottlers, went on the offensive — in a major way. It saturated Vermont radio stations with ads opposing the tax and went so far as to target Fisher by name in his local newspaper — a rare tactic in polite Vermont.
When the chairman asked the ABA's Vermont lobbyist, Andrew MacLean, how much it spent on the ads, the lobbyist said Fisher would have to wait to find out until late April, when disclosure reports were due to the secretary of state. That wasn't good enough for Fisher.
"I think it's totally appropriate for anybody with an interest in legislation to spend as much money as they want to influence our decisions," he told the Vermont Press Bureau at the time. "I just want to know how much."
As it turns out, the beverage industry spent $553,000 on the ads and another $53,000 on lobbyists during the first three months of the year — perhaps a record-breaking sum in the state. MacLean later conceded that the campaign was overkill, saying, "I think there's, maybe, some more cost-effective ways to accomplish your goal. That's what I learned."
But as Fisher found out, Vermont's lobbying laws make it impossible to determine the true cost until the point is moot. Lobbyists and those who hire them must publicly report compensation and advertising expenses three times a year, but only once when the legislature is in session. By the time the full cost of a legislative push is disclosed in late July, lawmakers have left the building and the press corps has moved on.
Frustrated by the dearth of information, Fisher called on his colleagues to require major advertising expenses to be disclosed within 24 hours during the legislative session. But his plea fell on deaf ears. After taking testimony on the proposal last spring, the Senate Committee on Government Operations said it would address the matter when it reformed the state's lobbying laws this year. But this year, the committee again decided to put off the reforms until next session.
"We didn't hear anything from the lobbyists at all — that they needed anything," committee chairwoman Jeanette White (D-Windham) explains, as if lobbyists are responsible for reforming the rules governing their own industry.
Then again, if they're in charge of supplying "information" to the legislature, perhaps they are.
Another bill White's committee considered — requiring former legislators to wait a year before lobbying their ex-colleagues — also died a quiet death. Though White says she "sometimes" thinks the legislature should slow Montpelier's revolving door, "When I look at different [lawmakers-turned-lobbyists] and see what they've offered, I say, 'Well, maybe that's a good thing.'"
If White's committee ever gets around to reforming the state's lobbying laws, one change VPIRG would like to see is a complete ban on lobbyist campaign donations to lawmakers. At present, they can give directly to candidates only after the legislature adjourns for the second year of the biennium. But legislative leaders routinely circumvent that restriction by laundering lobbyist cash through their PACs (for instance, at Speaker Smith's fundraiser this Wednesday).
"I think that would be a step forward just to remove the idea that any of their influence comes from the contributions they make," says Burns, VPIRG's executive director.
That would not, however, stop the flow of money from corporations and unions that contribute money to politicians while lobbying them. All but three of Shumlin's top 15 donors during the last election cycle employ Statehouse lobbyists and regularly petition the state.
Precisely why those entities contribute to candidates is a bit of a mystery, given that nearly everyone in the Statehouse swears up and down that campaign cash in no way influences policy making.
"It's part of the process," says MacLean, many of whose clients donate generously. "It takes effort to run campaigns. They're getting more expensive."
"I think campaign contributions are honoring service and someone's commitment to democracy. Period," Necrason says.
Do lobbyists have too much influence in Montpelier?
Vermont Chamber of Commerce president Betsy Bishop doesn't think so.
"You can have all the lobbyists in the world pushing [a bill], but ultimately the decision is going to be made by leadership and the governor behind closed doors."
"I think they have a lot of influence," White concedes. "But look at all the lobbyists Vermont Yankee had working for them, and look at the big lobbyists for Monsanto. So I think they have an influence, but I don't think they're running the show."
That may be true. But when legislators come to rely on lobbyists for information, campaign donations and the occasional meatball, what happens to those who aren't able to send a full-time advocate to Montpelier for four months a year?
"Here you can win just by showing up every day," Burns says. "But somebody's gotta have enough money to make sure you're doing that. And that's going to be a corporate interest, in most cases."
---
---
Best Statehouse Stalkers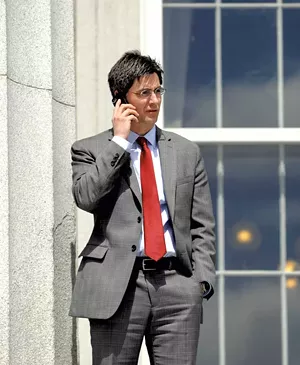 Stefan Hard
Adam Necrason
Who are Vermont's top lobbyists? We thought we'd ask those who know them best: each other. Last week, Seven Days conducted an unscientific online survey, asking lobbyists themselves to choose which of their peers are most effective at their jobs. We emailed unique survey links to 383 registered Vermont lobbyists who provided their email addresses to the secretary of state. Of those, 76 filled out the survey, which included six questions. Here are their votes:
Who are Vermont's most effective lobbyists?
(Respondents were asked to select three choices, which were each weighted equally.)
Adam Necrason (Necrason Group): 18
Andrew MacLean (MacLean Meehan & Rice): 11
Chris Rice (MacLean Meehan & Rice): 10
Paul Burns (Vermont Public Interest Research Group): 9
Todd Bailey (KSE Partners): 9
What is Vermont's most effective lobbying firm?
(Twelve Vermont-based, multimember lobbying firms were listed. For this and the remaining questions, respondents answered just once.)
Necrason Group: 23
MacLean Meehan & Rice: 14
KSE Partners: 11
Who is Vermont's most effective contract lobbyist?
(Rather than lobby for a single organization, contract lobbyists are retained by multiple clients. Most work for a multi-member lobbying firm.)
Adam Necrason (Necrason Group): 11
John Hollar (Downs Rachlin Martin): 6
Andrew MacLean (MacLean Meehan & Rice): 5
Stefan Hard
Paul Burns (right)
Who is Vermont's most effective nonprofit, association or union lobbyist?
Paul Burns (Vermont Public Interest Research Group): 7
Jim Harrison (Vermont Retail & Grocers Association): 6
No others in this category received more than three votes.
Who is Vermont's most effective corporate lobbyist?
Janet Doyle (IBM): 10
Robert Dostis (Green Mountain Power): 6
Todd Bailey (KSE Partners): 5
Which lobbyist who you often oppose on an issue do you find most effective?
Todd Bailey (KSE Partners): 7
Jim Harrison (Vermont Retail & Grocers Association): 5
Amy Shollenberger (Action Circles): 5
---
---
Stefan Hard
Todd Bailey (right)
Cashing In
Last year, registered Vermont lobbying firms reported receiving more than $4.31 million in lobbying compensation. Since most of those companies provide other services, that number represents just a fraction of their total revenue.But the figures provide a glimpse at who's getting paid the most to lobby. Here are the top five:
KSE Partners: $1.12 million
Sirotkin & Necrason (now known as Necrason Group): $944,505
MacLean Meehan & Rice: $496,264
Morris & Demag: $490,090
Downs Rachlin Martin: $435,071
Hover over the chart below to see how much Vermont lobbying firms received in compensation in 2013.
Source: Vermont Secretary of State
---
---
The Price of Persuasion
Last year, 458 organizations employed registered Vermont lobbyists. Of those, 373 reported paying in-house and contract lobbyists nearly $6.14 million. They also spent nearly $1.43 million in other lobbying-related expenditures, such as advertising. Here are 2013's biggest spenders:
Lobbying Compensation
Entergy Nuclear Vermont Yankee: $180,000
Green Mountain Power: $126,009
Blue Cross Blue Shield of Vermont: $123,924
Vermont Public Interest Research Group: $118,524
Beverage Association of Vermont: $118,110
Vermont Medical Society: $86,966
Rutland Regional Medical Center: $80,537
Association of Vermont Credit Unions: $79,673
Comcast: $76,000
Other lobbying-related expenditures (advertising):
Patient Choices at End of Life: $74,385
Beverage Association of Vermont: $579,199
Satellite Broadcasting & Communications Association: $121,468
Vermont State Employees Association: $101,212
Patient Choices at End of Life: $97,753
Altria Client Services (Philip Morris): $66,192
Hover over the chart below to see how much the top 20 spenders compensated lobbyists in 2013.
Source: Vermont Secretary of State
Disclosure: Tim Ashe is the domestic partner of Seven Days publisher and coeditor Paula Routly.