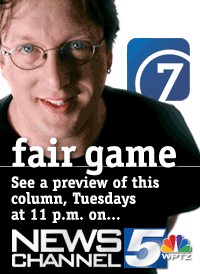 Used to be the Vermont Senate was the chamber with minimal turnover — an incumbent's paradise. But if you count up every state senator who is either thinking of running for higher office or stepping down in 2010, it amounts to as many as 11 new faces in the 30-member chamber.
Of the 11 senators potentially leaving, six are Democrats and five are Republicans.
"I think when the dust settles, it will not be as bad as it could be. Some people will decide to stay," said Sen. Dick Mazza (D-Chittenden/Grand Isle), who seems to be one of few senators not running for higher office. "Regardless, we're going to lose a lot of good history, and I don't recall a time when we've had a greater possible turnover."
Mazza fears the Senate will lose key moderates and committee chairs at a time when the state faces myriad fiscal and policy challenges.
On the Democratic side, state sentators Doug Racine and Susan Bartlett are running for governor, and they chair two important committees: Health & Welfare and Appropriations, respectively. Meanwhile, Senate President Pro Tem Peter Shumlin (D-Windham) is more than likely running for governor. Former Windsor County State Sen. Matt Dunne is expected to jump in, too.
In the race for guv, only Secretary of State Deb Markowitz has no past or present ties to the Vermont Senate. That'll make her stand out, eh?
Chittenden County senators Ed Flanagan and Ginny Lyons are considering runs for lieutenant governor. Other Dems vying for that job are Chittenden County State's Attorney T.J. Donovan, former House member Tom Costello and Progressive Rep. Dave Zuckerman of Burlington. Zuckerman is also weighing a bid for state senate.
"The fact that our county delegation could be decimated would be of concern to me and is something I need to consider," said Lyons.
Also, Chittenden County Senator Hinda Miller may step down after this session. "It's still too early to tell, but now is the time when you begin to think about whether you run again or not," she said.
Aside from Zuckerman, blogger and University of Vermont prof Philip Baruth is a Dem candidate for the 2010 Senate race. Others who might jump in include former State Rep. Denise Barnard, who narrowly missed a slot in the six-member delegation in 2008, and IBM labor activist Ralph Montefusco.
On the GOP side, most senators are awaiting word from on high: What will Lt. Gov. Brian Dubie do? Run for governor or retire? And, if he does run, who will run for lite-guv — the person whose main job is to preside over the senate?
If Dubie were to run for governor, senators Randy Brock (Franklin), Kevin Mullin (Rutland) and Phil Scott (Washington) could be lining up for the number-two spot.
If Dubie doesn't do it, Brock and Sen. Vince Illuzzi (R-Essex/Orleans) are both interested in succeeding Douglas. Scott is chairman of the powerful Senate Institutions Committee, and Illuzzi chairs the Senate Economic Development Committee. Already in the race for lite guv is Mark Snelling, son of former two-term Gov. Richard Snelling and Lt. Gov. Barbara Snelling. He's also the brother of — yep, you guessed it — Sen. Diane Snelling, the sole Republican in the Chittenden County delegation.
Republican Shelley Palmer of Williston has announced he will seek a Senate seat in Chittenden County. If Brock opts to run for higher office, Joe Sinagra, executive director of the Vermont Homebuilders Association, and Tayt Brooks, deputy commissioner for housing and community affairs, are considering Senate bids.
In the end, what does all this shuffling mean?
It means that at the start of the 2011 legislative session, the governor, lieutenant governor and Senate president will be new — at least to their jobs. The faces may still be the same, though.
It seems the only legislative leader not running for higher office is House Speaker Shap Smith. Assuming he's reelected, which we probably can, Smith could end up one of the most influential legislative leaders under the Golden Dome.
Perhaps there's a lesson in there somewhere.
Can't Touch This — Chittenden County State's Attorney T.J. Donovan has recused himself from the investigation into alleged lewd conduct by fellow Democrat State Sen. Ed Flanagan, citing his own desire to run for lieutenant governor.
"This circumstance creates a possibility of a conflict between Senator Flanagan and myself," said Donovan. "In order to insure the integrity of the process, it is therefore appropriate that an independent review of the allegations occur."
Donovan has punted the case to the Addison County State's Attorney's office, which is currently without a top prosecutor. John Quinn, a Republican, retired at the end of August. The county GOP submitted four possible replacements to the governor on September 1. No word from the guv on when he'll make a decision.
Until then, deputy state's attorney Chris Perkett is reviewing the case. He's received the police file and had a brief chat with Flanagan's attorney, John Pacht. If Perkett files charges, Flanagan would be tried in Addison County.
"I can't say how long it's going to take," said Perkett. "It'll take as long as it needs to."
Smokin' Out the Dubie — What's up with the anointed Republican gubernatorial candidate? What Dubie does is still anyone's guess, but we won't have to wait much longer, according to longtime political advisor Susie Hudson.
Who would you want in the job when it means facing an imploding state budget, a weak economy and a feisty Democratic legislature that is no more likely to give purchase to a newbie governor than it did a seasoned pol like Gov. Jim Douglas? The sitting guv took one look at that scenario and said, "Thanks, but no thanks."
Either way, we'll know this week or next, said Hudson. "There will be an announcement when he's 100 percent sure, and that will be sooner rather than later," she said. "A decision like this takes time, and his family has to weigh in."
The extra scrutiny Dubie and his family would face certainly has to factor into his decision.
For example, Douglas has always pressured his political opponents to disclose their tax returns for public consumption — effectively putting his Democratic opponents on the ropes.
Dubie has so far avoided that issue. Even bristled at being asked by opponents and the media.
Why?
Word is he'd have to take a hefty pay cut to take the job. As an airline pilot and lite guv, Dubie earns in the neighborhood of $250,000.
As we noted last week, both Dunne and Shumlin have run against Dubie in lite-guv races — and lost: Shumlin tried in 2002; Dunne, in 2006. In our haste, however, we forgot to add this: Only one Democrat in the gubernatorial primary has faced Dubie and won. That's Doug Racine.
In 2000, then-incumbent Lt. Gov. Racine bested the challenger Dubie by a 53-41 margin.
Winooski Gets Schooled — The decision by the Winooski School Board to bar students from hearing a speech from Pres. Barack Obama likely violated state law. That's the word from Secretary of State Deb Markowitz.
As we noted in last week's "Fair Game," three members of the five-person board decided via email on Labor Day weekend that the live speech shouldn't be viewed until board members could ensure that its content was appropriate.
State law allows a school board to meet on short notice outside of its regularly scheduled meetings, but the public must be warned at least 24 hours in advance. What about making decisions via email before a meeting?
"The answer is never, never, never, never," Markowitz told "Fair Game." "You don't ever debate and discuss questions of policy via email. You also can't pre-decide issues before a meeting."
Markowitz said administrative functions of the board can be handled outside of public meetings, but not decisions that affect governance or policy. Those need to be made in open session with the public present.
That said, current state law offers no recourse — short of a court action.
"A failure in the law is that there is no easy way to penalize a board for blowing it," said Markowitz.
Hmm, perhaps a dunce cap would be appropriate in this case?
Jim Ticehurst, the board's chairman, started the whole debacle when, after perhaps watching too much FOX News, he became concerned about what the president might say. He convinced two other members to vote to ban the speech. After Ticehurst read an advance copy of the speech online, he tried to get the board to rethink. A 2-2 tie kept the board's earlier decision intact.
"We're aware of the law now, and this will not happen again," said Ticehurst. "I'm sure, given an opportunity to take up an issue between meetings, we would probably have an emergency 10-minute meeting and get the word out to the public."
Time will tell if they've truly learned their lesson.
Cracking the Nuts — Which of Vermont's three-member congressional delegation do you think is a closet fan of right-wing nutjobs Glenn Beck and Rush Limbaugh?
How else to explain Rep. Peter Welch's vote to defund the low-income advocacy group ACORN?
ACORN is the right's favorite lynching subject of late, after a video surfaced of two conservative activists posing as a pimp and prostitute getting tax "advice" from ACORN workers. What the video doesn't show is the two being thrown out of countless ACORN offices, and the organization's workers calling the police — twice — about their purported illegal activity.
Without even a single hearing, the GOP decided to protect us white folk from ACORN.
At least senators Patrick Leahy and Bernie Sanders had the cojones to stand up to the racist wackos who seem to be in control of the GOP. They voted against the measure in the Senate, but were among only seven to do so. ACORN lost out, 83-7.
"Congress should not compound the wrongful and stupid actions depicted on these videos by deciding to set political standards for federal grants," Leahy told Seven Days.
Sanders concurred.
"It is important to note that over the years ACORN has done some very important work in fighting for affordable housing, banking services in low-income areas and decent-paying jobs," said Sanders.
Welch, however, took the GOP bait hook, line and sinker. Doesn't he know it's hard out there for a pimp?
Seriously, even Welch's good friend, Rep. Henry Waxman (D-CA), the powerful Dem who kept a seat open for him on the House Energy & Commerce Committee, voted against the anti-ACORN amendment.
"The actions taken by ACORN employees reveal a disturbing and intolerable pattern of abuse of taxpayer dollars," Welch said. "The organization must be held accountable — and Congress must get back to work on reforming our health care system so that all Americans have access to quality and affordable health care."
If Welch is so concerned about illegal activities funded by taxpayer dollars, why not investigate the likes of military contractors Blackwater and Halliburton?
"The congressman has been one of the toughest critics of Halliburton and Blackwater in his role on the Committee on Oversight and Government Reform," said Paul Heintz, a Welch spokesman. "The House has not had a vote on cutting off funding for these companies."
Good point.
It's worth noting that in Congress, pimping for military contractors is still perfectly legal.
Got a news tip? Email Shay at shay@sevendaysvt.com
Click here to follow Shay on Twitter.